What I Learned Judging the Biggest Competition in BBQ
Barbecue might not be in my blood, but it's certainly in my arteries. Living in the brisket capital of the world, Austin, TX, I eat smoked beef by the pound and I've written extensively on the subject, but nothing properly prepared me for the struggles of judging the toughest contest in all of barbecue, the Jack Daniel's Invitational. Here are all the savory lessons that I learned.
Courtesy of Ed Rode
Competitive barbecue is a (ful)filling lifestyle
Think of the Jack as a tournament of champions. Teams earn invites by winning a local competition, then travel to Lynchburg, Tennessee to duke it out with 90 other seasoned smokers. Most travel to more than 20 competitions a year and spend thousands of dollars each weekend in the pursuit of the perfect pork butt, which means the Jack doesn't let just any dummy off the street decide who's taking home the $10,000 grand prize. Roughly 80 judges -- each of whom have gone through an extensive gauntlet of training -- are required to crown a champion.
Dan Gentile/Thrillist
The Kansas City Barbeque Society supplies the judge and jury
The KCBS has been the official governing body of competition barbecue since its inception in 1985. Over the course of those 30 years, 20,000 judges have been certified to grade four main meats: chicken, pork ribs, pork shoulder, and brisket.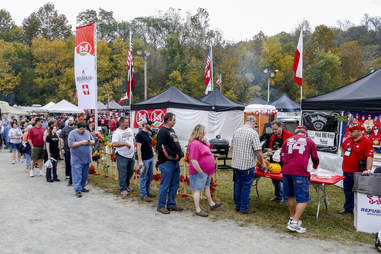 Courtesy of Ed Rode
Spectators don't usually get to taste the barbecue
On the morning of the Jack, the Hollow of Lynchburg, TN becomes a meat-obsessed circus. Front lawns turn into makeshift parking lots and cheap motels are hot commodities for the 20,000 spectators who descend on the fairgrounds. But the large turnout doesn't actually get to try the competition barbecue. Although the celebrities of the circuit are happy to shake hands and pose for photos, they're only cooking for the judges, not the masses.
Dan Gentile/Thrillist
You have to take a serious oath
I solemnly swore to objectively and subjectively evaluate each barbecue meat that was presented to my eyes, my nose, my hands, and my palate, so that truth, justice, excellence in barbecue, and the American way of life, may be strengthened and preserved forever. Amen.
Courtesy of Ed Rode
The first thing you judge is the appearance
For each category (which in addition to the four cardinal meats also includes sauces, cook's choice -- think spaghetti topped with chunks of brisket -- and dessert), teams send in one anonymous Styrofoam box with a bite of meat for each of a table's six judges. The appearance of the meat is judged on a nine-point scale, and although every box has a big salad's worth of greens, they're only a frame for the meat. We are repeatedly reminded to keep our eyes on the prize: this is a meat-judging contest and not a frame-judging contest.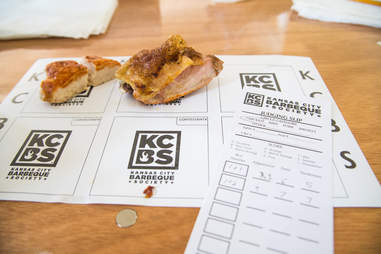 Dan Gentile/Thrillist
Your personal tastes are irrelevant
The thing KCBS stresses most is impartiality, so my regional bias for simple salt-and-pepper-barked moist brisket and dry-rubbed pork ribs went out the window. Like appearance, taste is judged on a nine-point scale, but there is no pre-determined definition of excellent barbecue -- it's the certified judges' job to set that bar.
Courtesy of Ed Rode
Taste is in the mouth of the beholder, but tenderness is not
Anyone who owns a microwave can nuke a tough piece of meat into a puddle, but great competitive barbecue dances on the savory line between falling off the bone and tough to the tooth. To score a perfect nine, a rib should play hard to get, with a distinct pull and a thin layer of meat left on the bone after a bite. For pork shoulder, the test of tenderness is to squish it against the roof of your mouth. "Mushiness" is used as a technical term, and it is discouraged. The standard for chicken is vague, but as the least finicky of the four major meats, it's the easiest to nail. Brisket on the other hand is the hardest, with many cooks injecting compounds in order to maintain enough moisture to pass "the pull test," in which it should break apart easily but without crumbling.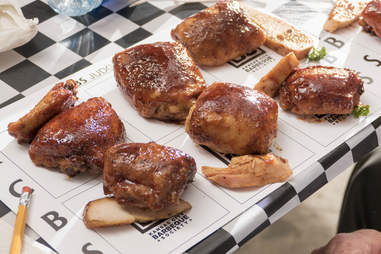 Couresty of Ed Rode
Judging is a zen-like experience
You're instructed to judge each entry independently of the others, never going back to change the score of a meat based on its comparison to others. It makes for a zen-like eating experience: for that one bite, the pork rib in front of you is the only pork rib in the universe.
Courtesy of Frank Boyer
The meat sweats are real
I've sat through 15-course tasting menus before, but they were nothing compared to the gauntlet of 30 courses I faced as a judge. 
When I first stood up from the table after three hours of gluttony, my head felt like a helium balloon, flimsy and fragile and slightly spinning. My gut sagged underneath the weight of all the meat and sauce and Jack Daniel's-spiked cheesecake. I badly wanted a beer, but badly knew that I could not possibly drink one, which is one of the worst feelings you can have.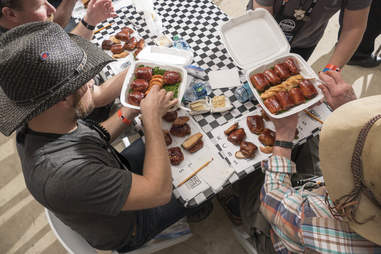 Courtesy of Ed Rode
Most competitive barbecue is not something you'd want to eat in a restaurant
Since judges are assaulted with nearly 4lb of food, most only take one or two bites of each entry, so the flavor profiles are exaggerated to stand out from their peers. Sure, there was a chicken wing that I almost asked to marry me, a rib so steamingly tender it sent my eyes rolling back, and mounds of pulled pork candy-sweet enough that I could've given it out to trick or treaters, but there's no way I'd want to eat a full plate of any of those dishes.
Courtesy of Ed Rode
Competition-style brisket is terrible
I'm spoiled by the three superlative Central Texas barbecue joints that are within walking distance of my house, but for the life of me I could not understand the appeal of the brisket I ate at the Jack. Most all of the briskets were the texture of pot roast, and smothered in so many spices that you could barely tell that you were even eating beef.
Courtesy of Ed Rode
Without history and context, barbecue is nothing but smoked meat
Perhaps the most bittersweet aspect of judging competitive barbecue is that the whole experience is blind. Sinking your teeth into a competition rib is an experience without context. It's celebrating smoked meat on the purest level, which forces the cooks to supercharge each bite to try to please every possible palate, which didn't sit well with my own.
I don't know if I had the day's winning barbecue, which came from Tuffy "The Professor" Stone's Cool Smoke team, which is only the second team in the Jack's 27-year history to win grand champion twice. I'm sure it was a revelatory execution, guided by the type of laser focus that few cooks in the world will ever achieve, but this day I learned that I'd much rather just visit his restaurant.
Sign up here for our daily Thrillist email, and get your fix of the best in food/drink/fun.
Dan Gentile is a staff writer at Thrillist. He'd like to send his utmost respect to all the cooks at the Jack, but also invite them to Austin to learn what brisket is supposed to taste like. Follow him to more regional barbecue smack talk at @Dannosphere.