Simple Ways to Drastically Improve Any Sandwich
Peanut butter & jelly sandwiches are pretty much perfect. Unless, you know, you're allergic to peanuts, in which case they're basically death packed between bread slices. But that doesn't mean you can't take a perfect PB&J -- or any other kind of sandwich, really -- and improve on perfection. 
Stepping up your sandwich game is insanely simple. For a few tips, we hit up a pair of true sandwich artists -- Matt Fish of Cleveland's Melt Bar & Grilled and Will Horowitz of Harry and Ida's and Ducks Eatery -- for simple, ingenious tips to make almost every type of sandwich a little more interesting. 
Add some spice to your PB&J
In Fish's opinion, one of the best ways to make the peanut butter & jelly duo a trio is to add something spicy. 
"Try Sriracha or chili sauce," he said. "In so many Asian foods, combining spice with that peanut flavor is very common -- and it adds a really distinct taste to it that can really make a difference."
Pork belly can be bangin' on peanut butter, too
"Peanut butter is pretty much an American thing," Horowitz said. "But using peanuts is obviously not.
"In a lot of Asian cuisines, they pair that peanut flavor with spicy meats, and it's amazing. I have tried putting things like pork belly on a peanut butter & jelly sandwich. It sounds a little weird, but a lot of people do put bacon on PB&Js, and it's along those same lines."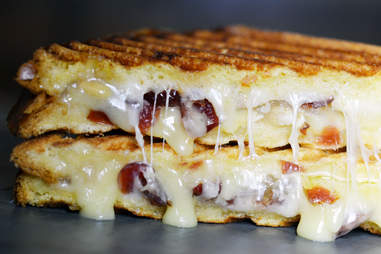 Courtesy of Meltkraft
Don't settle on simple cheese
"There are so many cheeses that work on melted sandwiches that people don't really consider," Fish said. "You can definitely switch things up -- even in a grilled cheese -- just by changing out your standard cheeses or blending them."
Higher-moisture cheeses are the go-to for these, as harder cheeses don't melt as well, and obviously melting is the key to a great cheesy sandwich.
"Try mixing pepper Jack and blue cheese together -- it's an excellent combo, and very easy to do, even at home," he added.
Don't make bread an afterthought
Bread is the canvas that all sandwiches are painted on -- whether you're drizzling ketchup on your cheesesteak like a culinary Jackson Pollock or putting together a Rockwellian American club. But you don't always have to settle for the most basic bread.
"Don't be afraid to try something different if you want to switch it up," Fish said. "Making a grilled cheese? Try putting it on a bagel instead of white bread."
Fish also advised toasting both sides of your bread when making a grilled cheese, so the crunch is evenly spread and there in every bite, even on the inside.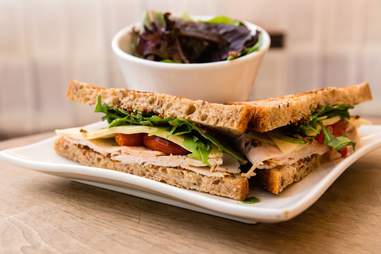 Cole Saladino/Thrillist
Don't be afraid to mess with your sandwich meat
There's a tendency to simply take a sandwich at face value when somebody else makes it. After all, you wouldn't make the Mona Lisa smile just a liiiiiiiiittle bit more. But sandwich artists aren't sensitive, and probably aren't following you home. You can always disassemble your sandwich and tinker with the meat, especially if it's unremarkable to begin with. Grill it. Season it. Marinate it. Hell, smoke it if you want.
"It will definitely improve the taste," says Fish. "Even if you just toss it on a skillet for a little bit... Don't be afraid to take things apart!"
Go thick on BLTs
"When you are dealing with bacon, one of the easiest things you can do is just select a thicker cut," Horowitz said. "It's pretty easy to find good, thick cuts of bacon, and it will drastically improve the taste and texture of your sandwich."
Put pickle chips on your grilled cheese
"This is fairly self-explanatory, and it's awesome," Fish said. 
Use caramelized fruit and veggies
"Most sandwiches have that savory flavor going on," Fish said, "and one very easy way to complement that is with caramelized fruits or vegetables. It's really simple, but I feel like it's done that much, especially in home kitchens. That sweet taste works so well on nearly every sandwich."
Embrace the magic of cream cheese
Your favorite bagel spread works surprisingly well when melted down, and it's something many people don't think to do.
"You can definitely use cream cheese as the base in your grilled cheeses. You can even make a dessert-y take on the grilled cheese, with peanut butter or chocolate. That's probably the best use of it," Fish said.
Get weird
"It's really not too hard," Fish said. "Just think, you know -- what do I like? What do I like to eat? I've done a lot of experimentation in the sandwich department, and it's hard to miss if you go with what you like. Do you like spaghetti? Put all that on a sandwich. I've done it. Don't be ashamed. That's how great things end up happening."
Sign up here for our daily Thrillist email, and get your fix of the best in food/drink/fun.
Wil Fulton is a staff writer for Thrillist. He actually blames Gwyneth Paltrow for most of the world's problems. Follow him @wilfulton.