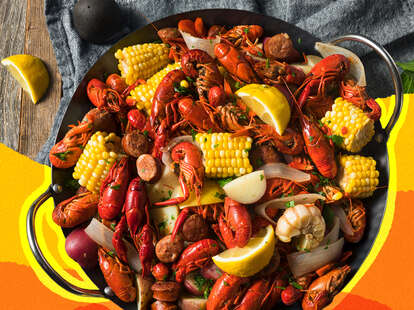 Design by Emily Carpenter for Thrillist
Design by Emily Carpenter for Thrillist
It's hard not to miss devouring a seafood boil in a restaurant, complete with bibs, buttery fingers, and an endless pile of crab and shrimp to crack open and pick through. Beyond the delicious seafood and sweet corn, having round after round of fizzy beers with friends makes the occasion that much more special.
Due to the pandemic and the need to maintain social distance, gathering to enjoy the delights of a southern-style boil has become much more challenging. For this weekend project, I attempted to recreate this very experience in my home in Los Angeles alongside my family. To guide me, I enlisted the help of Billy Pell, the owner of Captain Pell's in Fairfax Virginia, and Isaac Toups of Toups Meatery in New Orleans.
Skills and Tools You'll Need to Make a Seafood Boil at Home
Right off the bat, both Pell and Toups pretty much break down any rules I thought I knew about seafood boils. "While we have guidelines to share on the process, it's important to remember that there is no exact science here," Pell, who's the second generation owner of his restaurant started by his father in 1977, explained. "The main thing is that this is a tradition of bonding between family and friends."
Toups echoes this sentiment: "You don't need a lot of skill to produce a good boil. Some knowledge and some quality seafood is all you need." This is somewhat comforting for me, someone who has never even attempted a seafood boil on the stove at home.
Pretty much all that is required is a big pot filled with water, spiced to your preference. The ingredients that follow depend on person to person, family to family. Even the boil mixture ranges; everyone has their favorite brand, or comes up with their own concoctions. There's no wrong answer, really.
The main thing to note is the length of time it takes to cook certain ingredients. You don't want overcooked shrimp that falls apart or rock hard potatoes floating in your boil. Lobster and crab take longer to cook than shrimp, whereas clams need to be boiled until their shells open—which can range from five to eight minutes.
"Small red potatoes usually go in first because they take the longest to cook. Spicy sausage comes next, then the vegetables including broccoli, celery, and half ears of fresh summer corn," Pell said. "Finally, fresh shrimp goes in last because they cook very fast."

With all of these tips in mind, I felt ready enough to attempt my own boil.
"Dig in, use your hands, and don't be shy."
Making My Own Boil
I stocked up on shrimp and Manila clams at my local Korean grocery store, two of my favorite types of seafood. The crabs didn't seem as appealing as usual that day, so I decided to skip on crab for my boil. I also bought a bag of premade Louisiana seafood boil, some corn on the cob, and a bottle of Crystal hot sauce.

Once home with my bounty, I filled a 10-quart stock pot about halfway with water and used half the bag of the premade Louisiana boil powder. It wasn't as red as I anticipated, but it was definitely hot and peppery. A good rule of thumb isn't to dump an entire pack of mix in; instead, add to taste. To intensify my stock, I crushed and minced 15 cloves of garlic and chopped half a white onion, which all also went into the boiling water.

As soon as the water reached a rolling boil, I added corn. Shortly after, clams went in, and once those started opening up I tossed in the shrimp and turned the heat off. All in all, the process took around 30 minutes.

Once the stock cooled a bit, I drained the majority of the water, leaving the seafood behind. Because the broth was intensely spicy, I decided to melt a stick of butter and ladle it over the remaining seafood, alongside the juice of one lemon. The butter and the lemon really helped mellow out the heat and tied all the flavors together. Dashes of Crystal and sprinkles of cayenne and smoked paprika were added to finish, giving my seafood boil a red glow.

To reiterate, I am in no way an expert. But with the helpful tips provided by Toups and Pell—like saving the shrimp for last—I have to admit my seafood boil tasted as one should: spicy, bold, lemony, savory, and buttery. Nothing was over- or undercooked. These were in the ingredients I used:

1 5 oz. Bag of Louisiana Fish Fry Products' Crawfish, Shrimp, and Crab Boil (but I only used half the bag)
1.5 lbs of shrimp
1 lb of Manila clams
4 Ears of corn, chopped into thirds
½ a white onion, chopped into slivers
15 cloves of garlic, minced
Shakes of Crystal's hot sauce, cayenne pepper, and smoked paprika to taste
1 stick of butter
Juice of one lemon

Pretty simple, right? When the seafood is finished and cool enough to touch, all that's left to do—according to Pell—is to "dig in, use your hands, and don't be shy." My family and I certainly were not. All that remained were shells of shrimp and clams, gnawed off corn cobs, and the sense of satisfaction for recreating one of my favorite meals at home.
Kat Thompson is a senior staff writer of food & drink at Thrillist. Follow her on Twitter @katthompsonn.