Thrillist
Thrillist
Recipe by Will Artley, former executive chef of Pizzeria Orso
Here's what you need:
5 pre-mashed potatoes
2 cups aged cheddar cheese
1 1/2 cups sour cream
1 cup chopped fresh chives
Flour
Egg wash
Panko
1 cup diced/cooked bacon (be sure to save the fat)
Throw everything (except the flour, egg wash, and panko) together into a bowl, and mash it up like Skrillex. Season to taste with salt and pepper.
Stop for a second to appreciate all the people that love you. Or will, once you serve them this dish.
Grab an ice cream scooper and begin plopping balls of the mixture into the flour.
Oh yeah, roll those things real nice 'n good in that flour.
Roll them in the egg wash. You're breading these things, if that wasn't clear yet.
Put some oil on high heat for about 10 minutes (350 degrees, if you've got a frying thermometer). Then throw those puppies in and let 'em sizzle until they're golden brown. PLEASE BE CAREFUL.
Rotate your balls every so often. Doctor's orders.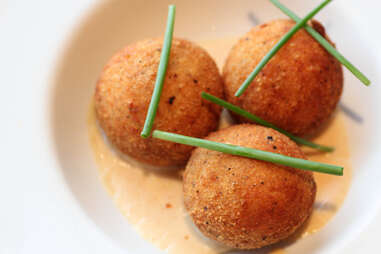 The sauce is super simple -- just combine sour cream and any remaining cheese in a heated pan with oil. Garnish them balls with scallions and serve them to the guys for the game.