How to Make Award-Worthy Ribs Without a BBQ Smoker
Time to bone up on your skills.
Everyone knows that where there's smoke, there's fiery ribs (triple flame emoji!), but sadly not all home cooks have the time, space, or firepower to properly cook a delicious rack of barbecue babybacks on a smoker.
Those lacking slow/low cooking capabilities should consider leveling up, but aren't completely out of luck. It's still possible to make delicious ribs at home, even if all you've got is an oven. Here are 17 tips from revered pitmasters, barbecue gurus, and restaurant chefs that'll help you bone up on your rib skills.
Don't skip the marinade
"Let the ribs marinate for 12 to 24 hours in the refrigerator before grilling them." -- Adrian Davila, pitmaster at Davila's BBQ (Seguin, Texas)

Remove the membrane
"You're definitely going to want to remove the membrane from the back of the ribs to give a total fall-apart-tender experience. This membrane never breaks down during the cook and can end up being chewy and rubbery. A simple hack for removing it is to loosen it off the bones using the back of a spoon, then use a paper towel to get a great grip and pull it off in one go." -- Jess Pryles, creator of Hardcore Carnivore and Kingsford spokesperson

Be patient when heating your grill
"Heating up a grill when it's cold outside will take longer than a small pit on a hot day. Generally it can take about 30 minutes after lighting to heat it up, then you put a second layer of thicker wood to create the smoke for the meat." -- Adrian Davila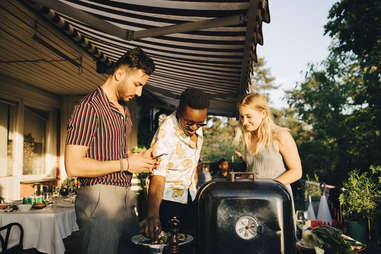 Create two zones on the grill
"If using a grill to cook ribs, make sure to set it up two-zone. Two-zone is when you have one burner on and one burner off. This creates a hot zone and cool zone. You can cook the ribs on the hot side, directly over the heat for a good sear and nice color, and then move the ribs to the cool side to continue cooking to tender. By moving them to the cool side, you reduce the risk of burning the ribs." -- Tuffy Stone, competitive barbecue grand champion and pitmaster at Q Barbeque (Richmond, Virginia)

Go digital
"Use a digital thermometer to know when the ribs are done. Measured between two bones, 202-205 [degrees Fahrenheit] is ideal." -- Danielle "Diva Q" Bennett

Amp up your gas grill with wood chips
"For gas grill, put a pie tin with wood chips over one burner on one side, turn off all the other burners, and cook as far away as you can from that lit burner." -- John Lewis, Lewis Barbecue (Charleston, South Carolina)

Snake your coals
"To make your coals last the 3+ hour cook time without overcooking your ribs, try the snake method. You line the briquettes in two rows along the outer edge of your grill, then light one end. The coals catch slowly and give you a longer cook time with more low heat control. The snake method is great because you can also stud the coals with chunks of wood in your preferred flavor for a smoky boost. I always recommend fruit woods to match with pork." -- Jess Pryles
You want your babyback
"For real barbecue, I like spare or St. Louis ribs because there's more fat and girth, but it's a meat that takes a little bit of cooking. Back ribs are your friend for ovens and grills: they cook a little quicker and everybody likes them. You can cut them into three-bone pieces and they pull apart nicely for eating." - Ray Lampe, Dr. BBQ (St. Petersburg, Florida)
Juice up
"Apple juice is your friend if you need a little bit of liquid, it always goes well with pork. Put it in a throwaway foil pan with a little barbecue sauce, then in the oven for about an hour and they'll be tender." -- Ray Lampe
Add smokey ingredients to your your sauce or rub
"By using ingredients in your barbecue rub or sauce like smoked paprika, smoked salt, and smoked chiles, you can bring a smoky flavor to your ribs without having a smoker." - Tuffy Stone

Say no to liquid smoke
"Stay away from liquid smoke. Most commercial barbecue sauces use some, but if you make a homemade sauce, don't touch it because it's really hard to use without overusing it." -- Ray Lampe

Up the complexity for the oven, but don't treat it like a smoker
"If you're cooking in the oven, go with a more complex BBQ rub, but don't try to cook at 200 degrees." - Ray Lampe

Sear, then bake
"Sear the ribs in a large cast iron skillet or a hot oven to give the ribs a nice char. After the ribs have browned, turn the oven to low or place in a low oven or crock pot to cook to tender. A dutch oven can be a good vehicle to use as well. Make sure to add some liquid to the pot or pan as the ribs cook at a lower heat to tender." -- Tuffy Stone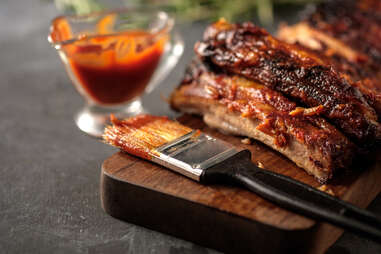 Save the sauce until the end
"Make sure that the ribs are tender before you add sauce. Many barbecue sauces contain sugar, so be careful to not get the sauce to hot. It will burn and ruin your efforts." - Tuffy Stone

Sous vide it
"Bag the ribs with wet rub and circulate at 60 degrees Celsius for 48 hours. For a faster cook, do 70 degrees for 24 hours or 82 for 8. Chill in the bag in an ice bath or slow cooker filled with water. Then finish with a dry rub and put in the oven at 350 degrees until fragrant and warmed through." -- Tatsu Aikawa, Kemuri Tatsu-ya (Austin, Texas)

Go bananas
"Banana leaf imparts a very mild earthy flavor. It also helps to retain moisture just as aluminum foil would. Cooking in the oven allows you to have a controlled and sustained heat without variation." -- Charles Schlienger, group executive chef at Sway (Austin, Texas)

Glaze at high heat
"You can crank the oven up to 400 for the last 15 minutes and brush with favorite barbecue sauce to set the glaze." -- John Lewis
Dan Gentile is a contributor for Thrillist.