Weekend Project: How to Make Chutney
Jazz up any dish with this versatile Indian condiment.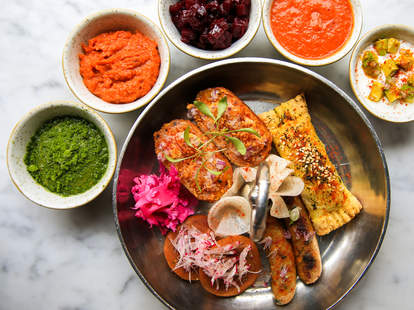 Photo by Katie June Burton for Baar Baar
My introduction to Indian food began in college, though perhaps improperly, thanks to cheap, all-you-can-eat Indian buffets on campus. Though I wasn't being exposed to anything top-tier, I developed a love for the earthy spices and began to incorporate those flavors in my early days of cooking.
I've found that chutney, the Indian condiment that's often seen accompanying naan, is a great thing to use when thickening a curry. But after speaking with Executive Chef Sujan Sarkar of Manhattan's BAAR BAAR, I was surprised to learn of chutney's many non-traditional uses. And unlike its cousin achaar, which requires a more laborious pickling process, chutney can be made quickly and in many different ways—fresh or cooked; sweet, tart, or spicy.
"The good thing about chutney is that there are no set recipes. You just have to follow instinct," Sarkar says.
Chutney can, first and foremost, serve as a balancing ingredient. "Hot chutneys sometimes add flavor to your dish. You can make a chili chutney, add it to any curry, and that can give you a kind of kick," says Sarkar. "At the same time, fresh chutneys, like those containing yogurt, or a sweet chutney can give a cooling touch."
You can start your meal with chutney—along with, say, a crisp flatbread or cheese plate—or you can end with chutney. "When people finish with chutney, like in Bengal, where I come from, it's always going to be sweet," says Sarkar.
And then there are the unconventional uses. "Mango chutney can go into coleslaw on top of a burger. It can be a glaze for any big meat, you know, if you do a pineapple chutney and put it on a ham. I've added some chutneys on top of jackfruit tacos," Sarkar says. "And sometimes we just eat chutney on its own. You don't need anything else."
Once you have the basic ingredients down—whole spices, chili peppers, and a sweetener—you can start to play around with different fruits and vegetables. Because Sarkar takes a seasonal approach at BAAR BAAR, he has been experimenting with fall produce, like beets and persimmons.
In the spirit of Thanksgiving, I tried my hand at making Sarkar's cranberry and rhubarb chutney, which he suggests pairing with roast turkey or ham. Luckily, at the time of making this chutney, I happened to be in London, a city known for its Indian food scene. I set out to find the fresh rhubarb and various whole spices at Borough Market, a place I went into confident that I would find anything I could ever need.
After resisting the temptation of various homemade chutney stands, I stood before Spice Mountain, the Dylan's Candy Bar of spices—every herb, seasoning, and superfood from around the world lined its walls (And they have an online shop, offering worldwide shipping). I left with everything besides the black mustard seeds, subbing them for brown ones.
If you've never worked with the fruit-vegetable hybrid that is rhubarb, it peels like string cheese and smells like candy. After chopping it into small pieces and cooking it with bay leaves, chopped ginger, and fennel seeds, I added dry cranberries and cranberry juice and let that cook for 10 minutes. Once I added brown sugar, it really started to take on a jam-like consistency.
And then came the fun part: tempering. The technique involves cooking spices—in this case a dried red chili, mustard seeds, and curry leaves—in super hot oil to intensify their flavors and get an aroma going. Once I saw the mustard seeds beginning to pop, I added the sizzling spices and oil into the cranberry, mixed them together, and then transferred to a jar.
I wanted to save the marriage of this chutney and turkey for Thanksgiving, so I simply paired it with some naan this time around. It was perfectly tart, balanced with a hint of spice from the red chili. Whatever your stance on cranberry sauce, I highly recommend trying out this version, as well as some other chutney recipes created by Executive Chef Sujan Sarkar.
Cranberry and Rhubarb Chutney
Serves: 8
Ingredients
1 Cup Dried Cranberries
1 Cup Chopped Rhubarb
1 Tbsp Chopped Ginger
1 Tbsp Vegetable Oil
2 Bay Leaves (dry)
1 Tsp Fennel Seeds
3 Tbsp Light Brown Sugar
½ Cup Cranberry Juice
For Tempering:
1 Tbsp Vegetable Oil
1 Whole Dried Red Chili
½ Tsp Black Mustard Seeds
4 Curry Leaves
Method:
1. Peel rhubarb and cut into small pieces.
2. Heat oil in a heavy bottom pan; add bay leaves, fennel seeds and chopped ginger and cook for 30 seconds.
3. Add chopped rhubarb and cook for a few minutes.
4. Add cranberry juice, dried cranberries and cook for another 10 minutes on medium heat; stirring at regular intervals.
5. Add brown sugar and cook until it gives a shiny coating to the rhubarb and cranberries.
6. Heat oil in a pan and add all the tempering ingredients into it. Cook for a few seconds on high heat and add the hot mixture to the cranberry and rhubarb chutney.
7. Mix well.
8. Check and adjust the seasoning to taste, store it in an airtight container in a refrigerator and consume within 2 weeks.
Serve with roast meats such as a roast turkey or roast ham.
Cilantro and Mint Chutney
Serves: 10
Ingredients
1 cup cilantro
½ cup mint leaves
1 avocado
0.35 ounce fresh ginger
3 whole green chilis
2 Tbsp lemon juice
½ teaspoon salt
½ teaspoon black salt (optional)
1 teaspoon chaat masala
¼ cup ice cubes
Method:

1. Peel the ginger. Remove the avocado flesh from the skin and dice into cubes.
2. Add cilantro leaves, mint leaves, avocado, ginger, green chili and ice cubes into a blender and blend to a fine paste.
3. Add lemon juice, salt, black salt and chaat masala; mix well.
4. Store in an airtight container in a refrigerator and use within 2 days.

Serve with Indian grilled meats and vegetables, savory fritters, any kind of chaat.
Chili and Peanut Chutney
Serves: 8
Ingredients
¼ cup dried red chili
1 cup peanuts
2 Tbsp ginger
10 garlic cloves
3 whole green chilis
5 Tbsp vegetable oil
3 tomatoes
1 teaspoon salt
1 Tbsp red chili powder
Method:

1. Roast the tomatoes at 375°F until cooked and soft; peel off the skin.
2. In a heavy bottom pan heat oil, add ginger, garlic, dried red chilis, and green chilies and sauté until they turn slightly brown and soft.
3. Add the chili powder and stir for 10 seconds and add peanuts, roasted tomatoes and cook for 5 to 7 minutes.
4. Remove from the heat and let it cool down.
5. Blend it to a fine paste using a kitchen blender.
6. Adjust the seasoning to taste and store it in an airtight container in the refrigerator.
7. Consume it within 2 weeks.

Serve with any South Indian dishes (e.g. dosa, idli, uttapam, fried chicken, lamb dishes).
Beetroot Pachadi
Serves: 8
Ingredients
2 cups beetroot
3 Tbsp coconut oil
1 teaspoon mustard seeds
1 Tbsp ginger
3 whole green chilis
2 whole dry red chilis
1 Tbsp split chickpeas (rinsed and dried)
½ teasppon Asafoetida
1 ½ cups plain yogurt
1 teaspoon salt
Method:
1. Peel and grate beetroot and ginger separately.
2. Slit the green chilies and cut the curry leaves into thin strips.
3. In a heavy bottom pan on medium heat, add coconut oil and temper it with mustard seeds, ginger, Asafoetida, split chickpeas, and dry chilis.
4. Add the grated beetroot and slit green chilies, sprinkle some salt and toss it on a high flame until the moisture evaporates.
5. Cool down the mixture and add it to the whisked yogurt.
6. Check and adjust the seasoning to taste, store it in an airtight container in a refrigerator and consume within 2-3 days.
Serve with any Indian thali.
Sign up here for our daily Thrillist email and subscribe here for our YouTube channel to get your fix of the best in food/drink/fun.