Recipe by Khanh Nguyen, owner, DaLat
Here's what you need:
4 cups cabbage
1 bunch cilantro
1/2 cup sliced jalapeños
1/4 cup soy sauce
2 limes
4 cloves garlic, minced
1/3 cup sugar
1tsp pepper
1 cup water
Thrillist
You'll need to get that cabbage cut into 1/4"x1" strips, or just buy the pre-shredded stuff and cut down the time between you and eating.
Thrillist
Then chop the cilantro, but don't chop block it unless you want a 15yd penalty and possible fine.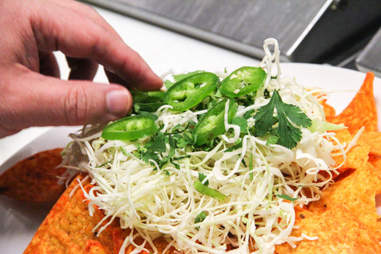 Thrillist
The jalapeño adds a little extra kick, so [INSERT KICKER JOKE HERE].
Thrillist
Juice a few lime wedges over the top of the mixture, and keep a few around for garnish as well.
Thrillist
Toss in the soy sauce and water...
Thrillist
... plus the garlic, pepper, and sugar, probably all you'll be getting this evening thanks to your Dorito breath.
Thrillist
Cook everything over medium heat for roughly one commercial break (about 4 minutes), and then let it cool for about an hour.
Thrillist
Serve it like a salad over a bed of Doritos, and top it with Sriracha if you like it hot [NOTE: you like it hot].
Thrillist
Don't forget to visit DaLat.