How to Make Espresso BBQ Hot Wings
Recipe by Jon Bohn, executive chef, The Mill
Here's what you need:
1lb chicken wings
3 cups ketchup
1 cup chilled espresso
1/2 cup molasses
1/2 cup soy sauce
1tbsp Worcestershire sauce
1tsp chili powder
Salt and pepper to taste
Thrillist
Toss your wings with salt and pepper, then push them reeeeeal good into a nonstick pan. Place said pan on pictured fire. Ooooh baby baaaby.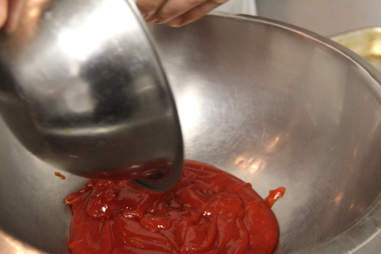 Thrillist
Add the ketchup to a mixing bowl. Now pour it from that mixing bowl into an even larger mixing bowl.
Thrillist
Stir in a cup of chilled espresso or iced coffee.
Thrillist
Thrillist
Put the salt, pepper, chili powder, and Worcestershire sauce into classy-looking metal containers. Okay, now you can add them to the bowl.
Thrillist
Stir in the molasses 'til your sauce looks like this.
Thrillist
When the wings are almost done, brush BBQ sauce on (yes, you really just made BBQ sauce that easily and yes, that's a paintbrush). Let it burn a little bit.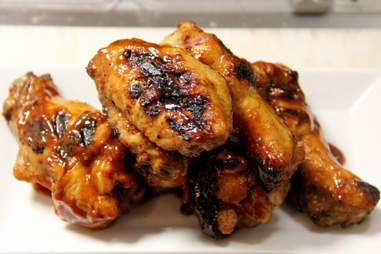 Thrillist
Now hide them in your pockets. Or on a plate. Your call.