How to make the best mac & cheese you've ever eaten... from a box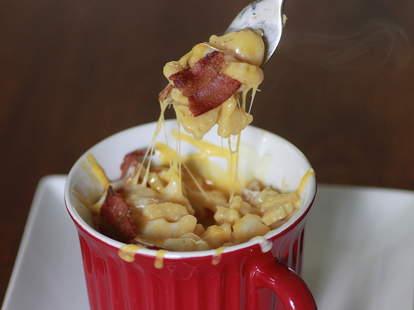 While cooking up your own mac & cheese can be deliciously simple, sometimes you need to revert to the convenient childhood favorite: boxed mac & cheese (we even ranked a bunch). Though busting out the Kraft is considerably more acceptable than spraying Easy Cheese in your mouth, it's time to learn how to up your neon-orange noodle game.
We enlisted the help of eight mac & cheese experts to hit us with their best tips on how to easily fancify the beloved box, from adding in more cheese to pouring on ranch dressing. Here's how never to eat plain mac again:
Rachel Freeman
Add in some high-quality, freshly grated cheese
"One of the easiest ways to jazz up your boxed mac & cheese is to add freshly grated cheese to it.  Types that work well are cheddar, pepper jack, muenster, provolone. Really, anything handy in your fridge will do, and will make a substantial difference in taste!" - Sarita Ekya, owner, S'MAC (New York, NY)
Top it off with panko and throw it in the oven
"I love a baked mac & cheese -- add an egg and a little extra milk to the mix, put it in a buttered casserole dish, add an almond-and-panko topping for a crispy crust, and bake it in the oven." - Beau & Tiffany Hodson, owners, Mac the Cheese Truck (Buford, GA)
Serve it up in a fancy dish
"It's all about presentation. Serve your boxed mac & cheese on a set of unique dishware or in a cocotte, like we do at parkside. It can transform your at-home version." - Shawn Cirkiel, owner/chef, parkside (Austin, TX)
Toss in American cheese for added creaminess
"To make it extra creamy, add some deli American cheese slices. It melts in perfectly and makes any reminder of powdered cheese go away. It also helps the leftovers (if there are any) be creamy instead of dry when you microwave it the next day!" - Marti Lieberman, owner, Mac Mart Truck (Philadelphia, PA)
Scope out your fridge for tasty add-ins to complete the dish
"Box mixes are about convenience, right? Look at what you have in your fridge to add in and make it a complete meal. We serve 'Mac Bowls' on our truck, like our BBQ Mac with pulled pork and pimento cheese over cheddar mac, so think of fun combinations. You could easily use leftover spinach dip, dice some tomatoes, and add a little Parmesan on top of your box mix and you would have our Spinach & Artichoke Mac." - Beau & Tiffany Hodson, owners, Mac the Cheese Truck (Buford, GA)
Seriously, adding extra ingredients, like different meats, is key
"Doctor up the mac itself and top it with different kinds of braised meats. Pork butt, or shoulder, is one of my favorites. A fried egg never hurt anyone either!" - Josh Warner, owner, CapMac (Washington DC)
Use ranch dressing to add depth
"For flavor, add a little bit of ranch dressing (doesn't matter what kind, or if it's dip). All those great seasonings & flavors are already combined into a milky, creamy mix -- it adds great taste!" - Marti Lieberman, owner, Mac Mart Truck (Philadelphia, PA)
Choose a favorite cuisine and let those flavors inspire you
"I love to create different flavor profiles based on the cuisine I'm in the mood for. I have a passion for Latin cuisine, for example. I love using Latin cheeses: queso Cotija, queso fresco, Mexican manchego, etc. I also love integrating fresh and roasted veggies. Corn and chilies are two of my favorites. You can never go wrong with a homemade salsa or tortilla crumble either!" - Josh Warner, owner, CapMac (Washington, DC)
Vegetables are your friends
"Pairing up mac & cheese with roasted vegetables is not only healthy, but also delicious. Toss some cauliflower, broccoli, and asparagus with olive oil, kosher salt, fresh ground pepper, thyme, and sage. Roast the vegetable mixture in the oven and stir into your mac & cheese before serving." - Sarita Ekya, owner, S'MAC (New York, NY)
Get your goat on to make it even richer
"Nothing melts quite like fresh goat cheese (often referred to as chèvre). Once your mac & cheese is prepared, stir in about 1/4 cup of fresh chèvre, a tablespoon of fresh basil sliced into thin ribbons, and 1/2tsp ground black pepper. Stir it all together, and you'll end up with an incredibly velvety, rich, and herby creation." - Jill Erber, owner, Cheesetique (Arlington, VA)
Bacon, bacon, bacon, bacon, and other stuff
"Leveling up boxed mac & cheese is easy. Throw the cheese powder away. Use cream, sharp cheddar, and monterey jack. Insert bacon and jalapeños. Top with bread crumbs. Crack open a beer." - Staff, Kuma's Corner (Chicago, IL)
Don't be lazy -- make your own!
"We strongly believe that you can make your own mac & cheese in just a few minutes longer than it takes to make the boxed kind -- and it will be five times more delicious. To go this route, make a Béchamel with flour, butter, and milk (this is the hardest part of the process, and it's not that hard). Mix it with cooked elbows and a good, aged cheddar -- preferably aged at least two years. And that's it! It'll take about 15 minutes, and it'll be creamy, cheesy, and pretty darn delicious." - Allison Arevalo & Erin Wade, owners, Homeroom (Oakland, CA)
Rachel Freeman is a food/drink editorial assistant at Thrillist and recently added panko, Parmesan, and red pepper flakes to her box of white cheddar Kraft. Follow her to cheese worship at @rachelifreeman.