I Made TikTok's Ridiculous Frog Bread, and This Is Why You Should Too
A deep dive into the weird quarantine baking trend.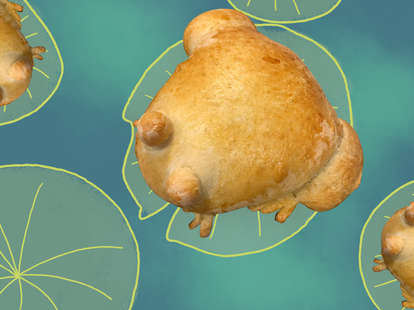 Maitane Romagosa/Thrillist
Maitane Romagosa/Thrillist
I've seen more than my fair share of sourdough, focaccia, and challah on Instagram lately. But to be quite honest, if I could somehow prevent all bread-related content from appearing on my feed, I probably would. I was so sick of seeing the same crusty round loaves, but then I came across a bread trend that was so uniquely strange and positively unnecessary that I couldn't help but lean in: frog bread.
Like other baking projects in this weird world we're living in, frog bread has captivated social media. It makes sense that we'd all start baking bread or tackling other recipes that take a bit of time now that we're all stuck inside. But people have taken this conventional hobby and pushed it to be quite strange. If you scroll through TikTok for just a few minutes, you'll see that thousands of people are taking a simple ball of dough and forming it into a frog shape set with eyeballs, feet, legs, and a little smile, and recording the entire process to post on social media. Try explaining that to your three-month-ago self.
But it's caught on. Videos with #froggybread on TikTok currently have 1.9 million views (and counting) and the trend has made its way onto Twitter. The results range from freakishly cartoon-like to just plain unfortunate, but bakers seem to be celebrating their creations whether they're deemed traditionally Instagrammable or not.
With the promise that this activity will release some much-needed serotonin and nothing better to do, I set off to make it myself. I consider myself a pretty good cook but I have to admit, I was a bit nervous to give the frog variety a go. I have mastered standing over a pot for four hours while my bolognese reduces and, like many of you, I stocked up on yeast and have made focaccia a handful of times since being confined to my tiny Brooklyn apartment. But I've never made bread bread.
So I watched dozens of TikToks and pulled up The Fresh Loaf's circa 2005 recipe that the trend seems to stem from. While gathering my ingredients, I wondered why anyone was making this clickbait-y bread years ago before the need for constant approval from strangers on the internet. A child's birthday? Or do we all just have an unexplainable, unshakable desire to shape bread into aquatic creatures, from alligators to turtles?
The recipe itself is pretty simple. All it takes is flour, salt, sugar, milk, water, and a package of yeast, and you're good to go, but making the actual dough is as easy as you'd expect. A little mixing, a quick bout of kneading, and then just leave it covered to rise for an hour and a half.
Then came the tricky part. I knew that shaping sticky dough into an edible amphibian wouldn't be the easiest task. But damn, kids of TikTok. Why are you subjecting yourselves to this? The eyes slid off while I was trying to cut out little webbed feet, and the body slowly slumped over while I was trying to stick the eyeballs back on the head. And don't even get me started about what happened to the little mounds that would serve as the back bent legs. Pure torture! After about 20 minutes of wrestling the dough (and admittedly enlisting an extra set of hands), I was ready to brush my weird little misshapen frog with an egg wash, throw it in the oven, and call it a day.
I did not have high hopes for what would greet me once my timer went off 45 minutes later. But the smell of toasty warm bread that filled my apartment made it seem like I'd done something right. So I pulled my bread out of the oven and had a shiny, golden brown, plump loaf that shockingly resembled a doughy amphibian.
I admired my handiwork for far too long and sent my mother a photo with absolutely no context (I got a deserved, "wtf is that???" in response). Then I began quickly deconstructing my little friend, slicing along the frog's hind leg to get myself a nice, thick slice. After one bite I found that the bread tasted just like a grocery store loaf of hearty, nondescript Italian bread. It was extremely dense, slightly sweet, and had a strong crust, making it the kind of bread that's perfect for soaking up extra marinara. My cute little frog transformed into the milk-soaked secret ingredient in a vat of Italian gravy, served as a base for avocado toast, and morphed into several different sandwiches over the course of its lifetime.
After scrolling through hundreds of variations and making my own, I realized that frog bread has become the ultimate carefree baking trend of quarantine. Unlike most of the polished and propped food on social media, it doesn't matter if your bread looks highly deranged or even a little inedible. Post it anyway!
I'm not rushing to make another loaf of frog bread anytime soon, but if you're looking for a hilarious way to waste an afternoon, make versatile (and delicious) bread, or become TikTok famous, try the best low-stakes quarantine baking trend.
Sign up here for our daily Thrillist email, get Eatmail for more food coverage, and subscribe here for our YouTube channel to get your fix of the best in food/drink/fun.
Liz Provencher is an editorial assistant at Thrillist. Check out her frog bread (and overly polished food) on Instagram.