Make Indian Tacos with This Fluffy Frybread Recipe
Watecha Bowl owner Lawrence West shares his recipe for a vegan, gluten-free Indian taco.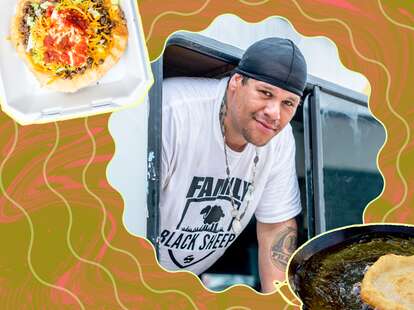 Photos: 605 Magazine, Shutterstock; Image: Chineme Elobuike for Thrillist
Photos: 605 Magazine, Shutterstock; Image: Chineme Elobuike for Thrillist
In 2005, frybread was crowned the official state bread of South Dakota. The flattened, deep-fried dough, which was created by the Navajo tribe in the late 1800s, has made its way to state fairs, powwows, and celebrations. While it's often enjoyed as a base for open-faced tacos—otherwise known as Indian, or Navajo, tacos—frybread can double as a dessert, sprinkled with cinnamon sugar or dipped in honey butter.
It's important to note, though, that frybread has a complicated origin story. In 1864, the United States forced Navajo citizens living in Arizona to relocate to New Mexico, on a 300-mile journey known as the Long Walk. Because the land in New Mexico could not easily support Navajo crops, the government supplied citizens with rations of white flour, processed sugar, and lard. And frybread was born.
Lawrence West, a member of the Cheyenne River Sioux Tribe, serves crowd-pleasing Indian tacos at his Sioux Falls restaurant, Watecha Bowl. "There was a real void in this area, which is predominantly Native American," West says. "We're on the prairie, the Lakota Sioux. And we didn't have that representation in the food market."
What started out as a food truck is now an express restaurant, specializing in traditional Lakota cooking served in the style of powwow fair food. On the menu, frybread accompanies everything from buffalo burgers to wojapi, a thick berry sauce. But the Indian tacos are most popular, due to their familiarity.
"People gush at the sound of an Indian taco. Over the course of time, it's what became natural, or easily accessible to us. We use them to celebrate everything, from graduations to birthdays," says West. "But it's important that people educate themselves on where these things came from. You can take them or leave them, but these foods are very important to our people. Whether or not they started from suffering, we turned them into a triumph."
West is proud of his vegan, gluten-free Indian taco, which makes use of the Watecha Bowl crumble, a signature soy-free, nut-free creation made entirely of vegetables. "A lot of Native American food is naturally vegan," he says. "What we ate came off the land. We ate whole vegetables, fruits, grains, tree bark—and then we re-utilized the skins."
"Whether or not they started from suffering, we turned them into a triumph."
When it comes to making gluten-free frybread, the process is fairly simple. You'll need sorghum flour, xanthan gum, almond milk, and yeast—either dry or wet. After combining the dry and wet ingredients, allow the yeast to rise for about 20 minutes.
Make a palm-sized ball, knead it with some extra flour, and then fry for 90 seconds to 2 minutes on either side, until you get your desired color and texture. According to West, it's important that you don't overwork the dough, as a tough consistency will stop the bread from fluffing in the fry pan. "Knead it just enough to get it to your size," he advises.
Then it's time to dress the frybread with your favorite toppings. West likes to use traditional taco fixings, like jalapenos, black olives, and sour cream. But if you're looking to satisfy a sugar craving, the opportunities are endless. "You can do anything with frybread. There's not one specific use," West explains. "There's frybread and honey, blueberry frybread, frybread pancakes, frybread and wojapi, or cinnamon-sugar fry bread."
West's best advice for making frybread is: "You just gotta put love into it." And that's exactly how he operates Watecha Bowl, making the Lakota proud along the way. "It's humbling, really, the interactions that you get," he says. "I'm happy that it's me that gets to represent the people in this way."
Lawrence West's Vegan, Gluten-Free Indian Taco
Ingredients:
Frybread dough
4 cups sorghum flour
4 tablespoons xanthan gum
2 tablespoons baking powder
1 tablespoon salt
1 tablespoon (wet/dry yeast)
1/4 cup sugar
10 ounces warm water
10 ounces cold almond milk
Vegetable oil for frying
Topping
Soy or black bean crumble (heated)
Lettuce
Tomatoes
Black olives
Salsa
Sour cream
Cheese
Jalapeños
Directions:
1. Mix dry ingredients and wet ingredients; add more or less liquid for desired texture.
2. Let dough rise for 20-30 minutes.
3. Knead and size.
4. Heat vegetable oil in a pan. Fry for 1.5-2 minutes each side until desired color and texture.
5. Add toppings.