Recipe by Emran Chowdhury, chef, Cantinetta
Here's what you need:
Thick-sliced white bread
Butter
Milk
Sliced cheese
Sausage
A box of mac & cheese
Some premium sausage from your local butcher is perfect, and it's even better if they un-case it for you.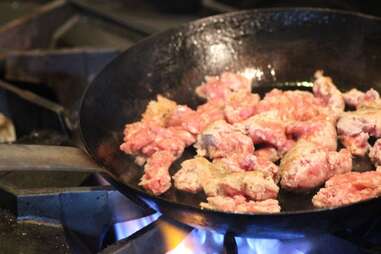 If they don't, then you'll just have to break the uncased meat from one large sausage into bite-sized pieces, then put it in a hot pan until it does like Cleveland and browns.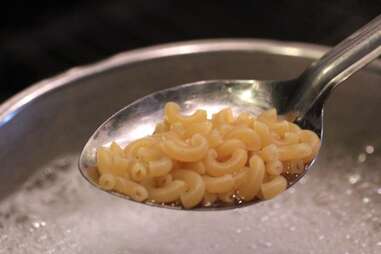 Set the cooked sausage aside and cook the macaroni in salted water like you have since you were 16. If you never cooked mac & cheese, just follow the directions on the box, then weep for yourself.
Next, the pasta needs to be drained.
Butter is even better with packets of powdered, processed cheese on top of it.
It's ready to mix once you add the milk or cream.
Don't get so focused on 22 dudes chasing a pigskin that you forget to add the pork.
If you insert "despite making all that" between "sour" and "dough," you get how Tom Brady feels. If you don't, you get the kind of bread we used.
Pro tip: using butter to grill your sandwiches ensures the toast browns well, and absorbs flavor.
It's easiest to build the sandwich right in the pan; first you add what killed Prop Joe in The Wire, and possibly in real life: cheese.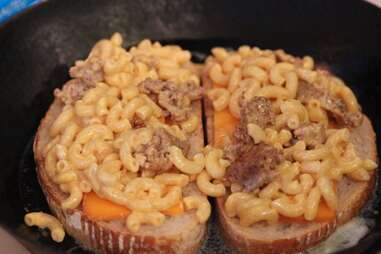 Once the cheese is melted, add approx. 1/2 cup of the sausage/mac & cheese mixture.
Grill until bread is toasted and cheese is thoroughly melted, flipping occasionally.