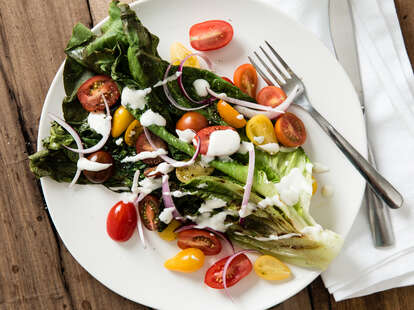 The Ultimate Guide to Grilling Salads
Welcome to Grillist, our annual celebration of all things smoke and fire. Join us all summer long as we get up in your grill with expert BBQ advice, insightful interviews, great recipes, and bad grilling puns -- but mostly those first three.
Salads are usually pretty ubiquitous at any summer barbecue -- you have to have at least one green thing amongst the sea of meat right? But they are rarely the star of the show and are frequently left to be piled into a large bowl and smothered with some sort of dressing. There is no reason this should be the case, because as it turns out, salad greens are even better when grilled.
"Grilled salads are great because they show vegetarians that they can still eat like a meat eater," says Chef Joseph "JJ" Johnson of New York's Minton's in Harlem "You can really push the boundaries of what people consider to be a salad when you grill the greens and push those flavors."
Adding grilled greens to vegetable salads can also play off of other summer vegetables like tomatoes, corn, and squash. "The smoke and char on the greens works with the sweetness and texture of other vegetables you would normally grill like zucchini and bell peppers," he adds.
Grilling greens is easier than you think. Just follow guidelines below and you'll be grilling up impressive salads in no time.
Choose the right base
Chef Jeremy Fox, owner of Rustic Canyon in Santa Monica, California says that grilling salads should start with a green that works with what other vegetables are in season. "When you're creating the salad start at the market and see what's available," he says.
The structure of the green also matters. Fox recommends going with greens with tighter heads like romaine, radicchio, and endive. Since the greens are tightly packed they're less likely to fall apart during grilling and will retain some of their crispness. "You can grill any greens but these greens will keep their texture," he says.
"I like to grill collard greens because they get a nice smoky flavor and they have a pleasant bitterness to them," Johnson adds. He also likes to grill bok choy and butter lettuce because the grill quickly imparts a nice smoky flavor.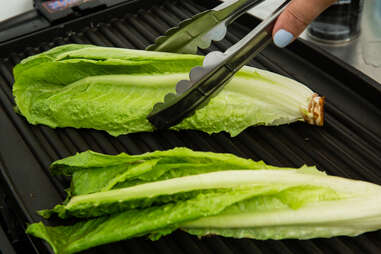 Pick the other elements wisely
Both Fox and Johnson agree that cooks should think about how the other components of the salad will play off of the smoky, charred flavor.
"If I were building a salad with grilled greens for my restaurant, I would be thinking about how spice, citrus, and smoke and play with those things," Johnson says. "I would grill bok choy or collards and add some corn and chili oil or something like that."
Fox says that sweetness is an important component of a grilled salad since there's char and bitterness already present. "I would also think about acid like a vinegar or a citrus flavor to cut through some of that bitterness," he adds.
A creamy dressing or a crunchy element like nuts or seeds are also a great compliment to grilled greens.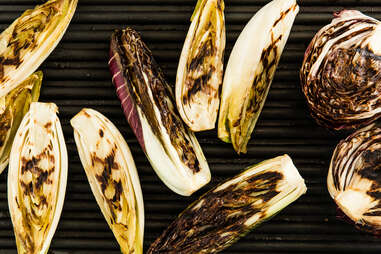 Pay attention to the grill
So you've got your greens and the other ingredients for your salad and it's time to grill. Now what?
"First make sure that you have everything you need and have it prepped," Fox says. "You want to be able to put your salad together ASAP after you grill the greens."
Lightly brushing the greens with enough oil to conduct heat is crucial. Add some salt and pepper to the greens before they go on the grill and keep an eye on them so they don't get too much char. Also, monitor the heat. "You don't want too high of a heat because it'll get too bitter," Fox explains. "Leave the greens just long enough to impart flavor and soften it up."
Johnson likes to leave hearty, stemmed greens like collards dry when he's grilling them so their natural oils come out. And go ahead and keep the stem on. "Keeping the stems on helps you grill them easier," he says. Whole heads of radicchio or endive can be grilled whole and then chopped for a less messy grilling situation too.
Dress it (or don't), then serve it
One of the best parts about having a grilled salad is that you don't have to serve it ice cold. "The flavors work better when you serve it warm," Fox says.
The salad can be dressed right before bringing it to the table and a protein like chicken or shrimp can be added to take it from side dish to main dish.
Grilled greens are a great way to add a smoky flavor to your favorite summer salads. Experiment with your favorite greens and remember that even if they get too charred it's OK. "Have fun and if it's not perfect that's fine," Fox says. "You're cooking for your friends and family and if you mess up they'll still love you. Hopefully."
Sign up here for our daily Thrillist email and subscribe here for our YouTube channel to get your fix of the best in food/drink/fun.

Korsha Wilson is a food writer, graduate of the Culinary Institute of America, ex-restaurant worker, and an ex-cheesemaker. She is the founder of A Hungry Society, a podcast dedicated to creating a more inclusive food world. If you want to see her geek out, ask her about the role of restaurants in modern society or "real" crab cakes -- she grew up in Maryland.
Photographer: Cole Saladino
Food Stylist: Jen Beauchesne