Whether you're planning a party or just want to crush an entire French baguette's worth of zesty antipasto alone on your couch, you're probably going to like this bruschetta. We teamed up with Crispin Hard Cider and put together this this tangy tomato mixture drizzled with cider vinaigrette and served with a side of buffalo mozzarella and toasted bread... and now that we've said all that who are we kidding? Forget the party and conquer this entire thing solo, you deserve it. Probably. We don't really know you that well but let's assume that, yes, you deserve it.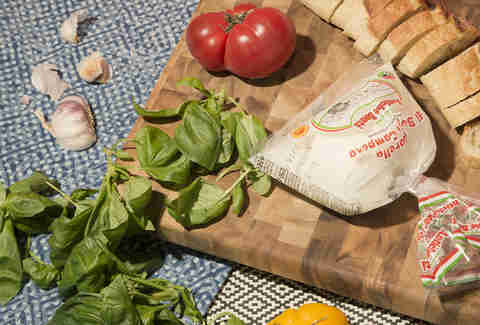 Bruschetta with Crispin Vinaigrette
Ingredients:
1 bottle Crispin Original Cider (for vinaigrette)
2 balls of buffalo mozzarella cheese
2 large heirloom tomatoes
2 cups baby kale
8 large leaves of fresh basil
1 French baguette cut into half inch slices
1 bottle Crispin Original Cider
3-5 tbsp olive oil
½ tbsp minced garlic
1 tbsp Dijon mustard
Directions:
Pour entire bottle of cider into a small saucepan and reduce until less than ¼ cup (2-3 tbsp), about 15 minutes.
Whisk in garlic and mustard then slowly drizzle in olive oil while still whisking until combined.
Taste; if the flavor is too strong, whisk in more olive oil.



Arrange kale on a large platter.
Slice the mozzarella and arrange atop the greens.
Dice the tomatoes and place in a large bowl.
Add salt and pepper to taste.
Toss tomatoes with 3 to 5 tablespoons of Crispin Vinaigrette.
Mince the basil and sprinkle over the top of the tomatoes.
Serve the mixture on top of the greens and mozzarella, with baguette slides around the side of
the plate.