Weekend Project: How to Churn Homemade Ice Cream
Making rich ice cream with saucy swirls is easier than you think. Just ask Salt & Straw's Tyler Malek.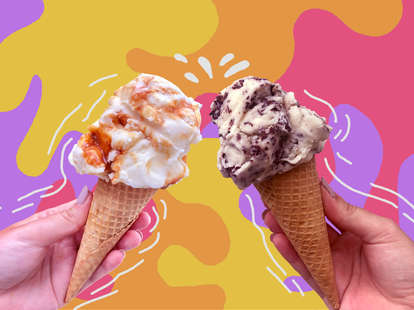 Photo: Liz Provencher; Illustration: Maitane Romagosa/Thrillist
Photo: Liz Provencher; Illustration: Maitane Romagosa/Thrillist
My summers were once spent covered in ice cream. I'd walk out the door of the ice cream shop I worked at each day with sticky splotches all the way up to my elbows and a t-shirt covered in blobs of pink bubblegum and rich chocolate smears. In all my time eating ice cream, scooping it, shaping fresh waffle cones, and baking brownies for sundaes, I've never actually made ice cream myself.
So I tapped Tyler Malek, the co-founder of Salt & Straw, to show me how it's done. Today he makes flavors like avocado with Oaxacan chocolate fudge and has two dozen shops up and down the west coast. But just nine years ago, he picked up a few used ice cream machines from Goodwill and was about to churn ice cream for the first time, so I figured he was the perfect person to lead me through my first experiment in making ice cream.
I had the Salt & Straw Ice Cream Cookbook that I planned to work from, so the first order of business was to get my hands on an ice cream machine. Malek told me there are basically three types of machine that range from hand-crank and other more novel options to upscale machines with a built-in freezer, but he recommends the sweet spot in the middle that has a bowl you pop into the freezer before churning. If you can't find one used like he did, you'll pay less than $100 for something that makes really good ice cream.
"In fact, if you do it right, the pre-frozen bowls can make a better quality because it doesn't take any time for the refrigerant to cool down, it's just instantly cold," he explained. So I bought Cuisinart's entry-level machine and picked up some other expert-recommended supplies, and I was ready to get started.
Weekend projects mean more messes to clean up. Tackle them without harsh chemicals with Clorox Compostable Cleaning Wipes, which are made from a plant-based cloth. They're safe to use around kids, pets, and food, so they're a versatile solution to all your biggest spills — letting you get back to work.
There's basically only one rule when it comes to ice cream making, and that's why Malek loves it so much. "There are boundaries around what you can do, but at the same time, it's limitless. It has to freeze, but that's pretty much the only rule," he said. Now I needed to decide which of the limitless options I'd try to make at home. His book has three base recipes to work from (ice cream, sorbet/gelato, or dairy-free coconut) and each works better for different flavors. Malek said ice cream has about 17% fat so it allows flavors like rich chocolates to linger on your tastebuds for longer, while gelato has about 8% fat so it works well with fruit flavors you want to burst upon first taste.
For my first flavor, Malek suggested I try his recipe for sea salt ice cream with caramel ribbons. It's one of the most popular options at his shops, and consists of a sea salt base that amps up the flavor of high-quality dairy and puts you in the driver's seat to swirl in as much caramel as you want. The thought of making homemade caramel sounded absolutely terrifying, so I put that on the back burner and asked what the first flavor he ever made was. "Bone marrow and roasted coffee," was his response. Welp. I was hoping for more of a vanilla or simple strawberry, but go off Tyler. I decided to go with his freckled chocolate chip technique on a vanilla base instead, and I'd revisit sea salt with caramel ribbons a little later once I didn't completely screw up the first batch.
The thought of making homemade caramel sounded absolutely terrifying, so I put that on the back burner and asked what the first flavor he ever made was. "Bone marrow and roasted coffee," was his response. Welp.
Clean and simple ice cream bases require top notch ingredients, Malek said, but luckily finding high-quality heavy cream and whole milk from a quaint local dairy was easy (I am in Maine, after all), but a few other ingredients in his base ice cream recipe worried me. I needed xanthan gum—an ingredient Malek promised wasn't as scary as its horrible branding makes it sound—which is essentially fermented corn starch that works to thicken and stabilize ice cream so it can last in your freezer for a few weeks and still taste delicious.
I thought I'd have to venture to the one Whole Foods in the state and battle vegans scooping it up for an egg substitute, but it was sitting on the baking shelves of my local grocery store. Powdered milk was tougher to find. Considering we are in the middle of a deadly pandemic, where people panic buy just about anything you can find on a grocery store shelf, I was surprised to track it down after a few calls to local stores.
Once I had all my ingredients in hand, making ice cream was simpler than I could've ever hoped. If you're making a plain base, all you really need to do is mix the ingredients together and heat them over low heat to dissolve the sugar. It's almost impossible to mess up, which was music to my ears, and once you put it in the machine to churn, your only job is literally to just keep your eyes open.
Malek said to stop the ice cream at a "Wendy's frosty texture" so I sat diligently over the machine as it scraped and spun my ice cream base. If you ignore his advice and over churn, you'll whip in too much air and be left with a dense texture and lots of ice cream stuck to the inside of your frozen bowl (trust me, I did that). But if you take it out too soon, you'll have a texture that's a little crumby (no pun intended, but trust me, I did that, too). These two versions will still be tasty because it is still ice cream. But when you land on the perfect texture like I did when I finally tackled sea salt with caramel ribbons in my third batch of ice cream, you'll have creamy, rich scoops that rival any scoop shop.
I stand by my statement that the hardest part of making ice cream is deciding which one to try. I'll admit that I internally rolled my eyes when Malek first said: "You gain skills throughout the cookbook and by the end you'll be making turkey ice cream and thinking, oh, this isn't weird anymore." And if you were in our Zoom call, you might have, too, because making ice cream seems really scary and I could've never imagined that I'd be able to tackle flavors like that.
But now that I've perfected a plain base, I'm ready to add fruit swirls, crunchy mix-ins, and whatever else I can dream up. And come November, I'll be drowning whatever pandemic-induced sorrows come my way in a pint of sweet cream swirled with salted turkey caramel and crispy turkey skin brittle.
Ice Cream Base
From Tyler Malek's Salt & Straw Ice Cream Cookbook
Makes about three cups
Ingredients:

Directions:
1. Combine the sugar, dry milk, and xanthan gum in a small bowl and stir well.
2. Pour the corn syrup into a medium pot and stir in the whole milk.
3. Add the sugar mixture and immediately whisk vigorously until smooth.
4. Set the pot over medium heat and cook, stirring often and adjusting the heat if necessary to prevent a simmer, until the sugar has fully dissolved, about 3 minutes. Remove the pot from the heat.
5. Add the cream and whisk until fully combined.
6. Transfer the mixture to an airtight container and refrigerate until well chilled, at least 6 hours, or for even better texture and flavor, 24 hours.
7. Stir the base back together if it separates during the resting time. The base can be further stored in the fridge for up to 1 week or in the freezer for up to 3 months. (Just be sure to fully thaw the frozen base before using it.)