Spicy food is awesome, but sometimes you want something more personal than pouring Sriracha all over your pizza -- you want to make your own hot sauce. But how do you do that, exactly? Well, we asked the folks at Hungry Pucker (the makers of Gringo Bandito) for some operative tips to consider when making a batch of that spicy stuff, and they delivered.
1. Quality of ingredients is important
"Use fresh spices! Many people buy a spice rack and, two years later, are still using the same stuff. If you wouldn't eat a 2-year-old bag of chips, don't use 2-year-old spices, either. They lose so much of their flavor over time, and it's important to get fresh stuff for the best flavor."
2. You don't always have to rely on grocery stores
"Peppers are actually really easy to grow in your own yard. The next time you buy a few at the store, do some research online first and find out what grows best in your climate. Take some of the seeds from one of your store-bought peppers and plant them in your yard, and you'll be amazed at how easy it is to grow your own. Imagine how fresh your sauce will turn out with some of those guys in there!"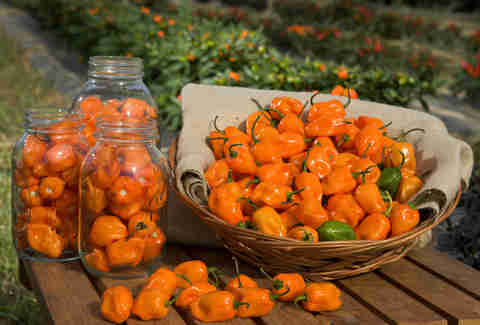 3. This stuff is hot, so take the necessary safety precautions, or suffer the consequences!
"If you're going to use habaneros or anything hotter, please take our advice: use gloves! (It's not for your fingers' sake.)"
4. Get creative and use flavors you find intriguing
"Don't always stick to the basics. Sometimes it's nice to use something that might be a little bit strange. We met a guy at a trade show, once, who had a pear-based hot sauce, and it was sweet and delicious. There are no rules when making hot sauce, and finding strange flavor profiles is what will really make your sauce stand out."
5. Use "XXX", "DEADLY", and/or "DIABLO" as you see fit
"Make sure you name your sauce something that stands out, so people can differentiate it from the others on the shelf. Hot sauce is the one food item that has been given carte blanche to have a ridiculous name, and people will appreciate it that much more."
For a helpful list of words to mix & match, consult this comprehensive list:
ASS, BLAST, BLASTER, KILLER, STOMACH, DESTROYER, NUCLEAR, KICKIN', MELTDOWN, BELLIGERENT, HELL, FUEL, HELLSPAWN, DEVIL, ROCKET, SH*T, DRAGON, XTREME, EXTREME, JUICE, DEATH, INCENDIARY, BLAZIN', CHAOS, EVIL, UNPLEASANT, DARK LORD, OHNOPLEASENOITBURNS
For the recipe, you can follow your own tastes -- but as a basic guide, try the following:
1 cup vinegar (white or red wine)
12 peppers (jalapeños, serranos), seeded
1tbsp garlic, minced
1tbsp salt
1/2tbsp cayenne pepper
1/2tbsp sugar
1 cup water
Blanche the seeded peppers in boiling water for 30secs. Combine blanched peppers with all other ingredients in blender and blend to desired consistency.
Adam Lapetina is a food/drink staff writer at Thrillist, and would definitely call his hot sauce "Unpleasant Juice". Read his musings on Twitter at @adamlapetina.