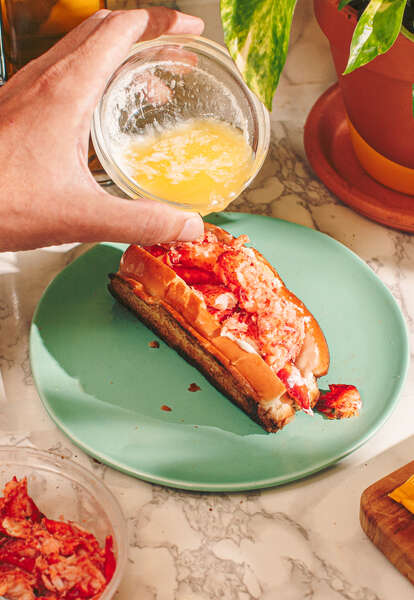 McLoons Lobster Shack

| Cole Saladino for Thrillist
McLoons Lobster Shack

| Cole Saladino/Thrillist
Growing up on the coast of Maine, no summer was complete without a lobster roll featuring plenty of claw meat lightly coated in mayonnaise and nestled in a golden toasted bun. I had more than my fair share of lobster this year, but if you happen to live far away from the sea, you may feel robbed of your own coastal seafood experience.
Luckily, it's not too late. Many people equate lobster with summer, but Chris Welch, a lobsterman whose family has been fishing the gulf of Maine for generations, said this is a common misconception. The best time to eat lobster is actually at the end of summer when lobsters have a brand new shell, and the early summer months are when you can get your first taste of this seafood delicacy.
Hard-shell lobster that's picked from the ocean from January through the end of June has a tougher texture and makes up most of the lobster available around the U.S., Welch told me. But in mid-July, lobsters outgrow their old shell and shed it in favor of a softer, thinner shell that grows underneath.
As lobsters go through this process of molting, lobstermen like Welch hold off on picking new lobster and resume once the process is complete. Lobster harvested at this time, generally from August through September, has a softer shell that is easier to break through. The meat is also much more flavorful because salty ocean water is able to pass through the thinner shell, essentially brining the meat as the lobster traverses the ocean floor.
"Maine new-shell lobster is really a delicacy," he said. "It's probably the most tender and sweetest lobster that you're going to find anywhere."
And now making lobster rolls at home couldn't be easier. The hardest part for most people is getting your hands on fresh lobster. But Maine lobster shacks, restaurants, and fisheries have made it easy for you by selling their products online in ready-to-make lobster rolls kits.
In all of the kits mentioned below, the meat comes cooked and ready to go, so there's no need to break through the shell or boil it in a roaring hot pot. All you need to do is lightly coat it in mayo, salted butter, or both, and pile it high on a toasted, buttery bun.
Here are some DIY kits that have everything you need to make lobster rolls at home:
Beal's Lobster Pier's kit comes with oversized brioche hot dog buns that take its rolls to the next level. Plus you'll get plenty of lobster meat to pile on, homemade mayonnaise and butter, and Maine-made Fox Family chips to eat alongside your lobster. Choose from kits with ingredients for four ($180), eight ($300), 12 ($420), or 16 ($550) rolls.
If you're a lobster lover outside of Maine, you already know Luke's Lobster. The restaurant has about 35 locations around the world, and the lobster roll kit brings the fresh meat and secret seasoning its known for to your kitchen. Choose from kits with ingredients for four ($115) or eight ($190) rolls.
Get Maine Lobster has a truly decadent lobster roll kit you just have to try. Try the Famous Lobster Roll Feast ($324), which includes a custom lobster kit for eight, lobster mac n' cheese, New England clam chowder, and whoopie pies.
Hancock Gourmet's lobster roll kit does all the work for you (and puts dessert on the table). The kit comes with lobster already coated in a thin layer of mayonnaise so all you have to do is toast up the hot dog buns, throw the lobster on top, and dig in. Plus, the six-roll kit ($147) comes with whoopie pies for dessert.
Eventide Oyster's lobster roll is anything but ordinary. This super rich variation comes with nutty brown butter to melt and coat the lobster in and soft, fluffy steamed buns. Choose from kits with ingredients for two ($55) or four ($95) rolls.
Most of these services ship lobster overnight on the same day it's picked from the ocean, so you're getting the freshest product around even if you're hundreds of miles away.
Once it's time to assemble, you pretty much have free rein. When it comes to the meat, Welch said a good lobster roll will have parts of the tail, knuckle, and claw so you're getting flavor from the whole creature. But you're welcome to fill it up with just your favorite sections too.
"When I'm eating lobster at home and picking it for my family, they don't get a chance to eat too many knuckles. I make those disappear as I'm working on the rest of the meat," Welch admitted.
Liz Provencher is an editor on the Local team who ate dozens of lobster rolls last summer. Check out what else she ate on Instagram.