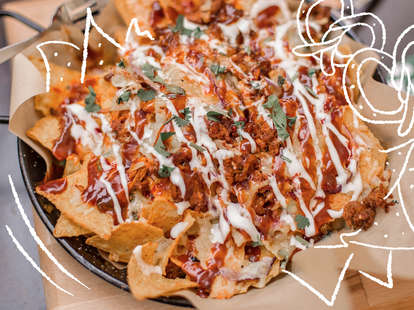 Emily Carpenter/Thrillist
Emily Carpenter/Thrillist
I'm a caterer, food stylist, seasoned cook-off contestant, and a recipe developer. You'll find me hacking away in the kitchen and figuring out what to do with the stuff that hangs out in the fridge door or the back of the pantry. Evaporated milk, mustard, pretzels, a beer―all are staples we might have in the pantry or find around the corner at the bodega. They're surprisingly easy to cook with! In my experience as a wedding caterer and leftovers queen, here are three super easy nacho recipes anyone can tackle.
Fondue Nachos
If you can't find Gruyere, any block of Alpine cheese like raclette, emmentaler, Jarlsberg, Comte, or fontina will work.
Shred a one-pound block of Gruyere or other cheese. Reserve 1/2 cup in a small bowl for later. Mix 1 tablespoon cornstarch or tapioca flour with your first pile of grated cheese. Bring 1 cup dry white wine or a light beer to a boil in a small saucepan. Working one handful at a time, whisk in the coated cheese until melted. Lower the heat and add a dash of black pepper and a ½ teaspoon of powdered garlic. If you have it, add a dash of nutmeg.
Spread a bag of wavy potato chips on a platter and pour the fondue over it. Top with Funyuns, the rest of the shredded cheese, and chopped scallions. If you wanna get extra fancy, throw on some caramelized onions.
Since this wilts really quickly, as an alternative you could keep your fondue in the pot and arrange your chips and Funyuns around for dipping into it.
Blue Nachos
Bring 3/4 cup evaporated milk to a boil in a small saucepan. Whisk in 1 teaspoon onion powder, 1 teaspoon garlic powder, and a dash of hot sauce. If you have salsa, throw in a spoonful. Bring the heat down to medium-low. Mix in a handful at a time an 8oz bag of shredded pepper jack cheese. Stir until smooth, and remove from heat.
Arrange blue corn chips on a platter, drizzle the queso over the chips, sprinkle with a ½ cup of drained canned corn, zest a lime over all, and top with chopped cilantro.
Note: Most bags of shredded cheese contain a bit of cornstarch mixed in to prevent the strands from sticking together. If you find your queso is not coming together, cool it down and blast it with a food processor or immersion blender; then reheat.
Pretzel nachos
Spread the pretzels (ideally pretzel crisps or chips) on a large plate. Transfer jarred nacho cheese to a microwave-safe bowl and squirt in a bit of mustard, up to a tablespoon. Microwave for 30 seconds, stir. Repeat 30-second intervals until it is as hot as you want it. Dollop the cheese over the pretzels and sprinkle cooked, bite-sized pieces of thick-cut bacon and a chopped up pickle over all.
Sign up here for our daily Thrillist email, get Eatmail for more food coverage, and subscribe here for our YouTube channel to get your fix of the best in food/drink/fun.
Jenn de la Vega is editor at large of
Put A Egg On It
and author of S
howdown: Comfort Food, Chili and BBQ
. Her re-run of Guy's Grocery Games is on Food Network (
S10E5
).