12 secrets to making the perfect nachos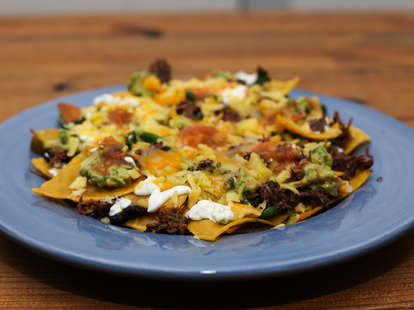 All photos by Dan Gentile
All photos by Dan Gentile
When Ignacio "Nacho" Anaya threw cheese on some leftover tortillas back in 1943, little did he know that his name would become synonymous with the grossest thing you can order at a movie theater. He also couldn't have predicted that his dish would be a beloved melty meal everyone could make: homemade nachos.
To help elevate your home nachos to saintly status, we've compiled some tips from Genaro Silva, a Dallas-based Tex Mex chef whose restaurants have been cranking out plates of cheesy chips since the '80s. Feast your eyes on these tips, and then feast your mouth on some perfect nachos.
1. Pay great attention to the construction of the actual nacho
"Build the individual nachos into a nice mouthful. Make absolutely sure that you can fit a whole nacho into your mouth. That's part of the fun of these morsels."
2. Melt in the oven
"To get your cheese melted on the nachos, stick them for a few minutes in the oven on the broiler setting. Remember to put your fresh veggie ingredients, such as guacamole, on top of the cheese after you pull them from the oven. Not before."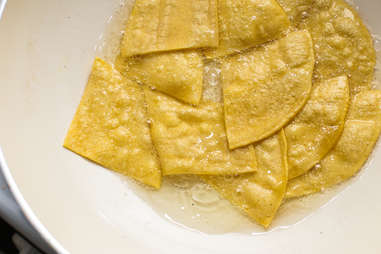 3. Fry your own chips
"Use mini corn tortillas from your neighborhood Mexican food store (or get regular size tortillas from any chain) and cut them into quarters. Fry the tortillas a few at a time in canola oil at high heat until no more bubbles appear in the oil. Before you fry the next batch of tortillas, let the oil heat again to its previous high temperature."
4. Don't settle for refried beans
"If you want to use them, jazz up the beans. Go for something different such as black beans or Peruvian beans (canaries). If making from scratch, add salt, fresh garlic, and onions when you boil them. Mash them to the consistency you prefer: smooth and creamy, or lightly mashed with some beans left whole for texture. And the beans should always be added first, because they add stickiness."
5. Use Mexican meats
"If you've never visited a neighborhood Mexican grocery store, go on a weekend morning and check out their meat section. Usually on the weekends, you'll see fresh menudo, whole cooked cow's tongue, cooked goats' heads, and fresh pork cracklings… yum! Try something new! Or get creative with meats you know like brisket, pulled pork, stewed chicken, ground lamb, grilled or sautéed shrimp, Mexican chorizo, ceviche, or even fried oysters."
6. Drain the liquid from sauces
"If adding a sauce, always drain excess liquid. The same goes for any meat. Soggy nachos suck. This also eliminates a lot of the fat and calories."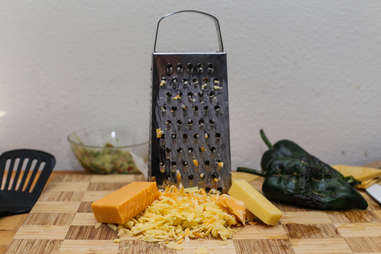 7. Don't be lazy and use a block of boring cheese
"So many great choices out there! Cheddar, Monterey Jack, cow or goat feta, provolone, mozzarella, Mexican queso fresco, and sour cream. Don't be afraid to combine two or more. No smooth melt, please!"
8. Get creative
"Any of the items can be substituted. Be creative! Don't be afraid to try flavors, textures, heat, taste, crunch."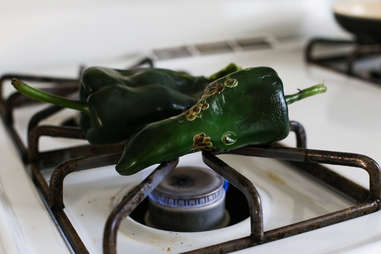 9. Pickle or grill your own peppers
"Cut jalapeños, serranos, or habaneros into rings and place them in a jar full of white vinegar for three days. Grilled poblano pepper also works great; you can char the poblanos on a grill, hot plate, or gas flame. Remove the skin, seed, and slice them. If you wrap them in a damp towel after charring them, the skin will come off easily."
10. Veggies are your friends
"A nice touch is to add some veggies. Raw or cooked spinach, fresh arugula, or chopped napa cabbage will add a little crunch. But don't stop there. Try different things and see what you like."
11. Guacamole makes nachos seem healthy
"You can't beat adding some sliced avocado or homemade guacamole. This adds a smooth texture and a fresh, nutty flavor, plus it's great brain food! Makes the entire dish look healthy, and kicks it up a notch on the nutrition scale!"
12. Never, ever, ever make your nachos with pre-processed tortilla chips
"Don't just toss random ingredients then top with melted cheese and then call them ballpark nachos. They might as well be called 'dogpark' nachos!" (EDITOR'S NOTE: Do not eat dogpark nachos)
Dan Gentile is a staff writer on Thrillist's national food and drink team and recently proved that one plate of nachos can satiate a grown man for a full day. Follow him to oven-broiled cheese at @Dannosphere.