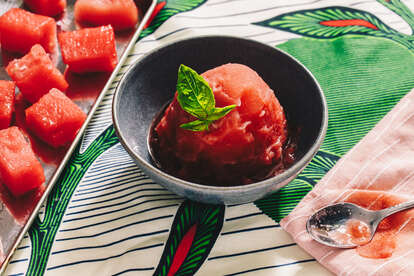 Photo by Cole Saladino for Thrillist
You don't need an ice cream maker to enjoy one of summer's greatest treasures: delicious, silky sorbet. As a dairy-free, easy-to-make alternative to ice cream, sorbet is bolstered by fresh fruits like watermelon, mango, and strawberries. The best part? The only heavy duty appliance you'll need is a good blender or food processor.
To get you started on your sorbet making journey, we enlisted the help of ice cream scientist Maya Warren, who developed a beginner-friendly recipe for watermelon sorbet as a part of her "Ice Cream Sundays" Instagram series. Warren's work has put her in a ton of cool places: developing flavors for Cold Stone Creamery and for Tyra Banks's ice cream line, Smize.
"I wanted to do a fun recipe that people could even spice up a little bit with alcohol if they wanted, and was also non-dairy," she says. "Watermelon is one of those that's a great texture when it's blended."
Warren says it's a fairly simple recipe where you simply dump frozen watermelon cubes into a food processor or blender and use sugar syrup, honey, or agave nectar for sweetener. She explains that she made it that way for a reason so that people could customize it to their liking and add in additional ingredients if they wanted to truly make it their own.
"It wasn't just about only doing watermelon sorbet and that's it," she explains. "It's also your opportunity to also be an artist in the kitchen and to be super creative and try new things. You can add mint, ginger, or even lime to brighten it. Before I was doing the sorbets, everything was pretty heavy and I wanted to give people something lighter."
Cool off by checking out her watermelon sorbet recipe below.
Maya's No-Churn Watermelon Sorbet Recipe
Ingredients:
Watermelon (seedless)

Water

Optional: sweetener of choice, alcohol, lemon or lime, herbs
Directions:
1. Cut watermelon into bite size pieces and freeze overnight.
2. Place frozen watermelon pieces into a heavy duty blender or food processor with water.
3. Blend until smooth.
4. Serve and enjoy!