How to Make Nom Wah Spring Rolls
With surefire tips from Wilson Tang's new cookbook.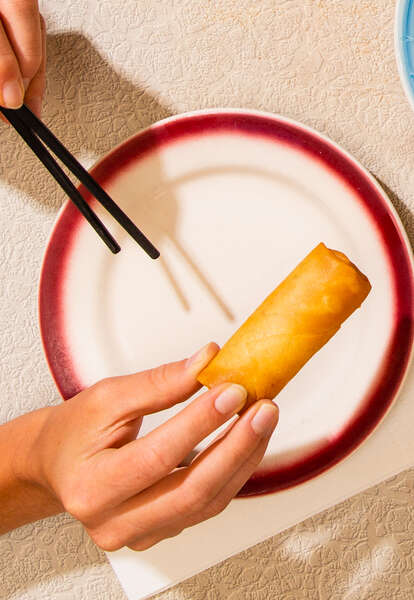 Photo by Cole Saladino for Thrillist
Photo by Cole Saladino for Thrillist
My Aunt Ellie does it up big for the holidays. Her Thanksgiving spread is legendary. Her Christmas appetizers are like a tour around the world. She lays out a matzah platter for our Jewish relatives. But what I look most forward to every year, hands down, are her egg rolls.
As a first-generation Chinese-American, Ellie Wang keeps this tradition alive from her own parents, who met at Purdue University in 1947 after coming over from Shanghai and Nanjing. My aunt remembers them all driving four hours to Chicago's Chinatown to get supplies that weren't sold in their neighborhood grocery store then—huge bottles of soy sauce, pounds of noodles and egg roll skins, big cans of tofu sloshing around in the back of their station wagon.
Though the Wang family was properly supplied, my aunt preferred a bowl of spaghetti and meatballs, or what she dubbed "American food," when she was younger. "Growing up, I wanted to be more American to fit in," she remembers. "My poor mom would make three meals: Chinese for her and my dad, American for me, and something else for my brother since he was allergic to everything."
But once she got older, she started to embrace her Chinese heritage. She became mesmerized watching her parents make egg rolls, and soon, helped roll and fry them in the electric wok on their black-and-red tiled kitchen island. Around the holidays, her mom made egg rolls to benefit their church and now my aunt does the same for hers today. They sell for $4 a pop.
Wilson Tang, owner of the famed Nom Wah Tea Parlor in New York City's Chinatown, has similar memories growing up Chinese-American, which he chronicles in his new book The Nom Wah Cookbook. His uncle, Wally Tang, came over to New York in 1950 from the Guangdong province in Southern China, fleeing Mao's regime. At Nom Wah, Wally worked his way up from dishwasher to cook to waiter to manager and eventually took over the business in 1974.
Wilson remembers going to Nom Wah to meet up with friends when he was in high school–and having an eclectic palate. Special occasions meant whole abalone and he loved snacking on soup dumplings and Taiwanese fried chicken sandwiches. But one not-so-fancy meal sticks out. "At home, Dinty Moore beef stew over leftover white rice was my jam," he says with a laugh. "I enjoyed pretty much everything, but that's the epitome of Chinese-American right there."
After graduating from Pace University and working at Morgan Stanley, in a job his parents were thrilled about but he called "a slow-burn death," the restaurant business was always in the back of his mind. In 2010, Wally asked him to take over Nom Wah and the rest is history. "The entire hospitality spirit is in my DNA and I just naturally followed in my uncle and father's footsteps," Wilson says. He updated the kitchen equipment, adjusted the closing time from 3 to 10pm, opened outposts in Nolita and the Lower East Side, and rebuilt the menu from scratch.
But one thing he knew he couldn't mess with are the OG egg rolls. "Those are untouchable," he says. "They take a lot of work and my Uncle Wally made sure it didn't change because he was so proud of them. He swears he invented them."
The difference between egg rolls and spring rolls
The term egg rolls, as Wilson explains, is often a misnomer. But Nom Wah's OG egg rolls are actually made with egg crepes as the wrapper. "The outside of our egg roll is more of an omelette really," he says. "We take the term literally, versus 99% of egg rolls out there that use a premade wrapper and actually have no egg involved in them."
Spring rolls, on the other hand, generally use a pre-fabricated wrapper and Wilson refers to them as "cigar-shaped dumplings" that are filled with fresh vegetables traditionally eaten during the Chinese New Year festival in the spring.
The rolls should be bright and crispy rather than greasy and heavy. Both Tang and my aunt agree that getting the oil hot enough, and not crowding the pan with rolls during frying, will ensure that they won't become oil-logged and achieve optimum crunch.
Perfecting the filling
Shredded chicken is a traditional egg roll filling, but it varies. My aunt says to avoid sharp ingredients like celery that could tear the wrapper and she uses a mixture of hamburger meat, cabbage, bamboo shoots, green and white onion, oyster sauce, white pepper, corn starch, and a little sugar to cut the salinity. (You can make it vegetarian by subbing in mushroom sauce.)
For his part, Wilson's spring rolls are stuffed with his Master Filling—a similar combination of vegetables, oil, seasoning, and Shaoxing wine—that he says is his favorite thing to make.
"You can put it in potstickers, rolls, pan-fried dumplings," he says. "I made it at home with my kids a lot during the COVID lockdown. They are so happy with Asian food and I have a feeling one day they will be helping out at the restaurant."
The symbolism behind egg rolls
While the egg roll itself has really become ubiquitous on menus and Americanized in many ways, it remains an important symbol of Chinese culture.
"A lot of food in our culture has an auspicious meaning," Wilson says. "Rolling the dough has come to mean making money, achieving prosperity, and overall wealth. The more egg rolls and spring rolls you eat, the more you'll be rolling in dough. It's just good vibes."
For my aunt, every holiday season that she makes them—sometimes 200 at a time—she says it's a cathartic experience that has her thinking of her late parents.
"I'm doing it in their honor," she says. "As we get older, we grasp our roots more. I value my Chinese heritage now more than ever and appreciate being bi-cultural. I channel my parents every time I make egg rolls."
Recipe: Nom Wah Spring Rolls
Makes 10 rolls
Ingredients:
• 1 tablespoon cornstarch
• 1 ½ tablespoons water
• 10 sheets square spring roll wrappers
• 1 No Pork No Shrimp Master Filling (see below)
• Neutral oil
• 2 scallions, diced, for garnish
• Oyster sauce
Instructions:
In a small bowl, mix the cornstarch with the water to create your sealing slurry. Place a wrapper on a clean, dry surface, with a corner we'll call South facing you. Add about 3 tablespoons of filling in a cigar shape from the East corner to the West corner, leaving about 2 inches of clearance from each corner of the wrapper. Fold in the East and West corners to slightly overlap atop the filling. Then fold up the South corner toward the North, covering the filling. Roll once more. Apply the cornstarch mixture to exposed edges of the wrapper. Fold over to close.
In a large saucepan, heat 3 inches of neutral oil over medium-high heat to 350°F. Working in two batches, fry the rolls until lightly browned and crisp, turning as needed, 3 to 5 minutes. Transfer to paper towels or drying rack to drain. Serve immediately topped with scallions and oyster sauce on the side.
Recipe: No Pork No Shrimp Master Filling
• 2 ounces dried woodear mushrooms
• 2 teaspoons neutral oil
• 8 ounces medium yellow napa cabbage, shredded
• 4 fresh shiitake mushrooms, diced
• 1 small carrot, diced
• ¼ bamboo shoots, chopped
• 1 teaspoon sugar
• 1 teaspoon white pepper
• 1 teaspoon Shoaxing wine
• ½ teaspoon roasted sesame oil
• 1 teaspoon cornstarch
Soak mushrooms in hot water for 20-30 minutes, until tender. Remove, pat, dry, and roughly chop. Heat the neutral oil in a wok or large heavy skillet over high heat until not but not smoking. Add the cabbage, mushrooms, carrot, and bamboo shoots, and cook for 30 seconds to 1 minute. Add the sugar, white pepper, Shaoxing wine, and toasted sesame oil and toss for 30 seconds, or until the vegetables are beginning to soften. Add the cornstarch and toss once more to incorporate. Cool completely before using. The filling can be refrigerated for up to the 3 days or frozen for 3 months.
Sign up here for our daily Thrillist email and subscribe here for our YouTube channel to get your fix of the best in food/drink/fun.
Jess Mayhugh is a Cities Editor at Thrillist whose favorite part of her aunt's egg roll process might be when she snips them in half with scissors at the end. Follow her on Twitter and Instagram for more delicious things.