The only 10 things you need to know to make perfect chili
All photos by Dan Gentile
All photos by Dan Gentile
Chili is kind of like pizza, in that no matter how horrible it might be, it's never actually bad. But that doesn't mean yours can't be better.
Since it has been officially decreed as the state food of Texas, we asked the most Texas chef we could find -- Tim Love, owner of the Love Shack and general all-around wild man -- to share some secrets that even the most kitchen-challenged of chili-makers can utilize to delicious effect, whatever their favorite recipe.
1. NEVER use beans
Now, Tim is from Texas, and in Texas they don't use beans. Just how it is. "That would make it bean stew and require it to be served outside the state." But it's not just a tradition thing -- "beans mask the flavor of the chili and beef".

2. Always use cubed beef
"Ground beef is used for Sloppy Joes and Hamburger Helper. Real chili uses chunks of meat! If you want to get real cute, use short ribs. This way you can build a great beefy flavor by leaving the meat on the bones!!"

3. Take the time to grind your own chilies
"The best chili is made from freshly ground, dried chilies. Your choice of chili depends on your preferences in heat, bitterness, and sweetness. I love guajillo chilies, chipotle, and pasillas."

4. The right tomatoes couldn't be more important
"Use a good canned tomato -- San Marzano, basically -- or fry the tomatoes in peanut oil and peel them yourself, which is my preference. It adds a great nutty flavor."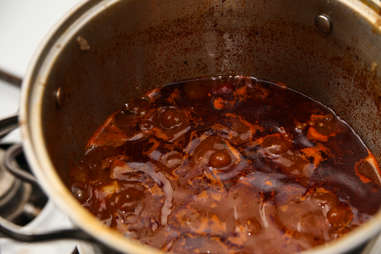 5. Boil, then simmer
Once you get everything into your cast iron Dutch oven, "the chili should be brought to a boil and quickly reduced to a simmer". After that, you're cooking for "two to three hours, depending on how thick the meat is".
6. Add your herbs in two rounds -- delicates go last
"I like to add my dried herbs in two separate 'dumps' -- first dump is a combo of chilies, onion, and garlic powder, and the second is the delicates like paprika, toasted cumin, Mexican oregano and more chilies. Split them up by about 15 to 20mins, and always add the delicates last so they don't get overwhelmed by all the chili flavor."
7. Never stop skimming the fat
"Continue to skim the fat the whole time you are cooking. There is a lot of fat in the meat and it can take away all of the beautiful aromatics. Skimming is essential in order to season properly."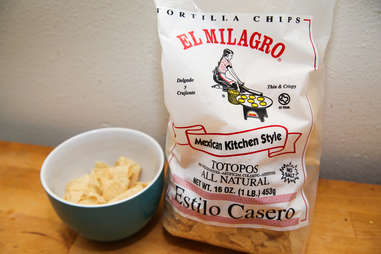 8. Toss in a ton of tortilla chips
"You should definitely thicken your chili with ground tortilla chips. This adds lots of depth and a natural saltiness to the chili." Add them in with about 30mins left in your simmer, and refrain from opening the bag until then, so there are actually chips left when the time comes.
9. Don't forget the lime
"Although the tomatoes add acidity, you still always need to finish your chili with a bit of lime to give it that final punch."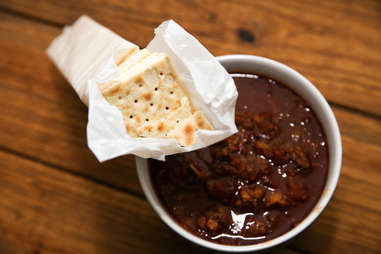 10. The best chili cracker in the world is a saltine
"Chili was traditionally served with camp bread -- a simple grilled flatbread similar to pizza dough -- when it was invented. The closest thing to that flavor that you can find anywhere is saltines."
And to bring you even closer to the perfect bowl, Tim has shared his personal recipe for the ultimate Texas chili.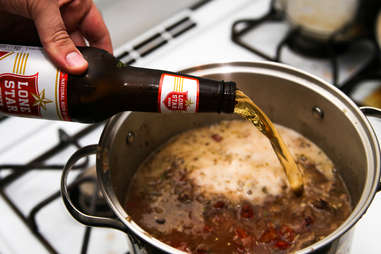 TIM LOVE'S TEXAS CHILI
Ingredients:
4 medium onions, minced
2.5lbs lean beef brisket or equivalent beef cut, rough chopped
¼ cup oil
3 cloves garlic, minced
1tbs guajillo chili, ground
1tbs chipotle chili, ground
32oz San Marzano diced tomatoes, canned
1tbs cumin
1tsp salt
1tbs oregano
1tbs dry mustard
1oz tequila
1 can Lone Star beer
3oz red chili powder
2 cups beef stock
3 serrano peppers, sliced
20 tortilla chips, ground fine
1 package saltines
- Brown onions and beef in a large pot or Dutch oven
- Stir in garlic, serranos, oregano, salt, dry mustard, tomato sauce, tomatoes, tequila, beer, chili powder, and beef stock
- Wait 15mins, then add ground dry chilies and cumin
- Bring to a boil, then reduce heat and simmer 2hrs
- Add ground chips and stir well
- Simmer for 30mins more
- Serve with saltines
Feeds 15-20 people, or one lucky person for an entire week
Dan Gentile is a staff writer on Thrillist's national food/drink team who recently purchased a very nice toaster oven and is excited about exploring the world of crispy reheated food. He also enjoys hating mustard. Follow him to pots of gold/Twitter at @Dannosphere.