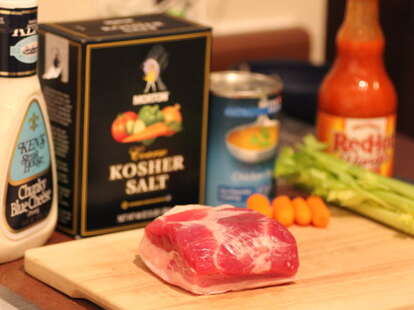 Thrillist
Thrillist
Recipe by Justin Brunson, owner/executive chef, Old Major
Here's what you need:
Pork belly
1 cup brown sugar
1 cup kosher salt
Chicken or pork stock
8oz Frank's Red Hot
4oz butter
Blue cheese
Carrot & celery sticks (and something to snack on so you don't eat all the carrot sticks while making these)
Rub the belly with salt and brown sugar, then throw it in a Ziploc bag. Leave it in the fridge for 24 hours. Leave it in for another 48 hours, and it'll taste like a hilarious Eddie Murphy movie. But seriously, leaving it in for 72 hours yields amazing flavor.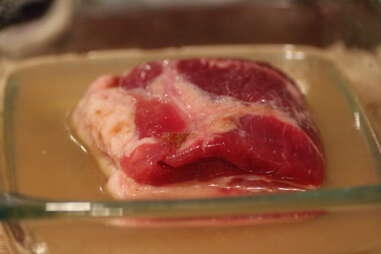 Pre-heat the oven to 300 degrees. Braise the belly in the stock before covering a casserole dish with foil and throwing it in.
Cook for 3 hours at 300 degrees.
Take it out, pat it dry. Cut it into bite-size pieces and deep-fry at 375 degrees. If you don't have a deep fryer, any pan will do. Heat the oil to medium temp, and it should be hot enough that it'll boil when you slowly drop the belly in with tongs. PLEASE BE CAREFUL.
While that's frying up, melt butter and Frank's Red Hot together in a pan.
Pour it over the fried deliciousness and toss.
Plate with carrot sticks, celery sticks, and blue cheese. Try not to eat them all before kickoff.