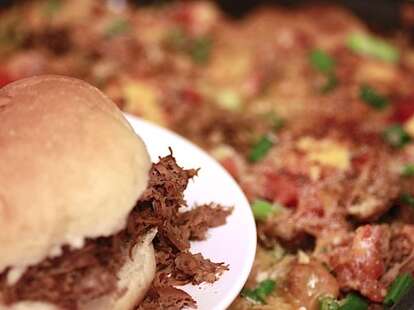 Recipe by Jun Robles, chef de cuisine, Oven and Shaker
Here's what you need:
4lbs pork shoulder cut into large chunks
6 strips of your favorite bacon, diced
6 cloves garlic, smashed
4 ancho chiles
2tbsp cumin, ground
2tbsp coriander, ground
3tbsp chili powder
Enough chicken stock to submerge all of it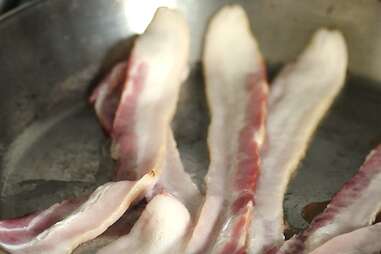 As you should do with most things, start by frying up six strips of bacon. As you shouldn't do with most things, chop it into little bits and set them aside. Save the grease.
4lbs of pork shoulder ideally, pork butt if not available.
Chop the shoulder into huge chunks.
Turn the burner up high and, using the bacon grease, sear the meat on each side for a few seconds until it's brown on the outside.
Drop the meat into a pot, then hit it with four chopped ancho chiles, six smashed garlic cloves, 2tbsp each of cumin and coriander, and 3tbsp of chili powder. Then drown that ish in chicken stock.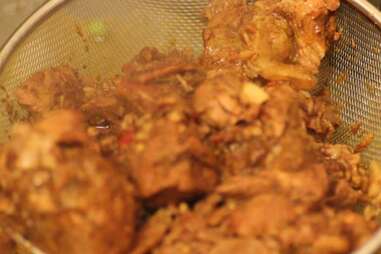 Cover the entire concoction and simmer on low heat for about 2hrs, or until it's tender enough to fall apart when poked with a fork.
When it's ready, strain out all the juices, transport the meat to a bowl, then just start jamming forks in it until it's all shredded. (Psychologist's Pro Tip: Now is a good time to expel all your demons! Just let it all out!)
Salt to taste, then pile that pork onto slider buns or over a mound of nachos.