How to Make Sea-Deviled Eggs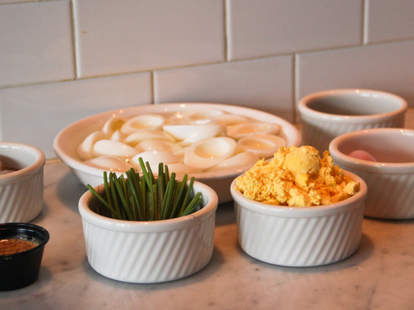 Recipe by Shaun Whitmer, The Albert
Here's what you need:
10 hard-boiled eggs (scoop those yolks out and put them in a bowl)
1/2 cup cooked shrimp
4tbsp mayo
1tbsp Dijon mustard
2 ½ tbsp capers
1/2 shallot
Chives
Salt 'n' pepper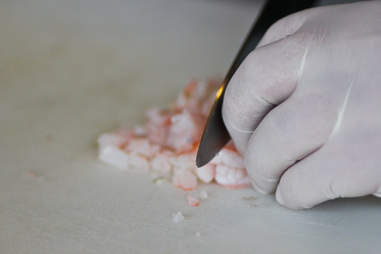 Thrillist
Chop up the capers, shallots, chives, egg yolks, and shrimp. Don't chop the mayo.
Thrillist
Make sure those chives are nice and pretty -- they're for garnishing at the end. Presentation, son!!
Thrillist
Thrillist
Throw everything you just chopped into a bowl.
Thrillist
Add in the mustard and mayo. We're using Duke's here, because despite popular belief, Miracle Whip isn't mayo.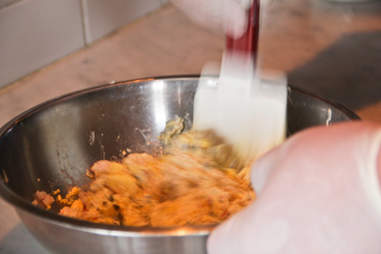 Thrillist
Release your frustration over another would-be championship season and mix everything together -- and don't forget to throw in salt and pepper to taste.
Thrillist
The final mix should be nice and creamy to go into your pastry bag for piping. Don't have a pastry bag? Good, right answer. Use a Ziploc and cut a hole at the end instead.
Thrillist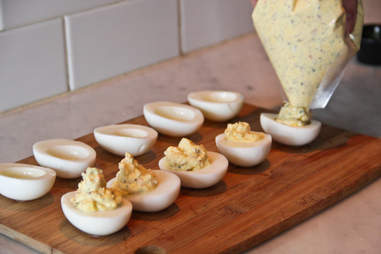 Thrillist
Helmets on! Pipe in as much of the mixture as each egg-half can handle.
Thrillist
Top with chives, and your restaurant-worthy game-day bites are good to go.