How to Make Your Own Sprouted Foods at Home
Sourdough is just the start(er).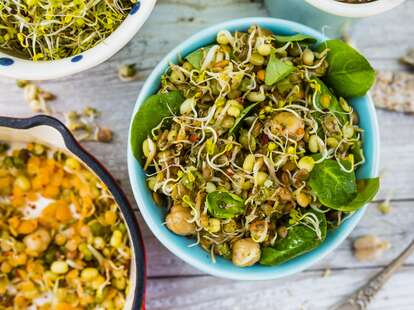 As it turns out, the sourdough bread trend of 2020 had even more health benefits than keeping us sane during months of strict quarantine. In fact, the bacteria and yeasts in sourdough starter modify wheat in the flour in the same way that sprouting does—releasing nutrients and ultimately making it a healthier product for your gut.
Essentially, the secret to unlocking our food's true potential lies in "sprouting," or soaking, rinsing, and preparing foods the way they were thousands of years ago. This process of submerging grains, beans, and nuts in water allows the nutrients inside them to essentially supercharge. What we're left with are healthy, sprouted foods.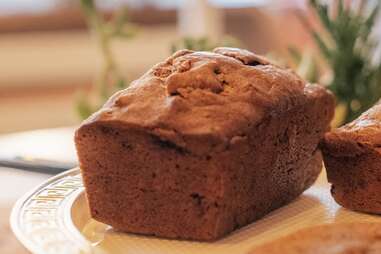 "People are seeking alternatives or 'healthy' foods, but the way to get the most of your food is by following these traditional methods," explains Nabeel Haque, owner of Centred Coffee & Wellness. Haque runs the hidden gem coffee shop in Pittsburgh with integrative nutritionist Bee Westwood, who are both "on a mission to provide a local source of nutrient-dense, high-quality food and information to all."
Why are more people interested in sprouted foods?
Haque disseminated some of that wisdom and information to me over a Ghee latte and a lot of it came back to sprouted foods. Now that our society is shifting toward a plant-based eating approach, more and more people are reaching for nuts, seeds, trail mixes, breads, and fiber-rich grains that our bodies cannot process. And, Haque stresses, there could be toxins in our everyday foods that go unnoticed.
"Over-consumption of improperly processed foods can cause a buildup of these toxins in our body and deteriorate our gut lining, which eventually leads to allergies or ailments," he explains. "The manifestation of allergies, like lactose-intolerance, celiac, or your everyday fatigue happens over time and those 'bad gut genes' will be passed onto the next generation."
We're living in a gluten-free, nut milk era because the industrial food revolution, which did away with these ancient practices, has already passed through the generation before us. Makes sense, right?
Centred's focus isn't on "low-cal" or even "dairy-free" food, but real and allergen-free. Everything from the shop's signature banana bread, to sourdough bread, scones, and even the nut milk they use is "sprouted."
What are sprouted foods exactly?
What makes a food "sprouted" really comes down to how it's prepared, which truly unlocks their nutritional value.
"All of our grains and seeds have a life force in them that's bound up extremely tight," explains Sue Ilmberger, the co-leader of the Weston A. Price Foundation chapter in Denver. "It holds onto it until the conditions are good for it to grow and reproduce as a new seed. That life force, essential vitamins and nutrients, are bound in the grains so we can't access them. By sprouting them we release that life force and the vitamins and minerals are made bioavailable to our bodies."
Our bodies are not built to digest phytates, so we're not benefited by eating grains without soaking them. We only get the sugar and the starch. Sprouting, the process of soaking and rinsing, tricks the seeds into thinking they're growing and they naturally release the phytic acid.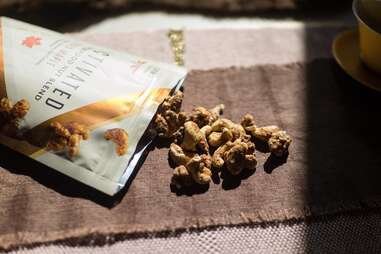 How can I make sprouted foods at home?
Unfortunately, this process has been stripped away due to modern manufacturing but it's very easy to do at home. All you need is water and patience.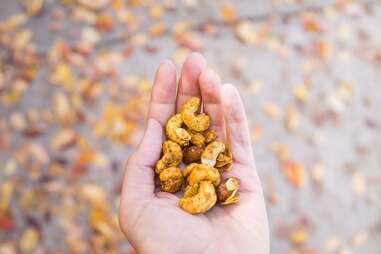 Grains
Soak in water in the morning. Add a drop of vinegar and salt. Let sit and cook at dinnertime.
36-hour sprouted oats
Soak whole oat groats in water (2:1) with a drop of something acidic (lemon or vinegar) overnight. In the morning, bring to a boil, turn off and let sit for another 24 hours. Cook and enjoy. If using steel cut oats, just soak in warm water with lemon overnight and cook in the morning.
Almonds
Put 3 cups of salt in a bowl with 2 tablespoons of salt. Fill with water. Let sit for 8 hours and then dehydrate. To dehydrate either use: a dehydrator or your oven light. Place nuts on a pan in the oven with JUST the light on for about 3-4 days. This will naturally heat the oven to 100-105 degrees, which is warm enough to dry them out without burning off the good enzymes. Plus, try this recipe for homemade sprouted almond milk.
Rice
Soak in water for 12 hours or overnight. Drain off water, rinse and follow cooking instructions.
Abby Maddigan is the social media manager at Thrillist
,
who recently relocated to Denver and is accepting all local coffee shop recommendations. Follow her on
Instagram
.