Weekend Project: Food
Presented By

Weekend Project: How To Recreate Summer Snowballs at Home
Dasia Kabia of Ice Queens shares tips for making her strawberry shortcake ice dessert.
Presented By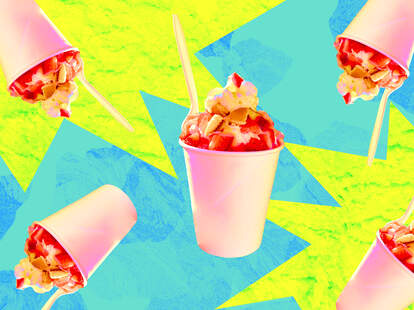 Photo courtesy of Ice Queens, design by Maitane Romagosa for Thrillist
When the humidity hits a certain point in cities like New Orleans and Baltimore, you can count on sprinklers coming out, air-conditioners blasting, and lines down the block to try everyone's favorite summer treat: the snowball.
No, it's not shave ice (that's Hawaii) or water ice (that's Philly), or even a snow cone that you can find at just about every ice cream truck in the country. A snowball is finely shaved ice— think somewhere in between a silky sorbet and crunchy slushie—topped off with a variety of sugar-syrup options and additional toppings like marshmallow sauce or whipped cream.
"Traditional snowball ice should really melt in your mouth," says Dasia Kabia, the owner of Ice Queens snowball shop in Baltimore. "My first memories of eating snowballs was with my grandmother, since there was a shack two minutes from her house. After a hot day at the playground, we would get an egg custard with marshmallow. There was not a care in the world besides eating that snowball and being with her."
Kabia is trying to recreate those memories with her corner shop Ice Queens, which she opened with her former pediatrician, Dr. Monique Burke, in June 2020. Of course, opening during the pandemic presented its own unique set of challenges, but Ice Queens created safe, socially distant events outdoors to try and lift up its surrounding community.
Advertisement
FRANK ZHANG/UNSPLASH
Weekend projects mean more messes to clean up. Tackle them without harsh chemicals with Clorox Compostable Cleaning Wipes, which are made from a plant-based cloth. They're safe to use around kids, pets, and food, so they're a versatile solution to all your biggest spills — letting you get back to work.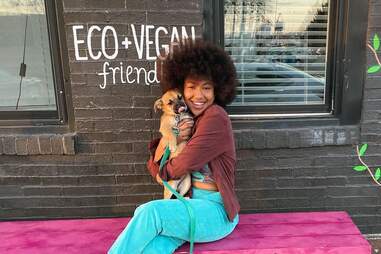 Dasia Kabia outside Ice Queens.

| Courtesy of Ice Queens
"Snowballs are such a summertime staple and this was something in the neighborhood where people could take their kids and it was outdoors and safe," Kabia says. "We had live music, with my 12-year-old brother on the drums. With me being a young, Black business owner, people wanted to support us. I felt it from all around, neighbors that wanted to lift my spirits."
Indeed, Ice Queens had lines down the block all summer long and they are picking back up again this year. Customers come for the nearly 100 flavor combinations—everything from Peaches and Cream with vanilla ice cream, peach flavoring, and whipped cream to Strawberry Shortcake with strawberry flavoring, fruit, whipped cream, and shortbread cookies on top.
"We want to take you back to childhood memories, but top it," says Kabia, adding that they use an ice machine from 1921 and flavors imported from New Orleans. "We incorporate fresh fruit, juices, whipped cream, condensed milk, gummy worms, and Nerds. We just love to experiment."
And while getting a snowball right from the source is the most ideal way to enjoy the summer treat, Kabia says there are ways you can recreate it at home by crushing up ice in a blender, using extracts and simple syrups as flavors, adding ice cream in the bottom or whipped cream on top for a more special experience, or what they dub "The Queen's Way."
"Every person that comes to the window, we want them to feel like royalty," she says. "We hope we can allow them to forget about the craziness of the world and just have a sweet treat."
If you can't make it to a Baltimore or New Orleans snowball stand this summer, try recreating an Ice Queens signature snowball at home.
Strawberry Shortcake Specialty Snowball
Ingredients:
8 cups finely crushed ice

12 oz. strawberries, stems removed and sliced

1 cup water

1 cup sugar

½ cup whipped cream

½ cup condensed milk

Handful of chopped Nilla Wafers or shortbread cookies
Directions:
1. Combine 8 ounces of the strawberries, water, and sugar in a saucepan over medium-high heat.
2. Bring to a boil, then reduce to simmer, and cook for 20 minutes, until the liquid is deep red and the strawberries are soft.
3. Strain the strawberries out from the simple syrup and chill the strawberry simple syrup in the fridge for two hours until cold.
4. Blend crushed ice in a blender until finely shaved and smooth.
5. Add ice, then strawberry simple syrup, and then condensed milk into a cup.
6. Top with whipped cream, leftover sliced strawberries, and cookies. Enjoy!
Jess Mayhugh
is the editorial director of Food & Drink for Thrillist and loved Skylight, aka Blue, snowballs with super sticky marshmallow as a kid. Follow her on Instagram.