Destroy your holiday party with the ultimate fried chicken
Good holiday entertaining food: fried chicken. Next-level holiday entertaining food that'll have you remembered for Christmases (and everything else) to come: Thai-style friend chicken. Via our pal Harold Dieterle, the winner of Top Chef's first season, this chicken is about to win you your own holiday season. 
All food styling done by John McLaughlin.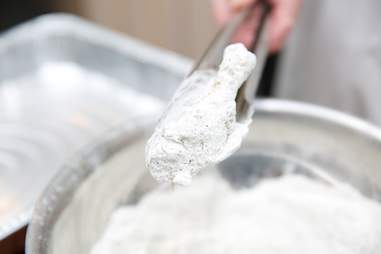 Anthony Humphreys
Thai-Style Fried Chicken Recipe
INGREDIENTS:
5 garlic cloves
1 tablespoon peeled, sliced fresh ginger, plus 2 tablespoons thin ginger matchstick
¼ cup shrimp paste
¼ cup plus 2 tablespoons fish sauce
¼ cup oyster sauce
2 chickens, about 3 pounds each, broken down by your butcher into 8 pieces each
Canola oil or corn oil, for frying
2 cups rice flour
2 cups all-purpose flour
¼ cup kosher salt
½ cup coarsely ground black pepper
1 cup palm sugar or turbinado
2 tablespoons freshly squeezed lime juice
2 Thai red chilies thinly sliced
2 Thai green chilies thinly sliced
DIRECTIONS:
Put the garlic, sliced ginger, shrimp paste, ¼ cup of the fish sauce, the oyster sauce, and ½ cup water in a blender and blend until smooth (for about 20 seconds).
Put the chicken pieces on a large baking sheet in a single layer and pour the marinade over them, turning the chicken to coat evenly. Cover with plastic wrap and refrigerate for at least 6 hours or overnight.
Pour oil into a deep fryer, or wide, heavy pot, at least 12 inches deep, to a depth of 6 inches. Heat the oil to 325° F.
Line a plate or platter with paper towels and set it aside.
Put the rice flour, all-purpose flour, salt, and pepper in a large, wide bowl, and stir them together.
Remove the chicken pieces from the marinade, allowing excess to drip off. Discard the marinade.
Dredge the chicken pieces in the flour mixture. Then, carefully lower them into the oil. Fry until golden brown and crispy and a meat thermometer inserted into the center of the chicken registers 160° F (should take about 15 minutes).
When the chicken is done, use a slotted spoon to transfer it to the prepared plate to drain.
Meanwhile, stir the sugar, ½ cup of water, and the remaining 2 tablespoons fish sauce together in a medium saucepan and bring to a simmer over medium heat. Stir in the lime juice, red and green chilies, and ginger matchsticks. Remove the pan from the heat and transfer the sauce to a heatproof serving vessel.
To serve, divide the chicken among 4 plates and pass the fish sauce alongside.