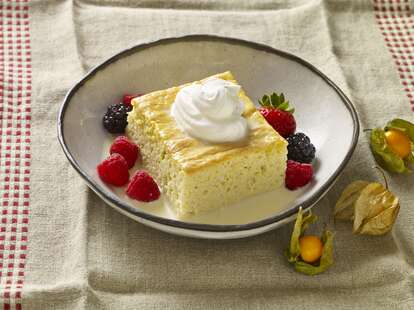 Photo courtesy of Pati Jinich
Growing up in Mexico City, Chef Pati Jinich remembers that, when it was time to celebrate, she and her family headed straight to Macram, a regional chain that specialized in one thing. "This was a tres leches bakery," she remembers. "You would go there for a birthday cake or for Sunday comida. Bringing the cake back home was a big event."
Jinich has since perfected the traditional tres leches cake recipe and many adaptations, having to make it out of necessity when she first came to the U.S. more than two decades ago.
"When I first moved here, you couldn't find tres leches cake for the life of you—even in Texas," she says. "So I would make my own for my three boys. It's something you can eat throughout the week and it just gets better and better."
The dessert is traditionally made with a sponge cake soaked in three different kinds of milk—evaporated, condensed, and heavy cream—and can be topped with berries, heavy whipping cream, or confectioners' sugar. But, as Jinich explains, the cake and its heritage is all up to interpretation.
"Tres leches connects all of the Latin American countries, we feel that it belongs to all of us," she says. "Mexicans will say it's ours, Ecuadorians will say the same. Every country calls it their own, so the dessert can be a great building bridge between cultures."
As for its Mexican origins, Jinich connects the cake's vanilla extract to its native region of Veracruz. She also says tres leches can serve as a history lesson—a link to Spanish and Portuguese colonialism.
"We owe many Mexican sweets to Spanish nuns that were baking in the convents," she says. "Without milk or wheat flour, you couldn't have a traditional tres leches cake and those did not exist here before the Spanish arrived."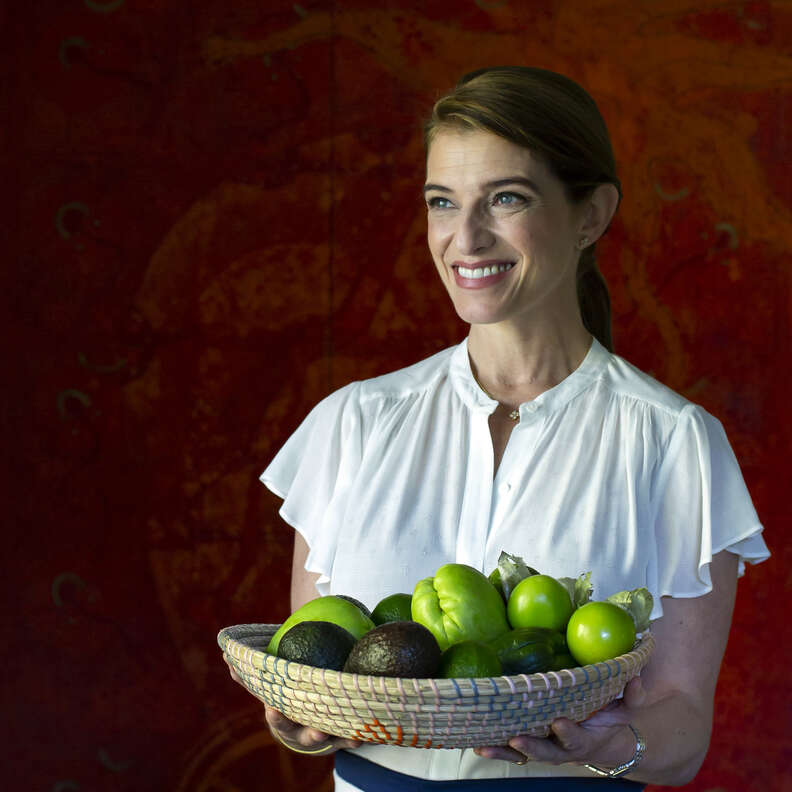 For her part, Jinich has made many versions over the years, starting with a classic version, then experimenting with a chocolate marble adaptation. In her cookbook, Treasures of the Mexican Table, she branches out to a quatro leches version with cajeta, apricot, and plums.
But, she says, no matter what version you make, there are some universal tips to keep in mind. While some people might use meringue or frosting as the topper, she always goes with heavy whipping cream because it's the "lightest and freshest." She also preaches patience.
"The only thing that goes wrong is that you freak out," she says with a laugh. "When you pour the tres leches sauce into the cake, it doesn't all get absorbed at once. It takes time to soak the sauce. It's like a tiramisu, it needs time to become something else after the soaking."
Jinich also advises to put your perfectionism aside while making the recipe. "I would suggest, if it breaks a little, just sauce the cake and cover it up with whipped cream," she says. "It won't look pretty until you dress it up with the cream, so just have patience. It's supposed to be messy."
In fact, it is that imperfection that she says makes it one of the most fitting Mexican desserts, one that always transports her back to being a little girl visiting bakeries in Mexico City.
"Tres leches symbolizes the best of Mexican cuisine—it's accepting, forgiving, and adaptable," she says. "It's super sweet and the perfect ending to a salty and spicy Mexican meal."
Tres Leches Cake
Ingredients:
For the cake:
• 9 eggs separated
• 1 cup sugar
• 1 Tablespoon vanilla extract
• 2 cups all-purpose flour
For the sauce:
• 1 14-ounce can sweetened condensed milk
• 1 12-ounce can evaporated milk
• 1 cup milk
• 1 tablespoon vanilla extract
For the topping:
• 2 cups heavy whipping cream
• ¼ cup confectioners' sugar
Directions:
1. Preheat the oven to 350°F. Butter a 9×13-inch pan, lining the bottom with a piece of parchment paper cut to fit the pan.
2. Pour the egg whites into the bowl of your mixer and beat on medium-high speed for 4 to 5 minutes, or until they hold soft peaks. Slowly stir in the sugar and continue beating until they hold harder or stiffer peaks. Turn off the mixer and, with a spatula, move the egg white mixture into a large mixing bowl.
3. Rinse the mixer bowl and its whisk. Now, pour the egg yolks into the bowl and beat on medium-high speed for about 5-6 minutes, or until the yolks become creamy and puffy and their color has toned down to an almost cream color rather than a loud yellow. Stir in the vanilla and continue beating for another minute.
4. Pour the egg yolk mixture onto the egg white mixture and, with a spatula, in circular motions, combine them into a homogeneous single batter. Do so gently, trying not to lose too much volume gained from beaten egg whites. Fold in the flour, scraping the bowl with the spatula so that all the flour is well mixed.
5. Pour batter into the prepared cake pan and place into the oven for 22-25 minutes, or until a toothpick comes out clean. It can be a bit moist, but not wet. The top of the cake should be tanned or golden brown.
6. Once it cools down, turn it onto a platter. Remove parchment paper, cover the top with an upside-down platter and invert again. The platter should be large enough to hold the cake and the vanilla sauce you are about to prepare. Using a fork, or two, poke holes all over the cake so that it will better absorb the vanilla sauce.
7. In a mixing bowl, combine the sweetened condensed milk, evaporated milk, milk, and vanilla extract. Pour the vanilla sauce over the cake. It may appear like too much sauce, but it will all be absorbed!
8. In the bowl of your mixer, whip up the heavy cream with the confectioners' sugar on medium-high speed until the mixture holds up stiff peaks. Spread the whipped cream all over the already-wet cake and place it in the refrigerator. You can decorate the cake with berries or any other topping of your choice.