Upgrade Your Dinner Table With Vegan Creamed Spinach
Make sure you have nutmeg.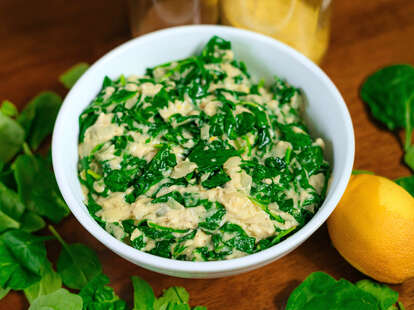 Whether you're a longtime vegan or new to plant-based cooking, this side dish is a game changer. People won't believe that the flavorful, velvety creamed spinach you whipped up is actually vegan.
With the help of Dallas-based chef Gabrielle Reyes, I was able to get some much needed practice at making this simple yet filling dish. Reyes is the owner of catering company, One Great Vegan. During the pandemic, she's began hosting live musical cooking classes on Instagram, Facebook and TikTok. She literally would sing as she cooked, giving new meaning to the phrase dinner and a show.
"I started doing livestream cooking classes in 2019, just to create content. I really had no idea what I was going for, but I knew that I was going to just create something every single week," Reyes says. "I would tell people I was going live to keep myself accountable, and so I just started making fun recipes, and in one of those recipes, I started singing. There was such a great reception and everyone loved the song."
How to make the creamy, dairy-free spinach
Reyes gave me tips and tunes on how to make vegan creamed spinach flavorful and worthy of being a part of your holiday meals. And maybe serenade your dinner guests, too.
The first step is to combine coconut cream with a combination of seasonings, gluten-free flour, lemon juice, and vegan butter. I began by dicing white onions and putting them into a large pan with vegan butter to sauté. Once the onions started to turn clear, I threw in roughly two tablespoons of minced garlic and some fresh lemon zest.
Reyes likes to put all of her seasonings in one big bowl to make sure they're well mixed. Her recipe also incorporates nutritional yeast, which provides umami flavors akin to traditional cheeses.
"The seasonings are key, because typically for creamed broccoli recipes, you add things like dairy, right? But you still want to have that milky fattiness in this recipe. So what I like to use is nutritional yeast, about three to four tablespoons, because it's so cheese-like," Reyes says.
So, into my bowl went the nutritional yeast, garlic and onion powder, salt, pepper, lemon juice, lemon zest, and last but certainly not least, nutmeg. "About two teaspoons of some fresh nutmeg will make the whole thing taste all delicious and warm. And especially for fall and winter time, it just adds in that extra vast flavor of deliciousness," Reyes says.
Before I added my seasonings, I poured a can of coconut cream into the pan. It would create the "cream" in "creamed spinach"—you don't need vegan cream cheese or the like. That said, the type of coconut cream you use matters. Reyes emphasizes that you should always use the coconut cream in a can, versus the kind that comes in a paper box.
As it cooked, everything started thickening in the pan. I added some gluten-free flour and stirred frequently until it began to resemble a nice, creamy queso. You can also use tapioca flour, but gluten-free flour is less sticky.
Next came the seasonings, which I carefully stirred into the cream, followed by the gradual addition of spinach. Even though spinach cooks down pretty quickly (and to practically nothing), if you want to make it cook even quicker, Reyes suggested adding in a little veggie broth. The broth will not only help deflate the leafy greens, but will also add in flavor.
Once the spinach is all mixed in with the melted coconut cream sauce, you'll have a nice serving of vegan creamed spinach, which Reyes likes to pair with noodles or garlic bread. But how you dress up or dress down your side dish is up to you.
Vegan Creamed Spinach Recipe
Ingredients

Instructions
1. Heat the vegan butter in a large pan. Add the diced white onion and saute them down with a splash of salt, stirring it occasionally until the onions begin to turn brown. Halfway through, add in the minced garlic and continue sauteing everything together.
2. Add in the lemon zest, lemon juice, and gluten-free flour to the pan and stir everything together.
3. Slowly pour in the coconut cream, stirring it constantly in the pan. Add in all of the seasonings/spices and continue cooking and stirring until the mixture is very thick like a queso cheese.
4. One handful at a time, add in the baby spinach to the pan and cook it down into the thick sauce as best you can. Add in a splash of veggie broth if you want it to cook down quicker!
5. Stir everything well until the spinach is completely wilted and is well-integrated into the coconut cream sauce.
6. Taste the creamed spinach for flavor and add more pink salt or lemon juice if needed.
7. Serve with garlic bread, pasta shells, or as a fabulous dip with toast.
Sign up here for our daily Thrillist email and subscribe here for our YouTube channel to get your fix of the best in food/drink/fun.
Kristen Adaway is a staff writer for Thrillist. Follow her @kristenadaway.