Images: Jeremy Patton, Woodhouse Vegan and Abbot's Butcher; Design by: Grace Han for Thrillist
Chili is controversial; that is, different areas of the U.S. have their own ways of making it that they think is the right way. Depending on where you are in the nation, chili is served on a big plate of spaghetti noodles sans beans, mixed with corn chips, or green with Hatch chiles and tomatillos. Regardless of where you stand on what goes in a chili bowl, these winter staples invade slow cookers and stovetops around this time every year, but the vegan versions of each pack just as much flavor as their meat-filled counterparts. By incorporating fresh vegetables like tomatillos, beans, jalapenos, chili peppers, and an array of spices, you'll forget that there's zero meat products in them.
I caught up with a couple plant-based experts to learn more about how to make these iconic chilis vegan and vegetarian-friendly, including Cynthia Nevels, the founder of Soulgood, Kerry Song, the founder of Abbot's Butcher, Cara Woodhouse, co-owner of Woodhouse Vegan, and Troy Gardner, owner of TLC Vegan Kitchen.
Check out their personally crafted recipes below.
Nacho Mama Frito Pie
Created by Cynthia Nevels, chef and founder of Soulgood
Makes 8 servings
Ingredients
4 cups low-sodium vegetable broth
4 cups kidney or black beans, cooked
1 cup chopped tomatoes or salsa
1 tablespoon chili powder
1 tablespoon paprika
1 teaspoon salt
1 tablespoon black pepper, to taste
2 tablespoons grapeseed oil
1 teaspoon garlic, freshly minced
½ cup onions, diced
1 tablespoon jalapenos, freshly chopped
1 ½ cup meatless ground (or meat substitute of choice)
1. In a large pot, add 32 ounces of low-sodium vegetable broth, 4 cups of kidney or black beans and 1 cup of chopped tomatoes or salsa like Happy Tomato's Medium Salsa. Let it simmer on medium heat for 20 minutes. Add 1 tablespoons of chili powder, 1 tablespoon of paprika, 1 teaspoon of sea salt and 1 tablespoon of black pepper to taste.
2. In a skillet, add 2 tablespoons of grapeseed oil and saute 1 teaspoon of fresh diced garlic, a half a cup of diced onions, and 1 tablespoon of fresh diced jalapenos for 2-3 minutes on low. Then add Gardein Beefless Ground or other meatless ground and stir, careful not to burn onions and garlic.
3. Brown 1 ½ cup of beefless ground.
4. Pour beefless crumbles into beans, add sea salt to taste, and let simmer for 15 minutes on medium heat. Do not soak the grounds in heat too long or they will swell.
5. Pour Bearitos Classic Sea Salt Corn Chips into a bowl and cover with chili.
6. Garnish with shredded vegan cheese or Fineapple Vegan's Liquid Gold vegan cheese sauce, diced white onion, mustard, vegan sour cream, your favorite salsa or jalapenos.
Vegan Cincinnati Chili
Created by recipe developers for Abbot's Butcher
Makes 4-6 servings
Ingredients

1. Warm 2 tablespoons of extra virgin olive oil in a large skillet over medium heat. Chop a medium onion into finely chopped pieces and set 1/4 cup of the chopped onion aside for topping. Add the remaining chopped onion and 2 minced garlic cloves and cook for 4 minutes or until soft.
2. Add Abbot's Butcher ground "beef sausage" and cook for 3 more minutes.
3. Add one 15-ounce can of tomato sauce, one teaspoon of red wine vinegar, and ½ cup of water. Stir thoroughly until the mixture is thickened like a stew.
4. Add 1 tablespoon of dark chili powder, half a teaspoon of sea salt, half a teaspoon of ground cumin, 1 teaspoon of smoked paprika, a pinch of cayenne, 1/16 teaspoon of allspice, and 1/16 teaspoon of ground cloves. Stir well. Bring mixture to a simmer.
5. Bring a large pot of water to boil and cook your choice of spaghetti according to package instructions.
6. Serve chili over spaghetti, topped with chopped onions and vegan cheddar cheese.
Southwest Green Chili
Created by Troy Gardner, Executive Chef and Owner of TLC Vegan Kitchen
Makes 4 quarts of chili
Ingredients
3 cups garbanzo beans, cooked
4 cups pinto beans, cooked
2 cups kidney beans, cooked
2 tablespoons ground cumin
3 tablespoons salt
1 tablespoon onion powder
4 tablespoons mild hatch green chili powder
5 cups roasted tomatillo sauce
3 tablespoons olive oil
2 cups soy protein chicken, or pre-soaked tvp
1 cup water
1 cup diced roasted hatch green chiles
1/4 cup crushed roasted garlic
1/4 cup chopped green onions
1/4 cup diced yellow onion
1 cup fresh cilantro
1. On medium heat, sauté ¼ cup of diced yellow onions, 2 cups of soy protein chicken, and 1 cup of diced roasted hatch green chiles (you can also use canned Mexican green chiles) in 3 tablespoons of olive oil in a large chili pot until onions are translucent.
2. Add 1 cup of water, 3 cups of cooked garbanzo beans, 4 cups of cooked pinto beans, 2 cups of cooked kidney beans, 2 tablespoons of ground cumin, 3 tablespoons of salt, 1 tablespoon of onion powder, 4 tablespoons of mild hatch green chili powder, ¼ cup of roasted garlic and 5 cups of roasted tomatillo sauce to the pot and gently stir on medium heat until it begins to boil.
3. Lower heat to medium low and simmer for 10 minutes.
4. Remove from heat and stir in ¼ cup of chopped green onions and 1 cup of cilantro.
5. Serve hot and top with pico, jalapeños, or cilantro.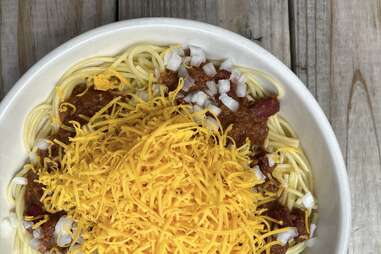 Vegan Skyline 5-Way Chili
Created by Cara Woodhouse, co-owner of Woodhouse Vegan
Makes 4-6 servings
Ingredients
1 tablespoon extra virgin olive oil
1-3 cups vegetable broth
1 cup yellow onion, diced
3 tablespoons garlic, minced
1 medium jalapeño, finely diced
1 small red bell pepper, diced
1/3 cup tomato paste
2 cans kidney beans, drained and rinsed
1 can pinto beans, drained and rinsed
3 cans diced tomatoes
1/4 teaspoon dried oregano
1/4 teaspoon ground cayenne
1/2 teaspoon ground cumin
1/2 teaspoon ground cinnamon
1 1/2 teaspoon chili powder
2 teaspoons cocoa powder
1/4 teaspoon black pepper
sea salt, to taste
1 tablespoon hot sauce
8 ounces veggie meat

1. Whisk together 1-3 cups of vegetable broth and ⅓ cup of tomato paste. Once smooth, add 3 cans of diced tomatoes (don't drain them). Set aside.
2. On medium heat, in a large pot sauté at least 1 tablespoon of extra virgin olive oil, 1 cup of diced yellow onions, 3 tablespoons of minced garlic, 1 medium finely diced jalapeño, and 1 small diced red bell pepper, and ¼ teaspoon of dried oregano, ¼ teaspoon of ground cayenne, ½ teaspoon of ground cumin, ½ teaspoon of ground cinnamon, 1 ½ teaspoon of chili powder, 2 teaspoons of cocoa powder, ¼ teaspoon of black pepper, sea salt to taste.
3. Consistently stir until onions are slightly translucent. Remove from heat.
4. We love Beyond Meat Patties for this recipe (one 8-ounce package is the perfect amount). In a pan, cook at medium heat about 4 minutes on each side. Once cool to touch, rough chop patties to create crumbles (you'll blend this a bit later, so you don't have to be perfect here). If you want it beefier, add more vegetable meat!
5. Combine the above items together (tomato mixture, protein crumbles, sautéed veggies) in the large pot and lightly blitz with an immersion blender. If you don't have an immersion blender, take half of the chili and in small batches lightly pulse in a blender; do not liquify - you still want it chunky! This chili recipe has a bit more "broth" than most, and may not be as thick as a traditional chili recipe. Add more vegetable broth if needed. You're making a chunky "sauce" for your noodles to swim in. If you're not adding this to noodles and want it thicker - use less broth!
6. Once desired constancy and blending is complete, add 2 cans of drained rinsed kidney kidney beans, 1 can of pinto beans and 1 tablespoon of hot sauce. If you haven't already added your salt and pepper, do that now. Taste it! Ensure it tastes a bit like chocolate and cinnamon - slightly sweet and not too spicy.
7. Cover and simmer for at least 60 minutes to meld all those flavors together, stirring frequently. The chili will slightly thicken as you simmer. Add more vegetable broth if needed to maintain desired consistency. Don't forget to taste as it simmers because the flavors will change. Friendly reminder: you can always add but you can't take away.
8. While chili is simmering, boil pasta noodles of your choice and prepare your toppings. Do not overcook your pasta, you want the structure of the pasta to hold up to the weight of the chili.
9. Alright! Let's give this a go. Grab a bowl, toss in some spaghetti, add a heaping scoop of chili, top with diced onions, vegan shredded cheese and Skyline's vegan oyster crackers. Have hot sauce on stand-by for those game time decisions.
Sign up here for our daily Thrillist email and subscribe here for our YouTube channel to get your fix of the best in food/drink/fun.