You need this watermelon salad this winter
It's the middle of winter and, while preposterously festive sweaters have replaced cutoffs, there's no reason that you can't add some summer flair to your dishes. That's why we got Top Chef season one winner Harold Dieterle to take that sad, obligatory lump of greens to the next level (and out of the grim eternity of gray that is winter) with some watermelon and this recipe.
All food styling done by John McLaughlin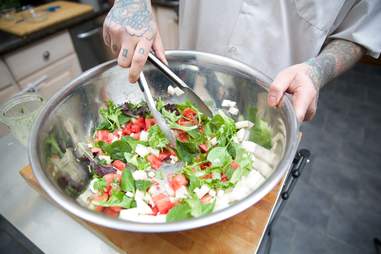 Anthony Humphreys
Watermelon Salad Recipe
INGREDIENTS:
1 cup yellow seedless watermelon
1 cup red seedless watermelon
1 cup jicama
1 tablespoon feta cheese
1 cup baby greens
1 tablespoon perilla
2 tablespoons lime juice
2 tablespoons olive oil
1 teaspoon sea salt
DIRECTIONS:
Cuter watermelon and jicama accordingly, add feta cheese.
Pulse lime juice, perilla, and olive oil in a blender.
Season fruit with salt and toss with dressing.