Anthony Humphreys/Thrillist
Anthony Humphreys/Thrillist
A spicy food challenge doesn't have to be a sideshow where the chef cooks 15-alarm wings he'd never eat himself while wearing a gas mask. If you visit the right restaurants and know what to ask for, it can be about real tradition, so that even as you're running your mouth through a gauntlet of peppers and pain, you're watering your mind with knowledge of ancient cuisines. In other words, it is possible to put stupidly hot food in your mouth and still be an adult.

I decided to visit four of the right restaurants in one day in order to (attempt to) devour what ended up being 11 of the most quintessentially tongue-roasting dishes from four of the world's most traditionally spicy cuisines. That was the test presented to me by my editors at Thrillist and Gillette Clear Gel, whose involvement at least insured my shirt wouldn't become drenched in apprehension of this totally cultural quadruple-dog dare.
My journey took me to deep Queens, but because I want to share the love, I also called up a bevy of experts (first gens, food journalists, and world-class chefs like the Culinary Institute of America's Michael Pardus) to get basic tips for how you can do what I did no matter where you live. Below, you'll find the historical background for each tasty culture, the dishes to order, and (courtesy of Anne Noyes Saini's audio guides in Chopsticks + Marrow) the actual words to use in each language to order the right spice levels. Dig in: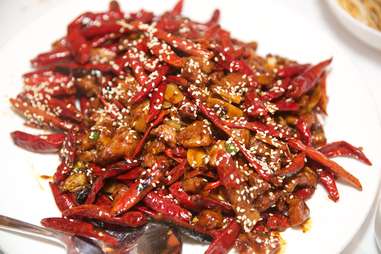 Too spicy for Americans:
-Dan Dan Noodles
-Hunan-Style BBQ Fish

Too spicy for almost everyone:
-Braised Sliced Beef with Chilies
-Chicken with Hot Red Pepper

Spice context:
Ancient China associated the sweat-inducing qualities of chili dishes with medicinal benefits. Sichuan cuisine uses the native peppercorn, which numbs the mouth (with the chemical piperine), whereas Hunan food is more traditionally hot, setting your tongue on fire with chilies (capsaicin).

How to get it classically spicy:
Ask for your dishes to be made "ma la."
My experience:
First, our waiter brought out Dan Dan noodles and a whole BBQ tilapia, the latter sizzling in a pan of very mean looking hash. The noodles offered a deep, back-of-the-mouth burn, and the fish amplified the anguish with a (sort of refreshing!) punch of cumin. While you can't plow them with ease, these two dishes fall into the "reasonably American-friendly" category.

Next came some hellishly hot braised beef and another dish clearly designed for no other purpose than to break man's will -- just look at that pic up there! While the beef did hurt, the red chili chicken left what I can only describe as a sunburn on my gums. I was later informed that this was because this dish was cooked in straight chili oil on top of the whole chilies (because I asked for "traditionally spicy"), and that, while it's not a novelty, even many Chinese natives would be a little intimidated by it. Lesson learned.
Stop Two: Korean
Too spicy for Americans:
-Spicy Pork and Seafood Stew

Too spicy for almost everyone:
-Army Stew, traditionally spicy

Spice context:
Korea traditionally infuses almost every dish with a red pepper paste called Gochujang, along with an astounding amount of dried red chili powder.

How to get it classically spicy:
In Korean: "Na nun Mae un eum sick jo a ham ni da" ("I like hot food")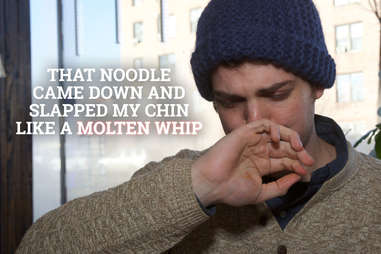 My Experience:
The most telling factor here was just how bright these Jjigae stews were, despite the fact that Koreans don't cook with tomatoes. That red is from the paste, and it is… ominous. While the seafood dish was touted as spicy, the fishy sweetness balanced it out to a dull mouth roar.

It was the Army stew (so named because it was originally made using the U.S. Army's throwaway ingredients) that waged a formidable war on my mouth. After three bites of "man this is tasty!" I had to stifle a coughing fit long enough to order a ginger ale to douse the flame. Our waiter simply chuckled and said that that was a shade less spicy than what he considers too hot. Fortunately the Gillette Clear Gel was persevering better than my tongue was; if I'd added "sweating profusely" to my roster of embarrassing physiological reactions, that chuckling would've graduated into rolling on the floor laughing.
Stop Three: Thai
Too spicy for Americans:
-Papaya Salad, basic spicy

Too spicy for almost everyone:
-Drunken Noodles with Chicken, Thai spicy
-Jungle Curry, Thai spicy

Spice context:
The history of Thai cuisine is steeped in chili peppers -- it was one of the first Asian countries to receive the chili (by way of the Malaysian peninsula) from Portuguese colonies in the 1500s.

How to get it classically spicy:
You can order something "Thai spicy" and it will be mostly understood as "authentically spicy." The full sentence in Thai: "ped bab cone Thai ka."
My experience:
This was by far the most painful stop of the day, and also the spiciest thing I've ever shoved into my system. When we told our waiter we were there to eat as if we had a "Thai tongue" (his words), his eyes lit up with gleeful menace.

I made the mistake of assuming the Papaya salad would be easy (because, come on, it's papaya!). After one bite of a raw Thai Bird's eye chili I had to stumble outside into the brutal February cold to see if I could simply breathe away the burn with frigid, kind-of-blizzardy air. After ordering a creamy Thai iced tea, I took several confident forkfuls of the Drunken noodles, and gobbled a mouthful of the sinister vegetable Jungle Curry, because I was afraid if I stopped eating, the heat would be too much. It was. In the cab after, I swear my mouth was pulsing.
Stop Four: Indian
Too spicy for Americans:
-Chicken With Green Chilies

Too spicy for almost everyone:
-Lamb Vindaloo
-Phaal (note: we didn't order this)
Spice context:
The 16th century spice trade meant that, in addition to native peppercorns heavily influencing the cuisine, chili peppers were also eventually welcomed into India's already bold dishes. This was particularly prevalent on the Bay of Bengal in the southern regions of Goa and Andhra Pradesh.

How to get it classically spicy:
Ask for anything with traditional green chilies, called "mirch" in Hindi.

Ed Note: Phaal is widely considered a very spicy Indian dish, but it falls more into the "spice for show" camp. We didn't order it in the interest of staying traditional... and because of fear.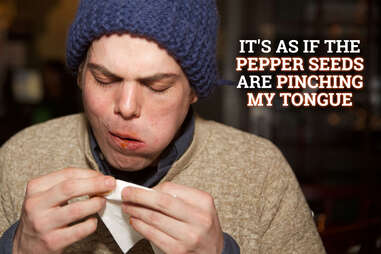 My experience:
When we were seated, Seva hooked us up with a round of mango Lassi smoothies, clearly as some kind of "you're in for it" pleasantry. Thanks for the delicious omen, I guess?

This food was absurdly spicy, but it was balanced out with a savory-sweetness that wasn't nearly as present in the previous cuisines. The lamb Vindaloo was rich and meaty, while the chicken brought fresh brightness to the party. Then I inadvertently ate one of the raw chilies on top, and I was back down the rabbit hole. The smoothie and the warm naan helped out, but only to the degree of, say, an ice cube into a volcano. My real refuge came later, at the bar next door, with a white Russian and a few friends convincing me that the mouth burn would go away eventually, because hey, real friends can convince you of anything.
It took until the following afternoon (after a pint of rocky road) for my palate to finally reach equilibrium, but at that point I also had a realization: you start your life thinking everything and everyone is trying to burn you, but then you learn to deal with it and your former tormenters become your friends. I am now determined to make friends with incredibly hot chilies. I'm confident I can pull this off. All I need is a few more months struggling through some delicious meals, and an ample supply of Gillette Clear Gel so I don't run out of wearable shirts in the process.

Deanna Bennett contributed mightily to the researching of this article.