Roast the Perfect Chicken With These Chef-Approved Recipes & Tips
When you need emergency medical advice, you don't ask your friend who just gets sick a lot. If you need to talk your way out of an erroneous murder charge, you don't base your legal counsel on some dude who watches a lot of Law & Order. We have experts for a reason. 
So, when you need advice on cooking the perfect roast chicken, you don't listen to your neighbor Jim, your co-worker Gail from accounting, or even your dear sweet granny... just because they cook chicken sometimes. You ask a bunch of chefs, exploiting them for their culinary expertise. Submitted here is a handful of roasted chicken pointers, plus three recipes of varying difficulty to try out at home! Or wherever you have a dead chicken and an oven, really. I'm not your boss.
Drew Swantak/Thrillist
Start with good product, duh
You can't make a good roast chicken if the chicken you are roasting isn't good. Buy quality meat if you want a quality meal. "First, start with a good product. It's pretty easy to find humanely grown, antibiotic-free, and free-range chickens at the grocery store nowadays," said Tony Esnault, executive chef at LA's Church & State and Spring. 
Pay attention to your oven temperature...
"Roasting chicken is all about temperature for me. For the best results, start hot at around 500 degrees, then turn down to 375 after 20-30 minutes," said Tory Miller, James Beard winner and chef at  L'Etoile, Graze, Sujeo, and Estrellón. "Put the chicken in and cook until the skin is golden brown. Check it after 15 minutes, and every five minutes after," Esnault said. 
... and the temperature of your actual chicken
"Let the chicken come to room temperature before placing in the oven, and it's important to let the chicken rest and cool before carving," Esnault added.
"Once skin is a beautiful color, turn heat down to 225. Allow bird to roast for 30 minutes. Turn oven off and let sit for another 10 minutes. Remove from oven. Rest for 15 minutes. And carve," said Jason Dady, San Antonio-based chef and restaurateur.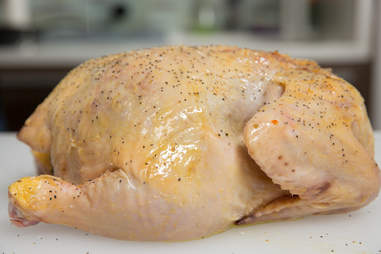 Drew Swantak/Thrillist
Give the brine time
With brining, time is just as important as method in order to get that crispy, succulent skin. You need to let that sucker soak for at least one sun cycle. Which is one day. "Brine the chicken in your favorite herbs and spices for 12 hours, then let the chicken air-dry in the fridge for 24 hours," Esnault said.
Use canola oil instead of butter for crispier results
"I never recommend buttering the skin -- butter burns and is wet, so the skin doesn't crisp. Use canola oil for the best outer layer of crispy skin," Miller said.
Reuse those juices!
If you think veggies are good, but lack that meat flavor you would prefer all foods to have, there's good news: "Roast any vegetables in the same pan you used to cook the chicken," Esnault said. "This will give it a lot of extra flavor."
"You can also baste the skin of the chicken with the fat that is in the pan," he added.
Don't be afraid to use a barbecue
"Use a Weber barbecue -- it's the best and only takes one hour. Buy a whole chicken (about 3lbs), and season well with salt and pepper, and some herbs in the cavity. Start your charcoal briquettes and place them on two sides of the Weber. Once the coal is ready, put the chicken on the middle rack, cover it, and let it go for one hour. Done," said Presidio Social Club (San Francisco) chef/owner Ray Tang. Also consider beer-can chicken!
And now, on to the recipes!
Jason Dady's Ultimate Simple Chicken Recipe
INGREDIENTS:
Oranges
Thyme
Half an onion
Butter
Salt and pepper
DIRECTIONS:
Preheat oven to 500.
Separate chicken skin from body. Be careful not to rip. Place slabs of butter between skin and breast, all the way down to thighs.
Stuff cavity with whole oranges and thyme, half onion.
Season bird liberally with salt and pepper. 
Roast bird at 500 until skin is golden/dark brown.
Once skin is a beautiful color, turn heat down to 225. Allow bird to roast for 30 minutes. Turn oven off and let sit for another 10 minutes. Remove from oven. Rest for 15 minutes. And carve.
Shaiith/Shutterstock
INGREDIENTS:
16 ounces cider vinegar
1 quart water
4 ounces light brown sugar
1 cinnamon stick
2 whole allspice
2 juniper berries
3 bay leaves
1 small bunch fresh thyme
10 peppercorns
⅛ cup kosher salt
DIRECTIONS:
Boil all ingredients and let cool. 
Place 2 half boneless chickens, skin on, in the brine and let set in the refrigerator for 4-6 hours.
Remove chickens and pat dry. Season with salt and fresh-ground pepper and rub with olive oil.
Cook the birds on a cast-iron surface; however, you may also use a gas grill or charcoal.
Start skin-side down over high heat for 2-3 minutes, reduce to medium heat, continue to cook for about 4-5 more minutes until skin is nice and crispy.
Then turn over for and continue for 2-3 more minutes until internal temp is 160 degrees.
 Let the birds rest for 5-6 minutes and enjoy with a simple salad.
Family Business/Shutterstock
INGREDIENTS:
1 3-pound whole chicken
1 tablespoon salt
½ tablespoom cracked pepper
1 teaspoon rosemary
1 teaspoon chopped garlic
1 teaspoon chopped thyme
2 tablespoons olive oil
DIRECTIONS:
Pat dry and mix all the ingredients.
Now evenly rub, and allow to sit overnight.
Next day, rub with olive oil and place on a sheet tray with drip tray.
Be sure to lay out chicken in a butterfly fashion so that the legs are to its side.
Preheat the oven to 400 degrees and cook until the breast is 155 degrees. Allow to sit and chicken will carry over to perfection.
Sign up here for our daily Thrillist email, and get your fix of the best in food/drink/fun.