When you hear the phrase "cocktail party," you probably start envisioning a night out in stuffy tuxedos and uncomfortable heels, but that doesn't have to be the case. In fact, you can throw a cocktail attire-worthy party right in your own living room, without having to offer 15 different hors d'oeuvres. You can even plan the whole night around pizza.
To prove how easy a cocktail party at home can be, we teamed up with DiGiorno to create a menu based around their pizzeria!® Bianca/White pie, topped with mozzarella and ricotta, sprinkled with garlicky spinach, and served over a crème fraîche sauce (because this is a sophisticated adult party, not a bowling night). Paired with a custom vodka cocktail, fresh green salad appetizer, and mint chocolate frozen dessert, this spread is sure to keep your guests pleased all evening. All the recipes are designed to be tasty but easy to make -- leaving you plenty of time to send out invites and decide on a dress code.
Vodka-Aperol Spritzer
The one thing you can't forget at a cocktail party? Well, the cocktails. Seamstress NY mixologist and creative director Pamela Wiznitzer crafted a vodka cocktail with Italian ingredients (Aperol, limoncello) that will help cleanse your palate while tying the menu together. The best part, though? You can multiply the recipe and make this drink in a pitcher, so guests can help themselves.
Ingredients:
1 ¾ ounces vodka
½ ounce Aperol
½ ounce limoncello
¾ ounce fresh lemon juice
2 ounces tonic water
Directions:
Build in a highball glass over ice. Garnish with lemon wheels.
Asparagus & Pea Salad with Arugula Dressing
The salad sometimes gets relegated to the category of sad desk lunch, but it's one of the easiest starters for a cocktail party -- and a simple dish to elevate. An herb-based salad, like this one, is also the perfect accompaniment for a cheesy pizza, says Nik Sharma, the food writer behind the San Francisco Chronicle 's "A Brown Kitchen" column, who also created this recipe for us. The peppery arugula dressing is made with lemon, then tossed over a mix of vegetables, creating a refreshing appetizer that's still upscale -- and one that you can prepare in the time it takes for the pizza to bake in the oven.
Ingredients:
1 shallot, peeled
1 garlic clove, peeled
¼ cup extra virgin olive oil
2 tablespoons freshly squeezed lemon juice
¼ teaspoon freshly ground black pepper
¼ teaspoon salt
1½ cups packed fresh arugula leaves
8 asparagus spears
1 cup fresh peas
1 cup cherry tomatoes, halved
1 large cucumber, peeled and sliced into discs
½ cup packed fresh mint leaves
Directions:
Place first six ingredients and ½ cup of the arugula in a blender and pulse for a few seconds on high speed to get a smooth and creamy mixture. Taste and adjust the seasoning if necessary.
Remove and discard the woody ends of the asparagus spears. Prepare a large pot of boiling water and plunge the asparagus spears and peas for about 6 to 8 minutes, then transfer the spears and peas to a bowl of ice-cold water to stop them from cooking further.
Transfer the asparagus and peas to a large mixing bowl and add the cherry tomatoes, cucumber slices, remaining arugula, and mint. Add half of the dressing to the salad vegetables and toss to coat evenly. Taste and season with additional salt and pepper. Serve the remaining dressing on the side.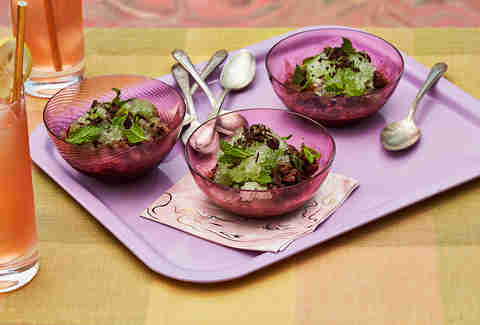 Mint Chocolate Granita
Combat the oh-I-couldn't-possibly rebuff with a refreshing, unique dessert option that no guest will be able to pass up. Ben Mims, author of the cookbook Sweet & Southern, created a mint chocolate granita that is similar to a chocolate sorbet, but lighter because there's no dairy fat. Serve in bowls, or in chilled barware for a presentation guaranteed to impress guests.
Ingredients:
2 cups boiling water
½ cup packed mint leaves
¼ cup plus ⅓ cup granulated sugar
1 teaspoon fresh lemon juice
2-3 drops green food coloring (optional)
⅓ cup unsweetened cocoa powder, preferably Dutch-processed
¼ teaspoons vanilla extract
Mint sprigs and chopped dark chocolate or mini chocolate chips, for serving
Directions:
To make the mint granita, combine 1 cup boiling water, mint leaves, ¼ cup sugar, lemon juice, and food coloring (if using) in a blender and process until smooth. Let the syrup cool for 10 minutes. Pour the syrup through a fine mesh strainer into a 9-inch pie dish and discard the mint pulp. Rinse out the blender.
Make the chocolate granita by combining 1 cup boiling water, ⅓ cup sugar, cocoa powder, and vanilla in the blender, and process until smooth. Pour the syrup into a second 9-inch pie dish or other shallow dish.
Place both pie dishes in the freezer and let syrups set for 4 hours, scraping each with a fork every hour until they become slushy. Freeze 4 highball or martini glasses (if using) while the granita freezes.
To serve, spoon one-quarter of the chocolate granita in each bowl or frozen glass, then top each with one-quarter of the mint granita. Garnish with a sprig of mint and some chopped chocolate or chocolate chips and serve.