Trader Joe's Best Buys, According to Employees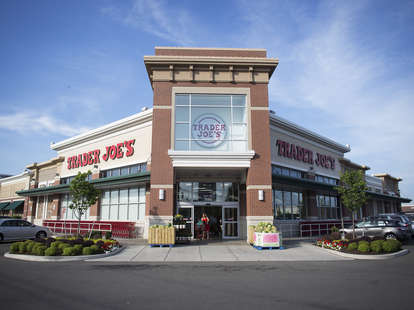 Melissa Renwick / Getty Images
Melissa Renwick / Getty Images
Walk into a Trader Joe's, and you can easily walk out with a grocery cart full of food you didn't spend that much money on. But you could always be shopping smarter at TJ's, and no one knows that better than the people paid to wear pseudo-Hawaiian shirts and spend hours a day there; those nice employees who know the store like the back of their hands. And whose hands are probably sticky from scooping cookie butter directly into their mouths when you're not looking.
What do they know that we don't? We surveyed employees at the famously secretive chain to get the inside scoop. Here are the essential foods to buy at Trader Joe's, according to the people who work there.
Bananas
"Bananas are a good deal," one employee told me. "Nineteen cents apiece. I've actually gone and weighed a pound, and you can get five bananas for under a dollar. Whereas if you go elsewhere, you're paying for the peel." But if you don't have a peel, how else do you cause one of your friends to fall down like they're the star of a 1920s-era slapstick comedy? Riddle me that, Mr. Joe.

Organic sweet potatoes
While the 19-cent bananas are not organic, plenty of the other produce is. That includes the big-ass 3lb bag of sweet potatoes, which goes for $3.99. Considering the non-organic ones at most stores run around $2.99/lb, going big is the best move here. And a healthy one.

Eggs
Cage-free eggs are another good find. "Eggs are a good deal at only $1.99," the woman behind the sampling station told me. "Anywhere else, they're $2.30 and up. And I get my cage-free eggs for $2.79."

Italian food
"The pasta is imported from Italy and is 99 cents," a manager told me. She noted that imported pasta elsewhere can run you at least $3-$4. That's a bunch of meals for the same price as a burger on a fast-food joint's dollar menu, and while you cook it, you can even sing the "That's Amore" song to yourself, like a real Italian chef! The manager also noted that other Italian staples like olive oil and vinegar are solid values. I can confirm: the 100% Italian organic extra-virgin olive oil is always competitively priced.
That manager wasn't done helping: she singled out the white Modena vinegar mixed with California Estate olive oil to make a killer homemade salad dressing, or the same vinegar mixed with garlic and lemon to make a chicken marinade.
And if you're the type of person who cares about what's in your food (as well as the price), anything with a TJ's label on it comes with a few guarantees: artificial flavors, preservatives, MSG, GMOs, or trans fats? Faghetaboutit.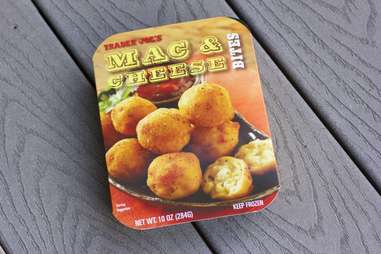 Five Seed Bars
Since the TJ's employees have seemingly eaten everything in the store, they know what to eat that might not sound that appetizing. "No one buys our Five Seed Bars because they don't sound good," one employee guessed. They don't look that tasty either, dude. "[All my co-workers] agree on that one," he continued. "It's like a Nature Valley bar, but it tastes so fresh." There are three flavors, including blueberry, so seek 'em out next time you're in the cereal aisle.

Scandinavian Swimmers
For something much less healthy, the Swedish Fish-like Scandinavian Swimmers are the way to go. They're less sweet than the Fish, and they're only $2.99 for a bag. "Everyone that works here... we open up a bag every day," a TJ's worker told me. "I think they're going to blow up once everyone discovers them." As in... now.

Frozen meals + meats
A chatty TJ's employee working the sampling station told me she loves the baked, pre-made carnitas with salsa verde. Among the frozen wares, top picks included the mac & cheese bites and the quattro formaggio pizza customized with produce and meats from elsewhere in the store. TJ's mandarin orange chicken is a well-known favorite in the frozen-food aisle, and it's also the best-selling product on the grocery side of the store, according to the employees I spoke with.

Chips, popcorn, and other snacks
In the aisle with all the chips, the White Cheddar Corn Puffs and veggie chips are constantly being restocked. And it's no surprise that a big ol' bag of roasted plantain chips for $1.99 doesn't last long -- one mid-sized store employee told me they sell a case of 'em per day.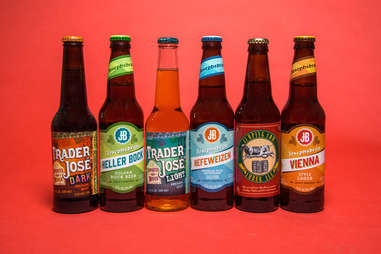 Trader Joe's private-label beer
We asked Great Divide's head brewer to taste-test around 30 of the private-label beers, and the Mission St. pale ale came in first. It's only $1.17 a bottle, so there's no reason not to get a six-pack. But don't just pick up any beer willy-nilly, as there's no need to get stuck with a beer that has a "really astringent bitterness." Let the only astringent bitterness in your life be reserved for when you see on Facebook that everyone you went to high school with is doing better in life than you.

Wine
We drank all the Two Buck Chuck so you didn't have to, and we even found a sommelier to help taste-test it. The merlot scored the highest, but plenty of others ranked fairly high too. If you're a fan of shiraz or chardonnay, load up.
You can also up your wine game by upping your price point... by a couple dollars. Obviously Two Buck Chuck is the best-selling and cheapest wine TJ's carries, but don't spend all your hard-earned money on the cheap stuff. "We have a lot of wines that are between $4.99-5.99, and they're all really good," a helpful employee told us. That includes the Chariot red, an Italian Contadino pinot grigio, and a 1967 Toscana. There are also wines priced up to $120 p/bottle, but we'd recommend instead buying 24 bottles of the $5 wine.
One favorite wine of the employees isn't $2, $4.99, or $120 -- it's the Tribunal red blend for $9.99. The price point is why it's not "flying off the shelves," but I think it might be because people don't want to drink a wine they associate with military court hearings. Push past the name and pick some up.

Nothing... because you can sample for free
Like Whole Foods, TJ's has a generous sampling policy. "You can try whatever you want," an employee told me. Even when I pointed out that I wanted to sample one of the new frozen foods (a Mexican-tinged quinoa mix) and that it'd take seven minutes to heat up in the microwave, there was no flinching. They were going to microwave the hell out of it for me just so I could try a few spoonfuls. The only limit is that if you ask to try 10 things, the employee said they'll tell you some version of, "You're good. Your lunch is over." Sick burns are also now available at TJ's.

Sign up here for our daily Thrillist email, and get your fix of the best in food/drink/fun.
Lee Breslouer is a senior writer for Thrillist, and loves him a cheap bag of organic sweet potatoes. Follow him to discounts: @LeeBreslouer.