Smoking Meat At Home? Heed These Pitmasters' Advice.
"Good meat starts with good meat."
hlphoto/Shutterstock
hlphoto/Shutterstock
Brisket's Law states that for every one person working a smoker, there must always be two armchair pitmasters within advice-giving distance. Especially when you're just starting to smoke meat, guidance is crucial -- but not all backyard wisdom is created equal. Learning to barbecue doesn't require an IQ higher than meat-safe temperatures for beef, but it is an art form that demands studious practice and great teachers.

So we asked for tips from five of the nation's best pitmasters: third generation legends (Wayne Mueller of Louie Mueller Barbecue; LeAnn Mueller and Ali Clem of La Barbecue), fusion experimentalists (Evan LeRoy of LeRoy and Lewis), competition champions (Brad Orrison of The Shed, Chris Lilly of Big Bob Gibson), and young gun upstarts (Dylan Taylor of Goldee's Barbecue). Wondering what type of smoker to buy? How to create a two-zone fire? If your grill should be open or closed? Wonder no longer, the answers are right here:
Purchase the right smoker for you
"We love to cook on offset smokers. The indirect heat allows for a nice low-and-slow cook. When looking for a smoker, you want to make sure it is good quality and holds heat well. We usually look for one that is welded together, not with screws and bolts. -- LeAnn Mueller and Ali Clem, La Barbecue (Austin, Texas)
Always start with a clean grill
"This one sounds simple, but is very important. No one ever cleans their grill after using it (because it's hot), but waiting too long can create an environment for mold and all kinds of yucky stuff. If your grill is clean, you're more likely to use it more often. -- Brad Orrison, (The Shed Barbeque & Blues Joint (Ocean Springs, Mississippi)
Don't be a cheapskate with the meat
"Good meat starts with good meat. The best deal at the grocery store isn't always the best quality product you can buy. Shop at farmers markets and talk to the farmers and ranchers who produce the food you consume. Ask questions about the cut, how much fat and connective tissue it has, and how they, the producer, would cook it." -- Evan LeRoy, LeRoy and Lewis (Austin, Texas)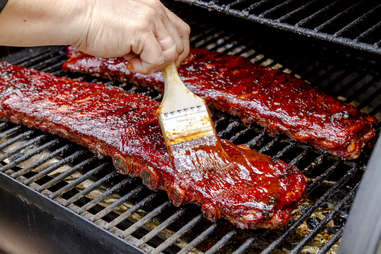 Don't go overboard with rubs
"Choose the flavors that you love to marinate or season your meats, but keep it simple, less is more when it comes to meat. You really want to be able to taste the meat you are cooking and not have too powerful of a seasoning that takes over the flavor. We love a heavy coarse ground pepper for spice, it creates a really nice bark when cooked low and slow." -- LeAnn Mueller and Ali Clem
Plan ahead
"Have a plan based on your needs. When you want to eat is an important place to start, then do the math backwards. If 5pm is dinner and it's a two-hour cook, you should have everything ready to hit the grill by 2pm so that the meat has time to rest before you eat. It will make the meat super juicy and it won't burn your mouth. Be patient. -- Brad Orrison
Run a clean fire
"Avoid chemical-soaked briquettes and grill over hardwood or lump charcoal. Build your fire slowly and make sure it gets plenty of oxygen and airflow to avoid acrid tasting, billowy white smoke." -- Evan LeRoy
Add hot coals throughout the smoking process
"When cooking for long periods, always keep a lit charcoal chimney on standby to add hot coals to your cooker as needed. Placing unlit charcoal on top of lit coals will temporarily smother your fire and cause your cooker temperature to drop until the fire catches up." -- Chris Lilly, Kingsford Charcoal Ambassador, Big Bob Gibson Bar-B-Q (Decatur, Alabama)
Use the right wood, and not too much
"You want to use aged or drier wood and make sure it isn't green. This will ensure you don't burn a dirty fire, so your meat is not too smoky. You want to start with a smaller fire and build it up to the temperature needed for your meat. We always tell our crew to not touch the fire too much and only rearrange and add when the fire falls or the temp starts to drop." - LeAnn Mueller and Ali Clem
Season with wood
"Think of wood as a seasoning rather than a fuel source. Many make the mistake of over-smoking their meat using all wood, giving the resulting BBQ an acrid taste. Start with a combination of charcoal and a few wood chips. The more experience you have, the more wood you can use. -- Chris Lilly

Instant read thermometers only
"Make sure you have a good instant-read thermometer. Cooking a steak, rack of ribs, or brisket by feel is something long-tenured cooks can do, but in order to really nail the doneness, probe your meat." -- Evan LeRoy
Keep it simple
"Don't overthink it! Sometimes less is more when cooking barbecue. For example, you don't have to put a bunch of different spices on the brisket to make it taste great. I usually just use black pepper, kosher salt, and maybe even a little granulated garlic powder on all meats. If you hit a stumbling block, just keep doing what you're doing and rely on what you know works best. Most of the time everything comes out just fine! Barbecue can be funny like that. If you overthink and overcorrect you could potentially ruin some great meats. If for some reason your meat comes out a little off, document it all and learn from it to do better on the next cook!" -- Dylan Taylor (Goldee's Barbecue (Fort Worth, Texas)
Build a two-zone fire
"Situate the hot coals on only one side of the grill and leave the other side void. This creates an area for both direct and indirect cooking, increasing the versatility of your grill. The hot (direct) zone can be used to sear or grill meats at a high temperature and the cooler (indirect) zone can be used for lower-temperature smoking." -- Chris Lilly
Take notes
"Keep a journal to log your cook, key environmental conditions, and actions undertaken during the cook. This will shorten the learning curve and assist in the production of more consistent outcomes." -- Wayne Mueller
Practice as much as you can
"Barbecue is a cuisine best executed by relying on your instincts, as opposed to a fixed recipe. There are many variables affecting how the cook will come out that change every day, like the conditions of the weather, wood, and meat. The best way to master these elements is by relying on feel and look, rather than relying on the temperature of the meat. The best way to hone these instincts is through repetition." -- Dylan Taylor
Use a drip pan
"These are a great way to prevent the fat rendered from your barbecue from dripping onto hot coals and causing flare-ups. Take advantage of this pan by filling it halfway with a mixture of water, fruit juice, and seasonings to fill your cooker with flavored moisture. A high humidity within the grill means juicy barbecue." -- Chris Lilly
When all else fails…
"When all else fails (and Murphy's Law guarantees it will), grab a bottle of your favorite distilled spirit, proclaim homage to the BBQ gods, and slam a shot (or three) in celebration that you live in America during the Golden Age of BBQ. Now all is right in your world… so get up tomorrow and try again." -- Wayne Mueller
Sign up here for our daily Thrillist email, get Eatmail for more food coverage, and subscribe here for our YouTube channel to get your fix of the best in food/drink/fun.
Dan Gentile is a freelance writer and original Thrillist Austin editor. He's written for Texas Monthly, Rolling Stone, VICE, Parade, and many more. Read more of his writing at dangentile.net or follow him on Twitter at @Dannosphere.