Everything You Need to Know Before Your Next Race Tailgate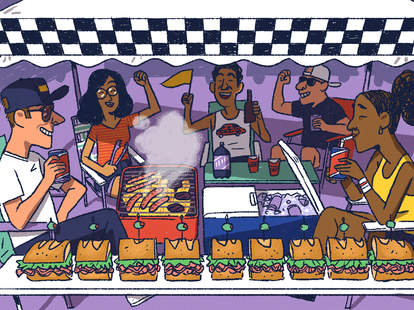 Even if you've devoted tireless weekends to becoming a football tailgate pro, leaving your mark during a NASCAR® race weekend is when you know you've made it to the big leagues. Creating (and enjoying) a successful party at one of NASCAR'S 100-plus yearly races is the stuff of legends, considering you'll be going nonstop for 48 hours with grill cook-offs and corn hole competitions. Plus, what other pro sport actually lets you go wild within the actual field of play?
Whether you're under the Florida sun for the "The Great American Race" at the Daytona 500® or trying to keep up with the rest of the party veterans at Talladega, NASCAR tailgating isn't a sprint -- it's a marathon. Here's how to make sure everything about your mobile weekend party unit is just as epic as the race day itself.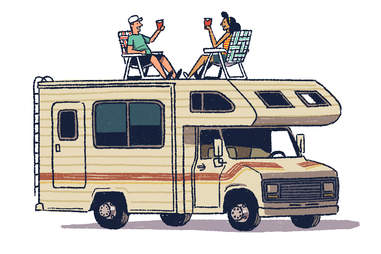 David Saracino/Thrillist
PLAN AHEAD
Mark your calendar
You're in it for the long haul, so think ahead. Since you have almost 100 different races and championships across the country to choose from, that means you can pick what races you care the most about and plan months in advance with your crew. Try and coincide any holiday weekends with races, so you get an extra play day off work, too (and stretch the value of your tailgate a little farther). Start with tracks like the Daytona 500 on President's Day weekend or North Carolina's Bojangles' Southern 500® at Darlington Raceway to close out the summer on Labor Day.
Claim your pad
Showing up too early might be lame at other tailgating events, but for NASCAR superfans it's everything. And for more significant events of the year, like the All-Star Race, dedicated viewers will show up almost 12 hours before the flag. If you're coming with a big crew, get there hours before the race so you can get spots next to each other for effective tailgate hopping. If you're camping or bringing an RV, the most seasoned tailgaters know to get there a day, or even two, before. Just remember: there's nothing worse than coming back from watching your driver win it all only to discover you don't remember where your tailgate spot and car reside. This is easy to do since it's a sea of vehicles in behemoth lots, so always write down the row number and how far back you are or save your parked location directly into Google Maps, so your forgetfulness doesn't rain on your day.
Yes, there are some rules you need to follow
Whether you're at Paddock Tailgate Park at Watkins Glen International or you're living it up with limited adult supervision in the parking lot of your choice at Michigan Speedway, each tailgate is going to go down a little differently based on what stadium. Always check individual guidelines on the stadium websites. You never want to show up and realize you had to buy a pass ahead of time, reserve a camping spot weeks in advance, or fit within mandatory dimensions for your tailgate that suddenly won't accommodate all the grilling gear you lugged from home.
Think like a camper
Every NASCAR pro knows this tailgate is basically like you're going on a backwoods camping trip. Bring water jugs for washing utensils and your hands, duct tape to repair just about anything, disinfectant wipes, portable chargers & power strips, long-lasting coolers, and even a small generator to power your appliances. Check in advance if there's a water station where you can refill, but don't count on it.
And bring essential comforts from home
This is a NASCAR tailgate, guys and gals: fans do not skimp on decking out their spots to make it as close to a cozy outdoor living room as possible. Think folding chairs with footrests (even inflatable couches), tables with cup holders, satellite TVs; basically anything you know will make your weekend more enjoyable. And don't be that person sitting in the rain or thoroughly baking in the sun. It's a rule that every NASCAR tailgate needs a canopy, no matter the forecast.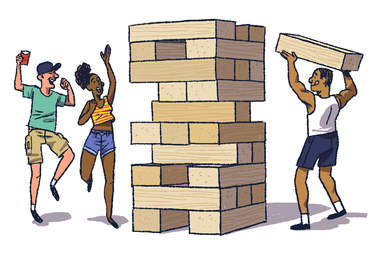 David Saracino/Thrillist
PREP WORK
Show off your pride
Once you get your equipment and tent set up, it's time for some interior decorating. Because it's an all-day (or weekend) affair, NASCAR fans go to great lengths making their tailgate setups unique during this unspoken competition. That means if you want to go all out and show love for your favorite driver or city, it's encouraged and you definitely won't be alone doing it. Put stickers on your car, throw up some signs, get checkered tablecloths, hang string lights across your tent, and even put down an outdoor rug to spruce up the place. Anything that puts your personal stamp on it will earn you respect from the grillers around you.
Get race day activities ready
All good NASCAR tailgates should come with a few friendly gameday competitions for you and your friends to battle over. The most popular games at NASCAR tailgates are cornhole, ladder ball, horseshoes, and bocce. Don't be afraid to get creative based on your crew, though: giant Jenga, water pong, a deck of cards, whatever's gonna help you make the most of your time, bring it along.
Create a designated area for cleanup
Get proactive about trash and dishes before it becomes an issue. Hang up a few garbage bags so that it encourages you and your buddies to clean as you go. Use plastic where you can for utensils, and wipe down dirty spatulas and other grilling utensils. Don't forget to put away all leftover food in a locked up cooler, too -- unless you want to share the couch with a raccoon or two.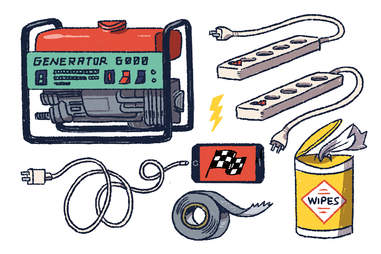 David Saracino/Thrillist
RACE DAY GRUB
Race day utensils
Don't be that person who forgets a spatula or even a pair of scissors (opening bacon packages can sometimes be challenging). Come prepared so you don't have to bother your neighbors for all their equipment. Also think matches, lighters, kindling for certain charcoal grills, bottle openers, serving spoons, and, of course, containers for leftovers.
Meal prep is your friend
If you want to go above and beyond the standard hot dog and burger like other NASCAR fans will, all it takes is a little bit of work ahead of time. Pre-marinate chicken, steak, or pork in air-tight bags at home for less mess at your tailgate (and more flavor). If you're making potato salad or want to fry up some bacon, pre-boil and fry anything that needs it a few hours before so you save time and space, with fewer pans in your trunk.
Slow-cookers were designed for this
Don't mock the pot -- it's the little engine that could and will do all of the hard work for you. From slow-cooking chili to recreate the famous Martinsville Speedway dog topped with chili, onions, and slaw to making Daytona's prime rib sandwich, an electric pot will revolutionize your tailgate. Throw all the ingredients in a slow-cooker, set the timer, and three to four hours later you'll be grubbing on the ultimate tailgate feast. Need to get something out faster? Bring an electric pressure cooker, and produce similar results at pit-crew speed.
Don't forget to save room for the memories
When making your own version of the signature track fare, leave the iconic NASCAR concession stand food to the pros, like Charlotte Motor Speedway's monstrous s'mores funnel cake and the Eldora Speedway pizza burger. Sure, you might be able to make these yourself, but getting them is part of the experience particular to each track, and you make a memory of that idiosyncratic dish you -- or your kids -- can share with other fans later on.  
Snacks are the real MVP
When you're having a blast for ten hours straight, you're only going to want to go all out on a few meals a few times throughout the day. Bring chips, dips, salsa, pre-made hot dogs in a blanket, nachos, jerky, whatever filling snacks fuel you up so you can take a break from grilling and focus on winning that cornhole game. You want to power through the day, not load up and snooze it away.
Sharing is caring
NASCAR tailgate culture is all about being open and willing to make 25 completely random friends in a day. Make extra burgers, hot dogs, potato salad, heck, you can even loan out batteries, phone chargers you name it. You never know who's going to pop by and compliment your tailgate setup and want to hang out. It's the best way to give back to the unique atmosphere and create buddies you'll probably see at every event you attend. And isn't that why you're here?