10 tips for throwing the ultimate football party
Photographee.eu/Shutterstock
Arranging a Thursday, Saturday, Sunday or Monday night (man, there sure is a lot of football) pigskin-viewing rager isn't as easy as it seems. In fact, it does't even seem that easy to begin with. Actually, it's pretty hard. That's why help is here! Follow these hints, tricks, and invitation guidelines and the next football fete you throw is sure to be one to remember.
Be careful who you invite
Those people who take it super, really, astonishingly personally when the college they dropped out of 12 years ago is down by a field goal after, like, the first two minutes? Yeah, don't invite them. Nothing kills that party spirit like those dudes who lash out at everyone around them like sullen jerks just because their fantasy RB1 fumbled. On the other hand, the guy in the cardigan who doesn't even own a TV and thinks sports are just a contrived public distraction engineered to keep the proletariat etherized? Yeah, he's not fun anywhere, let alone a football soiree.
A good mix of people -- casual football fans, hardcore enthusiasts with some self awareness, and people who don't really care about the game but won't spend three hours loudly proclaiming it -- is what will turn this party up. Or down. Are the kids turning things up or down these days? Damn you, Lil Jon!
Stock up on brews
Professional party planners figure the average person will go through two beers an hour. The length of a typical football game is three hours give or take a few panic attack-inducing overtimes. Simple math means that a six-pack per person per game is a good rule to follow when hitting the beer aisle. And even though it's fall and you're inside and this may seems a little weird, break out the cooler. Multiple partygoers opening the fridge two times an hour means no beers are getting or staying frosty, which, appropriately, is really not cool.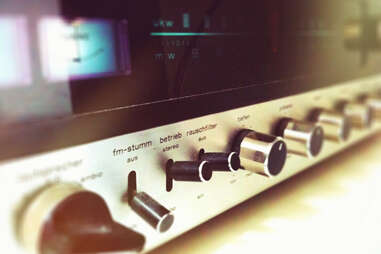 Don't ignore the tunes
Commercial breaks, half time, catastrophic lighting failures -- plan for the game to be interrupted and guests to not be great conversationalists. Set up some playlists and keep them rolling through the same sound system Joe Buck and Troy Aikman are droning sonorously through. When there's a break in the game, just switch inputs to the tunes already playing.
Get a disposable grill
Grilled food is a necessity at any football party, but not everyone has a, you know, grill. Good thing you can get disposable charcoal-burners for use on the deck, patio, lawn, or similar outside amenity. Don't have a backyard or a grill? Grab an indoor job (they're real, think George Foreman.). Don't want to do that? Fine (gosh you're difficult.), the least you can do is get a grill pan for your stove. All those prepared meats will have the pretty lines everyone associated with "mouth watering delicious town".
Don't mount your own tv
You know what sucks? Mounting a TV for that football party. What doesn't suck: letting Handy do it. Just enter this sweepstakes for the chance at a whole bunch of home makeover services like painting and said TV-mounting. And to sweeten the deal, even if you don't win the sweeps, they're offering $19, two-hour cleaning session for first-time bookers and 20% off that TV hanging. That way, things will be as clean as they were before you threw a whole burger at Phil for beating you in fantasy.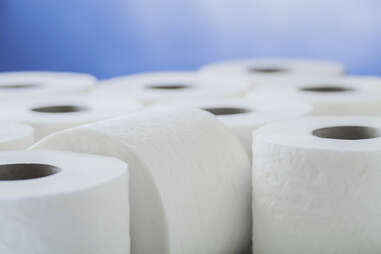 Focus on the Bathroom
Get lots of toilet paper. Make sure there's plenty of hand soap. Seriously, this is very important. Can't stress this enough. There's going to be a lot of foot traffic coming in and out of the commode for the next four to eight hours -- people should leave it as clean as when they came in (hopefully even cleaner in the case of Frank). A few cans of air freshener helpfully placed on the toilet tank is also a good idea.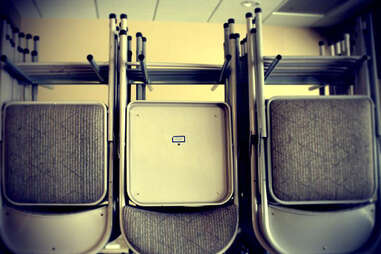 Have plenty of seating
Nobody wants to stand on a Sunday. It's why churches have pews and you have a couch… but that couch can't fit everyone. Stock up on cheap folding chairs and bean bags. Repurpose footrests. Do what you gotta do to make sure everyone can sit at the same time.
Do gamble
The people not into football at the party are super chill, but that doesn't mean it's not worth trying to get them into the game. The easiest way to do that? Wagering a few bucks. Don't bother trying to explain Vegas betting lines -- print out (or draw up yourself.) a box pool instead. It looks complex, but it's relatively easy:
Draw a 10x10 grid
Give one team the X-axis, the other team the Y-axis
Write the numbers 0-9 along each axis
People can initial as many boxes of their choosing for $5, or $10 or whatever the agreed amount per box
Let's say Frank initials the box corresponding to Giants 3, Cowboys 9. If the game ends in any score where the second digits correspond respectively for each team, Frank wins. So Giants 13, Cowboys 29? Frank gets paid. Giants 23, Cowboys 19? Frank gets paid. It doesn't matter who actually wins the game (a big plus for those people not into the sport itself.), just that the second digits match the box. Simple.
Treat the chicken right
No wings at football party is like no cake at a birthday -- unbelievably sad and a sure sign that somebody's parents didn't love them. But what's equally tragic is the treatment those delicious poultry morels are about to get courtesy of a delivery driver. Instead of letting the 50-100 wings this party probably requires sit on a kitchen counter and then the fart-infused passenger seat of a teenager's Kia Sorento, order them at the restaurant and bring them home yourself. Wings that sit in sauce become soggy and gross quickly. Ensure some kind of crispness remains by completing every aspect of the order in person.
Be careful if you go potluck
It's a big risk. You save a bunch of money but have to hope people don't bring tofurkey burgers. A way to avoid this is to make everyone declare in a nice, big, public email chain exactly what they're bringing. Exposing others to ridicule tends to bring the best out of people (or at least gets them to bring the most awesome food).
Have backup snacks
It's the fourth quarter. The beer your guests have been drinking has got them craving salty, sweet, and fatty food. The delicious guac, dips, or whatever it is you've been slaving over (frito pie with homemade Fritos?) is long gone. The perfectly engineered Dorito or similarly scientifically designed potato or corn chip should do you well here. Once everyone is loaded down with enough flavor dust to cause a silo explosion, send them on their way because, congrats, you've conquered the pigskin party but good.