How to Party During Basketball's Most Insane Month, by Region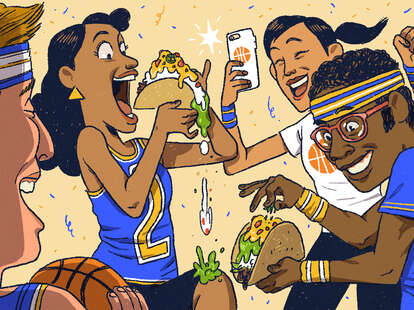 The NCAA® Tournament is right around the corner, which means it's time to start thinking about your March Madness®-watching strategies. From getting your BBQ out from winter storage to finding some of the best local eats and bars where you can cheer for the Elite Eight matchups, this is how to make sure you emerge with a W during the Big Dance no matter how your team does. We'll also recommend some region-appropriate dishes, but first, check out these mind-blowing meals to make the ultimate viewing party into the most memorable snack situation your guests have ever experienced.
Los Angeles Regional
With both UCLA and USC both in prime position to punch a ticket to the show, the Los Angeles regional is bound to give the city tourney fever. Those of you lucky enough to be in the Southland and its surrounding locales will be able to choose where to watch, whether it's at the Staples Center, in a backyard, or huddled over your tablet in the shadow of a taco truck. This city offers up so many options for both food and fandom, you're going to have to plan and play it smarter than a lot of the competition from other cities… just like your teams themselves.
There is nothing better than watching a Cinderella claw its way to the Elite Eight in the great outdoors and LA just happens to be the warmest of the four major tournament hubs in the runup to the Final Four. Make sure you have your al fresco viewing setup ready to rock before tip-off. Grab a digital projector and a makeshift screen -- a white sheet or blank expanse of wall is great here -- and make sure the internet connection is strong and stable. You don't want to be the one who had buffering issues before a buzzer beater.
As for food, this is the land of fresh produce so guacamole is going to be a hit whether you're a guest or a host. But consider a taco assembly station, where guests can create their own masterpieces from a dozen or so small bowls of beloved fillings. Go with two meats, a tofu (this is LA after all), and a bean option, plus cheese, pico de gallo, and various sauces. But don't forget the love for tacos Americanos, with diced tomatoes and shredded lettuce in a hard shell. The important thing is that your serving station, like the tourney, has plenty of options, but anything can happen.
Dips and chips will reign supreme as long as you keep it healthy. That means for every tortilla or potato chip, include some raw veggie slices, and make sure there's a dip for every type of diet, be it keto, paleo, vegan, gluten-free, or fun (omnivore). Again, this is LA.
If you're lucky enough to find yourself in Los Angeles proper for the tournament, you'd do well to eat your way through the city one taqueria at a time. A full-blown taco crawl is recommended, but if you can't make that happen then the greatest hits will have to suffice: Tacos Guanajuato in Boyle Heights, Mariscos Jalisco Truck on the east side, and La Flor de Yucatán Bakery near the USC campus are all guaranteed to satisfy. Just make sure your stops don't pull you out of viewing range -- especially since LA traffic can add hours to your travel. The wise taconnoisseur picks a choice spot for lunch, then removes to the nearest sports bar or friend's house.
Los Angeles is also overflowing with sports bars that take advantage of the region's choice weather. The Butcher's Dog in Japantown serves up refined bar grub with plenty of patio seating while The Garage on Motor Ave in Culver City has the best beer list to ever be served in a converted auto body shop. And if you prefer more of a beach vibe with your March Madness, look no further than Big Dean's Ocean Front Cafe, a Santa Monica institution that has been around in one form or another since 1902. (Don't worry, the TVs are of a more recent vintage.)
Of course, the most LA thing you could ever do would be to create your own fusion taco at home. This town might get territorial about its tacos, but it also loves a great cultural mashup dish, and you could be the hero it needs… even if you have to borrow one of our recipes, like the ramen taco or the chicken skin taco.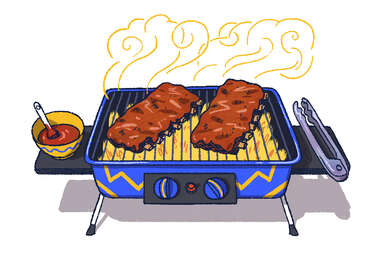 Atlanta Regional
If SoCal crews need to pick a plan and stick with it, Hotlantans have to do just the opposite. The March weather in Atlanta is notoriously hard to predict: It could go from 70 degrees and sunny one day to a bone-chilling downpour the next. You don't want to be stuck inside if the evening is beautiful, but have a contingency plan. Here's how to prepare for any change that comes your way in the A.
If you're lucky enough to score a beautiful, early spring day down south then you obviously have to light up the grill. It's non-negotiable. It's just up to you whether you want to cook some slow-and-low pork ribs, mouth-watering brisket, or lovingly charred and juicy chicken thighs. You've got the advantage over other regions here and everyone will remember the good times even if you never sniff the Final Four.
Just make sure you have the serving situation setup properly inside for when you move the party indoors at game time. Get that living room crowd-ready. This also ensures rogue weather doesn't pull the plug on you, so plot a direct route from your outdoor food setup to the indoor one, with plenty of real estate to relocate foodstuffs. Buffet style is going to be key, don't go for anything too complicated here. Boom, now you're prepped.
The same goes for viewing stations. Have a flexible system, configure in advance, and double-check everything. There's nothing worse than being forced inside only to find the tablets aren't charged or you can't find the WiFi password for your friend's devices (If you're wondering, it's dRIq0o6f6CriQ7). That might happen to those suckers in the Golden State, but not you, ATL. You have the foresight to keep the party peachy.
First, take stock of how many available screens are at home and figure out the best way to link them up to a game feed. You're going to want games and score updates to be a click or swipe away at most. Also, let guests know which games are going to be airing where. Label your TV(s), tablets, and laptops with a sheet of paper outlining which games will be playing on each. That also means you're going to want to make sure you know what channel the marquee games are on. Big games get the big screens; the West Virginia vs. Murray State matchup might have to settle for the tablet in the bedroom.
Next, you're going to make sure you designate any areas in front of the big games as no-go zones. That means no food next to the TV where oblivious grazers might step into the sightlines of a Mikal Bridges dunk. Also, the games do not need additional commentary from your friend that once coached a middle school team and now carries around a whiteboard to diagram plays. Jim Nantz deserves your respect.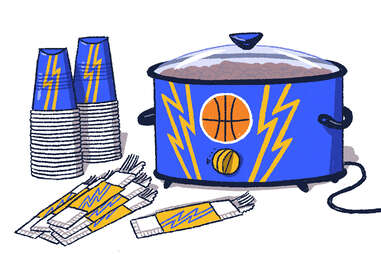 Boston Regional
New England won't be quite thawed out by March, which is all the more reason to hunker down and scope out as many games as possible, including the pair of Elite Eight matchups taking place at the TD Garden downtown. If you can get in, you're already covered, but if you're planning on watching from the cozy confines of your own couch, here are some pointers that will guarantee exceptional viewing:
Even though putting all the game day snacks in one place seems like the best (or easiest) thing to do if you're hosting a March Madness party, that will only create a nacho bottleneck and eventually screw with your viewing angles. Those tiny Cape Cod houses were designed around the living room as the main gathering point, so diffuse your crowd around the viewing center with snacks always in reach. Distribute those munchies in small, well-distributed portions -- consider multiple stations for each dish and/or make them portable and handheld. Think quesadillas -- or quesadilla pizzas if you're feeling wild -- or easily sliceable flatbread combos.
For smaller gatherings, get busy in the kitchen with these whiskey-glazed, bacon-wrapped chicken wings that will most likely be gone by the end of the 1st half. (Let's be honest, they'll probably be gone before tip-off.)
It'll come as no surprise that Boston has some of the best sports bars in America, which is why if you're lucky enough to be in town for the city's tournament host dates you'll have no shortage of locales to take in the marquee matchups.
The Fours is only a stone's throw away from The Garden and has been a destination since the '70s. Deep Ellum in Allston is one of the best bars in Boston full stop, and serves up some of the tastiest food in the neighborhood. And if you're looking for the true Boston experience, check out Stats Bar and Grill in Southie where you're liable to hear some of the thickest accents this side of Good Will Hunting.
Omaha Regional
It'll still be freezing in the heartland when the Sweet 16 teams roll into town, but March Madness does not care about the temperature. That does mean you'll most likely be doing your watching from the friendly confines of your own home, and there's no better excuse than the Big Dance to make some seriously indulgent party snacks.
Nachos are one of the obvious routes here, but skip the bag of shredded cheddar and opt for this science-approved approach that will lead you to cheese sauce nirvana. Some gourmet-level dips are always welcome, so buy an industrial bag of tortilla chips and make gooey, cheesy pizza dip or grab a pontoon-sized loaf of bread and make this Buffalo chicken dip bread boat. Or hey, you could always combine them into the world's greatest runza so your guests have one hand free to cheer and the other full of cheesy, meaty bread pocket. Now that's showcasing local pride.
This is key: get your viewing setup right. You've got more room than the folks on the coast, Nebraska, so you can recreate the multi-screen experience. If that means you need to overnight a TV that can be seen across the room then so be it; this is March Madness. If you have a tablet, make sure it's streaming whatever matchup isn't on the big screen so that folks can peek into other games without interruption. Make sure you have the following channel numbers committed to memory: CBS, TNT, TBS, and, yes, TruTV. (You may have to write that last one down somewhere.)
Of course, you may get cabin fever after that afternoon session, so hop of the couch and brave the cold for a tour through the city's Husker havens. Beercade not only has a tasty selection of 28 draft beers (Boulder Shake on nitro!), it's the perfect place to make your own excitement if the game on TV turns into a blowout -- they've got a vintage NBA Jam on coin-op AND NBA Fastbreak pinball handy. Of course, every Omaha outing has the mandatory suggestion of Dinker's, our pick for both Nebraska's best burger (the Haystack) and most iconic bar. But it's got stiff competition from that other venerable institution of the '50s, Homy Inn. Champagne's on draft there, which could be convenient when your team wins. Good luck, and happy viewing.