Why the Donabe Deserves a Permanent Place on Your Stovetop
Make glossy, sweet white rice or a rich chicken hot pot.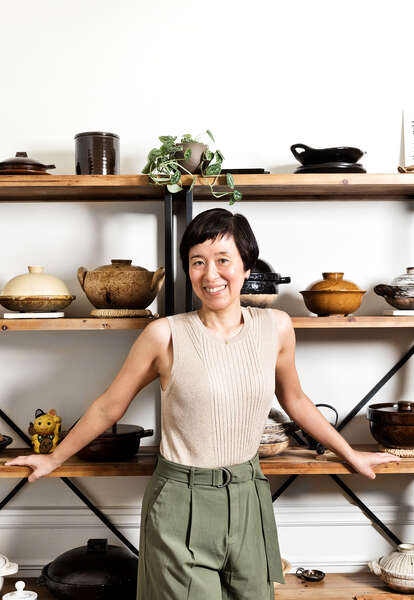 Naoko Takei Moore

| Photo by Dylan + Jeni
Naoko Takei Moore

| Photo by Dylan + Jeni
According to home cook Naoko Takei Moore, there's an exact science as to why Japanese earthenware pots, known as donabe, bring out the best in dishes. Whether you're making plain white rice or a rich, Kyoto-style miso hot pot, a donabe—"do" meaning earth or clay, "nabe" meaning pot—deserves a permanent place on your stovetop.
"It's not just about the recipe or the cuisine," Takei Moore says. "Ultimately, it's about the communal dining aspect of it. It's about the spirit of sharing a meal. Through donabe, we can really share the joy of cooking."
She should know. Takei Moore has spent more than a decade introducing donabe cooking to stateside home chefs. In 2008, she started her donabe import business, which snowballed into donabe cooking classes, a cookbook, her donabe storefront, Toiro, which she opened in 2017 in West Hollywood, and now, a YouTube channel, titled "Naoko's Happy Donabe Life." She's since adopted the title of Mrs. Donabe, a title she happily accepts.
But educating people about the donabe has been no easy feat for her. When Takei Moore arrived in the United States 21 years ago from Tokyo to study at Le Cordon Bleu in Pasadena, California, donabes were somewhat of an afterthought to her and largely an unknown entity in the U.S.
Her love affair with donabe cooking was sparked in 2008 during one of her trips back home beyond the mountains of the historic Iga province, just southwest of Takei Moore's home city, Tokyo. It all started, she recalls, with a simple bowl of rice, cooked in an Iga-style clay donabe pot made by Nagatani-en, one of Japan's oldest producers of Iga-style donabes.
"I ate rice [and] I had a wow moment," Takei Moore says. "There was something just so special about Iga-style donabes. After I returned to LA, I immediately contacted the producer and asked them if they'd be interested in exporting their products. I had never had any experience as a trader before, but they had a positive response."
Cookware trends come and go, but donabes have long been a centerpiece of Japanese home cooking—so long, in fact, that the history of the earthenware pots is also a history of Japan itself. In 1998, archeologists at the Odai Yamamoto I Site in the Aomori prefecture uncovered fragments of prehistoric clay donabes dating back to 16,500 years ago. Donabe cooking as we know it today has its roots in the emergence of Japan's culinary culture during the Edo period (1603-1867), when donabe pots were first used to cook communal hot-pot dishes. Family-style donabe cooking emerged during the 1900s as donabes became easier to mass produce.
Today, as less and less Japanese families report eating meals communally, donabes have an almost bittersweet meaning. To many, they're a nostalgic reminder of a time when families still ate together, crowded around a dinner table after a long day. Often used for family dinners or dinner parties with friends, the communal nature of donabe cooking, Takei Moore writes in her cookbook, is a real life lesson in the Japanese idiom ichigo-ichie, meaning "every moment is a once-in-a-lifetime treasure."
Growing up, Takei Moore remembers her mother using a donabe to make an assortment of dishes, from Yose-Nabe, a freestyle hot pot, with black cod, napa cabbage, shiitake mushrooms, and other seasonal vegetables in a simple soy sauce-sake broth. "I was brought up in a family that valued food," Takei Moore explains. "Japanese home cooking is really informed by the art of subtraction. It's minimalism, simplicity, and a celebration of seasonal ingredients."
Takei Moore says the beauty of a donabe really has to do with the fact that it's porous, which means they take longer to build heat, but can retain and evenly distribute steady heat over a long period of time. Donabes are also glazed, which helps cook ingredients with "natural far-infrared radiation" akin to the effect that glowing charcoal has on grilled food.
"Japanese home cooking is really informed by the art of subtraction. It's minimalism, simplicity, and a celebration of seasonal ingredients."
Donabes lend themselves to gentle, slow cooking, trapping the aromas inside the clay pot and coaxing out the natural flavors of simple ingredients. "Because it's porous, it literally breathes during cooking, releasing and taking in air as necessary […] and controls its own heat," Takei Moore says. "Donabe does all the work for you."
Cook the best white rice with a donabe
While today's rice cookers can result in a pretty good steaming bowl of white rice, a donabe will produce rice like nothing you've ever had before. Home cook Moe, from YouTube cooking channel Kimono Mom, advises cooking it in a donabe, which she's done for years.
"When you use a donabe to cook white rice, the finish of the rice comes out shinier and the grain is more structured," Moe says. "It's also sweeter, because the way the heat travels through a donabe brings out the natural sweetness in the rice."
In fact, donabe-cooked white rice is so exceptional that some rice cooker manufacturers, such as Tiger, have introduced donabe-style rice cookers with clay-infused pots and heating mechanisms that replicate how heat travels through a donabe pot. Part of what makes a donabe an ideal vessel to cook rice in is its heat retention, breathability, and the slow build of heat in the chamber, per Takei Moore. "[A donabe] provides a gradual then steady heating once it reaches its highest point," she says.
Moe's recipe for donabe white rice is simple. First, rinse your rice until the water runs clear. After you've rinsed the rice, soak it in water for at least 30 minutes and then transfer it to the donabe. Turn on the heat and once the water has boiled, set it to a low heat for eight to 10 minutes. Turn off the heat, then wait another ten minutes. "The fact that you can cook exceptional rice in 10, 15 minutes is one of the biggest appeals of a donabe," says Moe. "It's easy, delicious, and fast."
The best recipes to try with your donabe
In Takei Moore's cookbook, aptly titled Donabe, she and collaborator Kyle Connaughton feature a diverse range of recipes curated from her years learning both Japanese and Western-style professional cooking. Think traditional fare like Salmon-Hijiki Seaweed Rice and Japanese-Style Miso Keema Curry. Takei Moore's website, Happy Donabe Life, also features new recipes that aren't listed in her book, such as a Somen Noodle and Cherry Blossom Hot Pot recipe and even a Shichimi-Flavored Burst Cherry Tomato Pasta. With donabe, it seems, everything goes.
"Because of my background, I feel comfortable combining different flavor profiles of Japanese ingredients and Western flavors," Takei Moore says. "Donabe is not just about Japanese cooking, for Japanese culture, for Japanese people. It transcends different cultures."
One recipe Takei Moore suggests donabe newcomers try is her Tori-nabe (or Chicken Hot Pot) recipe, which she says was made by Takako, the wife of Nagatani-en's chairman, which is detailed below.
"Don't worry about your skills, just let the donabe do the work for you," Takei Moore says. "All you need to do is have a good heart and put your love in it. I really believe if you put a lot of good feeling and heart into your food, it naturally tastes good."
Where to buy and how to take care of your donabe
Donabes are extremely accessible online. You can find them at various retailers, like Amazon or Takei Moore's storefront, Toiro, which has an online store. Toiro specializes in Iga-style donabes from Nagatani-en, also known as Iga-yaki. What makes donabes from Iga so special? According to Takei Moore, the answer is in the clay found in Iga.
"The region used to be the bed of Lake Biwa about four million years ago in the prehistoric era," Takei Moore explains. "The clay naturally contains fossilized microorganisms. When you shape it and fire it, the donabe's body becomes very porous and coarse. This type of clay is known for its extra durability and longevity [...] and it stays hot for a long time. That aspect is really important for making premium quality rice with a donabe."
Much like your trusty cast-iron skillet, a donabe needs to be seasoned before use—not with cooking oil or lard, but with rice porridge. Per Takei Moore, the one-time process is called medome, where you cook rice porridge in the donabe over low heat for 30 minutes to an hour, depending on the size of your donabe. Stir occasionally until your rice porridge becomes a thick paste and turn off the heat, letting it cool for an hour. This seasoning process strengthens the body of the donabe and prevents it from absorbing unwanted smells by filling the donabe's microscopic pores with starch. The extra effort is worth it: a well taken care of a donabe can last you a long time, says Takei Moore.
As for things to not do with a donabe? "Never, ever deep fry," she says.
Tori-Nabe (or Chicken Hot Pot) Recipe
Yield: 4 servings
Ingredients:
• 1 pound boneless skinless chicken thighs, cut into large bite-size pieces
• ½ teaspoon sea salt
• 3 cups Chicken Dashi
• 1 cup Kombu Dashi
• ¼ cup sake
• 2 ½ tablespoons mirin
• 2 ½ tablespoons sauce
• ½ small head napa cabbage (about 10 ounces), cut into bite-size strips (separate the bottom and leafy parts)
• 2 Japanese green onions (or 6 green onions), white and light green parts, thinly sliced on the diagonal
• 6-8 small carrots, halved crosswise
• 8 ounces assorted mushrooms
• 1 (14-ounce) package medium-firm tofu, cut into 8 pieces
• 5 ounces mizuna (including stems), bottom ends trimmed and cut into 2-inch pieces
• 1 ⅓ pound chicken wings
• 1 teaspoon sea salt
• 1 negi (Japanese green onion), or 2 green onions (green parts only)
• 1 knob ginger, sliced into 3 to 4 pieces (no need to peel if the ginger is very fresh)
• 6 black peppercorns
• 5 cups water
• 5 cups water, low mineral content preferred
• 2 square pieces kombu
• Yuzu-kosho, for serving
Directions:
1. Season the chicken all over with the salt. Let the chicken marinate for 1 hour.
2. Pat the chicken dry (or rinse and pat dry if there is any blood) and combine with the rest of the ingredients in the donabe. Cover and set over medium-high heat. As soon as the broth starts to boil, turn down the heat to simmer. Skim as necessary. Cover again and simmer for 20 minutes. Turn off the heat and let it rest for 15 minutes, or until the stock cools down (about 1 hour).
3. Transfer the chicken wings to a bowl and save for another use. Strain the stock through a fine-mesh sieve.
4. Combine the water and kombu in a donabe and let the kombu soak for 30 minutes. The kombu will reconstitute and double in size. Set the donabe, uncovered, over medium heat. Just before the broth comes to a simmer (after about 15 minutes), remove the kombu and turn off the heat.
5. Season the chicken all over with the salt. Let the chicken marinate for 15-30 minutes.
6. To make the broth: Combine the chicken dashi, kombu dashi, sake, mirin, and soy sauce in the donabe and add the bottom part of the napa cabbage. Cover and set over medium-high heat.
7. As soon as the broth starts to boil, turn down the heat to simmer. Add the chicken and the rest of the ingredients except for the mizuna. Cover again and bring back to a simmer. Simmer until everything is just cooked through, about 3-5 minutes. Add the mizuna and cook for 1 minute longer before turning off the heat. Serve in individual bowls at the table and enjoy with yuzu-kosho.