How to Get the Most Out of Your Rice Cooker
Make braised pork, mushroom rice, and even pancakes.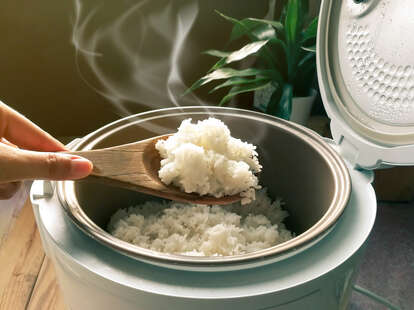 Jasmine rice cooking in electric rice cooker with steam

| Jimmy Vong/Shutterstock
Jasmine rice cooking in electric rice cooker with steam

| Jimmy Vong/Shutterstock
At first glance, a rice cooker is an unassuming, unpretentious kitchen appliance. At its most basic, it cooks rice, keeps cooked rice warm and, sometimes, if you have some chicken broth on hand, can whip up a good serving of congee—the works. Some rice cookers look like the smaller, long-lost cousins of a crock pot. Others, like my Cuckoo Micom rice cooker, look a little bit like EVE from Wall-E. But, regardless of shape or form, a rice cooker, for most, is just that: a reliable appliance that cooks rice.
But, for YouTube cooking sensation Kimono Mom (aka Moe), a simple rice cooker can contain multitudes. "Rice cookers are not necessarily limited to just making rice," Moe says over a video call from Kyoto, Japan. "One of the great things about rice cookers is that it cooks on its own without any supervision and stays warm once it's finished. That functionality actually makes it conducive to cooking dishes that need a consistent source of low heat over a long period of time, like kakuni [Japanese braised pork] or curry and stew."
While electric rice cookers were first introduced in 1923 by Mitsubishi Electric, automatic rice cookers as we know them today were actually invented and popularized by Toshiba in 1955. The ingenuity of an automatic rice cooker—one that could turn off once the rice was cooked—was the product of research conducted by Fumiko Minami, the wife of Tokyo-based water heater engineer Yoshitada Minami, who was assigned by Toshiba to develop an automatic electric rice cooker.
Tireless research—often conducted in the cold to test rice-making in colder climates—led to two innovations that revolutionized electric rice cookers: an insulated cooking pot that could cook rice regardless of the outside temperature and a bi-metallic switch that turned the rice cooker off once the temperature in the pot reached 212°F—the temperature at which the rice has absorbed all of the water and fully cooked.
Fumiko's innovations single-handedly shaped rice cookers as we know them, and while they were invented with rice in mind, they've also spurred today's recipe developers and homecooks to think of surprising dishes to cook using the appliance's unique qualities, such as roast beef, cheesecake and quiche. One flashpoint for rice cooker recipes in Japan came in May 2020 when Japanese data magazine Mana Mina found, amid a nationwide pancake mix shortage, that the top term users searched with "pancake mix" was "rice cooker" with top searches leading to a rice cooker banana cake recipe on Cookpad, Japan's largest recipe website.
"Originally, the reason those recipes became so popular in Japan was the convenience of it," says Zojirushi America's marketing manager, Marilyn Matsuba. "A rice cooker is something that everyone uses every day. With Micom rice cookers, the temperature and cooking course can be regulated, unlike slow cookers, where it's on a single heat setting the whole time. That's what makes it a versatile appliance."
According to Matsuba, some Zojirushi rice cookers, such as its signature Micom cooker, have specific settings for non-rice dishes, such as oatmeal and cake. The Umami Micom cooker boasts a slow cooking setting for soups and stews. Zojirushi even has a list of rice cooker recipes on their website, from New Orleans-style red beans and rice to crab carrot rice.
Even if you don't have a fancy Micom or induction rice cooker, there's plenty of dishes that you can make using a conventional rice cooker, such as takikomi gohan—a Japanese home cooking classic—or TikTok's viral rice cooker "pancake cake" recipe. Want to get the most mileage out of your rice cooker? Here are all the things you can make, from white rice to dessert.
Cook the best white rice with a rice cooker
Of course, as with anything, you have to start with the basics: white rice. According to Matsuba, a common mistake that most people make when cooking rice is not using the rice measuring cup that comes with the rice cooker.
"On our end, we cook tons and tons of rice to ensure that it comes out perfect," she says. "Use the measuring cup that comes with the cooker, and then use the corresponding water lines [in the pot]. That will always ensure perfect rice."
After you've measured out your rice, make sure to thoroughly rinse it until the water runs clear (at least three times, per Moe), then fill the rice bowl with the corresponding water line on the pot. Another tip from Moe, who went to cooking school in Kyoto after retiring as a geisha, is to soak your rice in water before cooking it. "You should soak your rice for at least 30 minutes before cooking. If you have time, you should soak it for about two hours," she says. "Soaking your rice makes all the difference in taste and texture. If you soak it, it will come out fluffier."
Once you've cooked your rice, leave it for about 15 minutes or until the steam from the air vent dissipates.
How to use a rice cooker for Japanese braised pork
Kakuni, or Japanese braised pork, is a regional Japanese-Chinese dish that usually takes hours of careful stewing, steaming and skimming to prepare. The result—a buttery-soft shoyu marinated pork cube—is usually worth the effort, but if you're in a pinch for time, using a rice cooker is an effortless method to make a delicious serving of kakuni.
Moe's recipe for a rice cooker kakuni is pretty simple: cut a pork belly into cubes and place it into the rice cooker; add green onions and ginger; pour in equal parts soy sauce, sugar, and sake, and adjust according to the size of your rice cooker. You can add a cup of dashi for more flavor. Turn on your rice cooker on a regular setting and voila, you have kakuni. (The longer you leave it on the "keep warm" setting, the softer your kakuni will be.)
"One of the best things is that you can leave it alone and it will cook on its own," Moe says. "And, because rice cookers cook at a lower heat setting, you don't have to worry about it burning to the pot."
Use a rice cooker for Japanese mixed rice
Takikomi gohan is a classic Japanese mixed-rice dish cooked in a rice cooker with seasonal vegetables and meat, and seasoned with dashi and soy sauce. This dish can be made either from scratch or using any number of pre-made mixes sold at Japanese supermarkets.
One of Zojirushi's top takikomi-style recipes is its shiitake-gohan or shiitake mushroom rice recipe, which only requires six ingredients: dried shiitake, sake, soy sauce, mirin, ginger, and parsley.
Moe's takikomi gohan changes with the seasons. Usually, she'll make her takikomi gohan in a donabe (a Japanese earthenware pot), cooked with the season's best ingredients with a sheet of kombu kelp on top for flavor. Last September, she published a recipe video of her making a fall mushroom and salmon takikomi gohan with her daughter.
If you're short on time, a pre-made mix is a good introduction to takikomi gohan. My favorite brand to buy is Yamamori's 10-ingredient takikomi gohan mix, sold at Japanese supermarkets such as Marukai, Mitsuwa, and Nijiya. All you need to do is pour the mix in with your uncooked rice and cook it on a regular setting; after it's cooked, mix your rice in a slicing motion so your rice isn't sticky or starchy.
Yes, you can make cake with a rice cooker
Believe or not, Zojirushi has a broad selection of cake recipes you can bake using their rice cookers—even ones without a dedicated cake setting.
If you're looking to make a strawberry shortcake, you can make a fluffy whole wheat sponge cake in an hour or less using the cake setting on the Zojirushi Micom rice cooker. Zojirushi's Micom rice cooker can even make other desserts like Japanese-style cheesecake and black sesame cake—just make sure to grease your rice pot in butter for a clean exit.
And pancakes, too!
Even if you don't have a Zojirushi rice cooker, you can join in on the fun using pancake mix and cooking it in a rice cooker rather than a skillet. Pancake rice cooker recipes abound on TikTok, but most seem to follow the same gist: make the pancake mix according to the packaging, grease your bowl well with butter or canola oil, and turn on your rice cooker.
When it's done, use a chopstick to check to see if the cake is cooked through. If it isn't, cook it one more time and check in on it periodically. Once it's done, flip the rice bowl upside down and you should get a golden pancake "cake."
You can add cocoa or matcha powder for different flavored cakes, but my favorite recipe so far has been the viral Cookpad banana cake recipe. All you need to do is add three to four tablespoons of sugar and one mashed banana to the pancake mix. Before pouring the mix into your greased rice bowl, line up some cut banana pieces at the bottom of the pan. When it's done, quickly flip your rice bowl and transfer your cake to a plate—if you leave it for too long in the rice cooker, it could collapse. Go ahead, have your pancake and eat it, too.