Food & Drink
Sponsored by

How Wolfgang Puck Helped Make Borgata a Foodie's Paradise
Sponsored by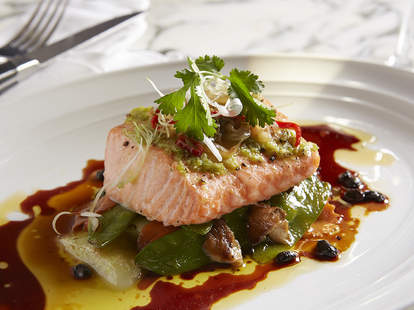 BORGATA HOTEL CASINO & SPA
Atlantic City isn't only an entertainment hub -- it's also the home of five-star eats, with many situated at Borgata. In recent years, the casino and hotel has become one of the premiere foodie destinations in the New Jersey city thanks to its impressive lineup of chef-backed restaurants. But there's one restaurant that started it all: Wolfgang Puck's American Grille. Casually known as "the American Grille," Wolfgang Puck's AC outpost has been serving dishes to casino patrons for over a decade (13 years, to be exact) and has evolved into one of the city's best restaurants, whether you're looking for a casual pizza or a refined filet mignon. To find out more about how the restaurant has been able to maintain its status for years, we chatted with Wolgang Puck himself, who boiled down what keeps people coming back to this melting pot of American fare.
Capturing local flavors is top-of-mind
As one of the first celebrity chef restaurants featured at the casino, the American Grille has since seen a burgeoning public interest in celebrity chefs and cooking in general, meaning patrons know exactly what they want in a dining experience. Chef Puck and Executive Restaurant Chef Aram Mardigian (who spent decades learning from Puck) insist that listening to the guests and learning the area's favorite dishes over time makes all the difference. AC, for instance, loves its pastas, so the American Grille has several tasty options on the menu, like its fluffy ricotta gnocchi Bolognese. Then, they source hyperlocal ingredients that pay homage to their home region -- like fresh New Jersey corn, tomatoes, and blueberries, among others -- to incorporate into their signature dishes. (Seriously, they don't call it the "Garden State" for nothing.) 
BORGATA HOTEL CASINO & SPA
The atmosphere mimics the chef's warm personality
While your meal at American Grille won't actually be hosted by Chef Puck, the Austrian chef's inviting energy translates into literally everything at the restaurant, starting with the second patrons walk up to the proverbial door. (Because in this case, there isn't one.) Situated in the middle of the action at Borgata, the Grille opens out to the casino floor without any stark separation -- inviting diners to stop and have a bite. Further driving the welcoming feeling home is the Grille's "hygge"-like atmosphere and decor, designed by Tony Chi with warm tones on the walls, leather and wood furnishings, "falling leaves" on the ceilings, and a central fireplace in the dining room. Also, the menus are inspired by Chef Puck's own cherished family recipes from his childhood -- making the American Grille feel like a homey, but sophisticated spot for dinner with loved ones.
The cocktail program has been named one of AC's best 
The drinks might not be why you would typically think to visit a celebrity chef-backed restaurant. But American Grille GM Anthony Santiago curates a cocktail program that was named "Best Casino Cocktail Bar 2019 Critics Choice" by the Atlantic City Nightlife Awards -- a local, but sought-after recognition. They won it thanks to their constantly rotating craft cocktail menu and extensive spirits list, which boasts multiple flight pairings. That means that no matter what your entree selection is, there will always be a cocktail or wine that pairs perfectly with each flavor profile. Plus, all featured cocktails are speakeasy-style creations, whether that's a "Dragon Fire" Paloma with Herradura reposado tequila and passion fruit cayenne or a "Drunken Pumpkin" martini with Stoli Vanil, Kahlua, and a house-made pumpkin puree.
BORGATA HOTEL CASINO & SPA
Your taste buds will be challenged -- even if you're ordering pizza 
Of course, you can't have your cocktails outshining the food. American Grille's menus change every few months depending on what ingredients are in season, with three- and four-course options that challenge patrons to sample flavor profiles they might not otherwise try. Even the comfort food pushes the envelope -- think wood-fired pizzas topped with spicy lamb merguez (with feta cheese, onions, cucumbers, and tzatziki) or duck sausage (with shiitake mushrooms, goat cheese, and shallots). You'll smell your food coming before it gets to your table if you order one of the entrees prepared on the in-house mesquite grill, like the lamb porterhouse chops served with sauteed asparagus and goat cheese potatoes or the grilled flatiron steak with Maytag blue cheese and peppercorn sauce. And don't forget the desserts, like a crème brûlée passion fruit cheesecake and  New Jersey blueberry crumble (we've all got room for that). 
It's not afraid of changing with the times 
In the 13 years since American Grille's opening, restaurants by the likes of Michael Symon, Bobby Flay, and Philadelphia favorite Michael Schulson have opened concepts at Borgata, too, making the casino a one-stop shop for serious foodies. To stay competitive, American Grille's concept has evolved over time: in the past, the restaurant welcomed patrons with a relaxed tavern in the front and a more upscale dining experience in the back, with laid-back and refined menus offered in each respective area. Now, the options have been combined, offering the best of both worlds regardless of where you're sitting. To keep things fresh for AC locals, American Grille has also introduced bar bites, smaller plates, and tasting menus. So no matter what you're in the mood for (or how you're doing on the slots), American Grille will serve up something that makes you feel like you've hit the jackpot.