What It's Like to Run a Restaurant in the World's Northernmost Town
At Norway's Huset, extreme conditions mean meals are made with creative, hyper-local fare.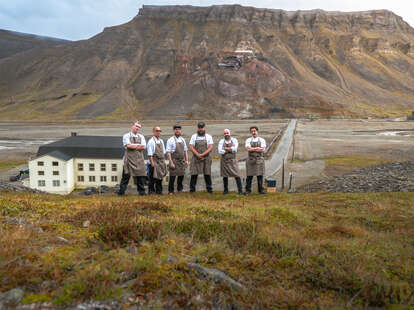 The team at Huset in Svalbard, Norway

| Photo by René Bjerregaard
The team at Huset in Svalbard, Norway

| Photo by René Bjerregaard
Polar bear fences surround the schools in Svalbard, Norway, a remote archipelago closer to the North Pole than the mainland. Residents spend months in total darkness, with only the Aurora Borealis lighting their days.
This extreme environment might not sound like the most ideal place to open a fine-dining restaurant, but Svalbard happens to be home to Huset, a community hub and elegant destination for Nordic-inspired tasting menus paired with pours from a 15,000-bottle wine cellar. The restaurant lies in Longyearbeyn, the world's northernmost town, where roughly 2,500 people from more than 50 nationalities reside in close proximity.
The restaurant chefs pride themselves on putting Svalbard itself on the menu, using local ingredients as much as possible. "For our 70% dark chocolate praline, we import the chocolate but fill it with caramel made from local mushrooms," says head chef Alberto Lozano. "We also make fermented garlic caramel; we import the garlic but ferment it here. We're always trying to do our best despite being so isolated."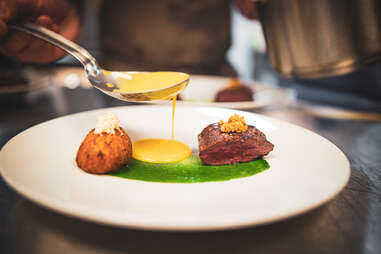 Huset has been a fixture of this far-flung community for decades. Built in the 1950s for village miners, the structure housed any and all services that residents of the area might need. Over the years, it served as a hospital, school, church, general store, post office, you name it.
"It is maybe the most important building in all of Svalbard, mostly because of its rich history and being a venue where all locals could meet, no matter what they do for a living or where they are from," says Longyearbyen resident Louise Green, "Huset has always been for everyone—and still is—an important place where locals go to enjoy a nice restaurant experience, to celebrate and of course to bring visiting friends and family."
In 2010, the building became home to a bistro, furthering its importance to the community. Then, in May 2022, hospitality company Hurtigruten Svalbard opened a fine dining restaurant in Huset. Operating a restaurant of this caliber in such a remote destination comes with challenges. "In other locations, you can have any ingredient you want with a simple call. Here, you need to prepare for the seasons ahead," says Lozano. "We're always thinking about the future."
Locally sourced proteins include everything from reindeer to seal to ptarmigan. During the winter months, from October to May, however, hunting and fishing in Svalbard is extremely difficult, and there's no fresh produce. So, everything procured in the summer has to last. Lozano and his team use Scandinavian techniques like curing meats and fish in salt, or pickling fruits and vegetables. "We ferment everything," says Lozano. "It's one of the most traditional cooking methods in the Arctic."
Restaurant manager Veronique Bertani estimates that 60-70% percent of Huset's menu is locally sourced. That too presents challenges. "Our main ingredients are wild. Quality is always there, but quantity is limited to respect the nature and the ecosystem of Svalbard," she says.
In April, the team at Huset plans to start building a greenhouse because "produce is probably the most challenging aspect," says Lozano. They will plant herbs, sprouts, carrots, and even flowers. "Huset currently has the license to pick mountain sorrel, but we can't take the flower, as you can't take any seeds from the island. So, we will produce our own," says Lozano. "There are a lot of interesting flowers in Svalbard that we can't pick, so we will represent these unique flowers at Huset by growing them here."
Huset's new greenhouse will also limit its food's carbon footprint. "We really want to avoid transporting these ingredients. Sustainability is one of the most important things for us," says Lozano. "We always try to minimize waste, using every part of the ingredients we're so lucky to get." For instance, if the kitchen plans to serve reindeer, cooks will use and preserve its meat, make stock from the bones, and even use the horns to decorate tables in the dining room. "We try to be as respectful and sustainable as possible."
Each dish at Huset is paired with juice or wine from Huset's 15,000-bottle cellar, one of the largest in the Nordics. Dinner might start with homemade reindeer coppa alongside freshly baked bread topped with seeds frequently eaten by local ptarmigan and paired with dill butter. The courses go on to include kohlrabi topped with ptarmigan breast in a caramelized sauce.
Bertani hopes that guests who come to Huset understand that it's both representative of and part of its Arctic ecosystem. "It is a real plus when our guests are dining with us on their last night," says Bertani. "They understand Svalbard. They saw it, experienced it, and then, with us, they can taste it."
Want more Thrillist? Follow us on Instagram, Twitter, Pinterest, YouTube, TikTok, and Snapchat.