Over the years, many Asian-influenced hot sauce challengers have risen up against Huy Fong Sriracha's domination of the market... and many have failed. But those hot sauces weren't green. Musashi, a relatively new player on the scene, recently released what they're calling Midori Sriracha -- a verdant, green serrano-filled Japanese take on Huy Fong's iconic red Vietnamese Sriracha. How does it stack up against everyone's favorite condiment? We cracked its blue cap and found out.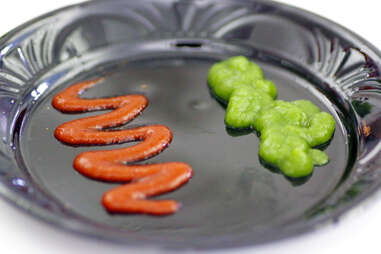 FLAVOR
Huy Fong: Right at first, you're struck by the intense flavor of Huy Fong's Sriracha. There's almost a kind of umami nuttiness to it -- slightly sweet with a hint of garlic on the back of the tongue. Tangy.
Musashi: It has an earthier flavor and tastes more natural because of the presence of cabbage and plenty of garlic. Also, it has more of a fermented taste than Huy Fong's Sriracha, possibly due to the rice vinegar.
Winner: TIE
Almost nothing can beat Huy Fong's piquant sugariness on just about anything -- its versatility is its strength. But Musashi's Sriracha has a completely different formula and taste (from serrano peppers to mellow brown sugar), and we're really eager to see what people can do with it.
HEAT
Huy Fong: Since the sugar content is more upfront, the heat is a bit nullified. It's spicy, don't get me wrong... but only at first, and the tanginess has more of a presence than the heat.
Musashi: While not incredibly spicy at first, it certainly packs a punch that can be felt after successive bites. It's more of a slow heat that gradually builds and stages a conquest of your tongue.
Winner: MUSASHI
The challenger overcomes the incumbent, just like every election ever (just kidding).
INGREDIENTS
Huy Fong: Chili, sugar, salt, garlic, distilled vinegar, potassium sorbate, sodium bisulfite, xanthan gum
Musashi: Green serrano peppers, garlic, rice vinegar, brown sugar, salt, xanthan gum, red cabbage juice, turmeric, sodium bicarbonate, glycerin
Winner: MUSASHI
Not only does it have more ingredients, which make for a more varied flavor profile, but Musashi's Sriracha is also more full-bodied and spicy, owing to its natural pedigree and the presence of some primo veggies.
CONCLUSIONS
The standings don't lie -- Musashi came out on top of Huy Fong. Stop sharpening your knives: Huy Fong's still great (and will forever be in the forefront of the minds of the public, due to its fame, availability, and versatility), but in terms of which one is a better hot sauce, Midori Sriracha takes the spicy cake.
It has a richer, deeper flavor, thanks to the serranos, that's particularly enticing on sandwiches (banh mi), as a complement to rice dishes, or as a dip for fried food. It may not have as condiment-like of a consistency as Huy Fong, but hey: EZ Squirt ketchup wasn't built in a day either.
Adam Lapetina is a food/drink staff writer at Thrillist and was just about as surprised as you probably are about this. Read his musings on Twitter at @adamlapetina.