I Spent 14 Straight Hours at Buffalo Wild Wings
When you tell people you're planning to spend 14 straight hours at a Buffalo Wild Wings, they tend to say things like "You are crazy," "No, really, you are crazy," and "Are you going to eat all the wild wings?" Well, I didn't eat all the wings (I did bring along a special correspondent to try all 22 sauces & seasonings though), but I might be crazy, because I really did hang out in the first Manhattan B-Dubs -- a two-level loft built in a new architectural layout evoking an actual stadium, complete with a rooftop, outdoor mezzanine patio, and a private event space designed to put the fun in corporate functions -- from 10:30am until after the end of the Pittsburgh-Indy game.
B-Dubs is a neighborhood bar...
Yeah, there are more than 1,150 B-Dubs locations (serving more than 40,000,000 wings per week) but that didn't stop the patrons at this one from knowing/slapping high fives with their bartenders. I actually saw one table hug their waiter, so either they were regulars, or they really liked the garlic parmesan sauce.
…which is doubly impressive considering how close it is to Times Square
Almost everyone I talked to was born-and-bred NYC (though that might've had something to do with this being the Sunday that New York played… New York). For instance, the guy up top on the left first started watching the G-Men in 1985, when they got wrecked by Buddy Ryan's 46 D, but his soul was only briefly crushed since they won it all in '86 -- so he picked a good time to start loving a team, unlike me, whose first three seasons as a Dallas fanatic ended in actual tears when we lost three straight conference championship games. No really, I cried. Authentic sadness droplets. Anyway, he promised to salsa every time Big Blue scored; his buddy, whose very first Halloween costume was head-to-toe Lawrence Taylor, promised to whip. And maybe nay nay.
But you will run into people from other places
Like this lady from London, who was wearing the most delightful earmuffs in the tri-state area, and also might not have known what football was...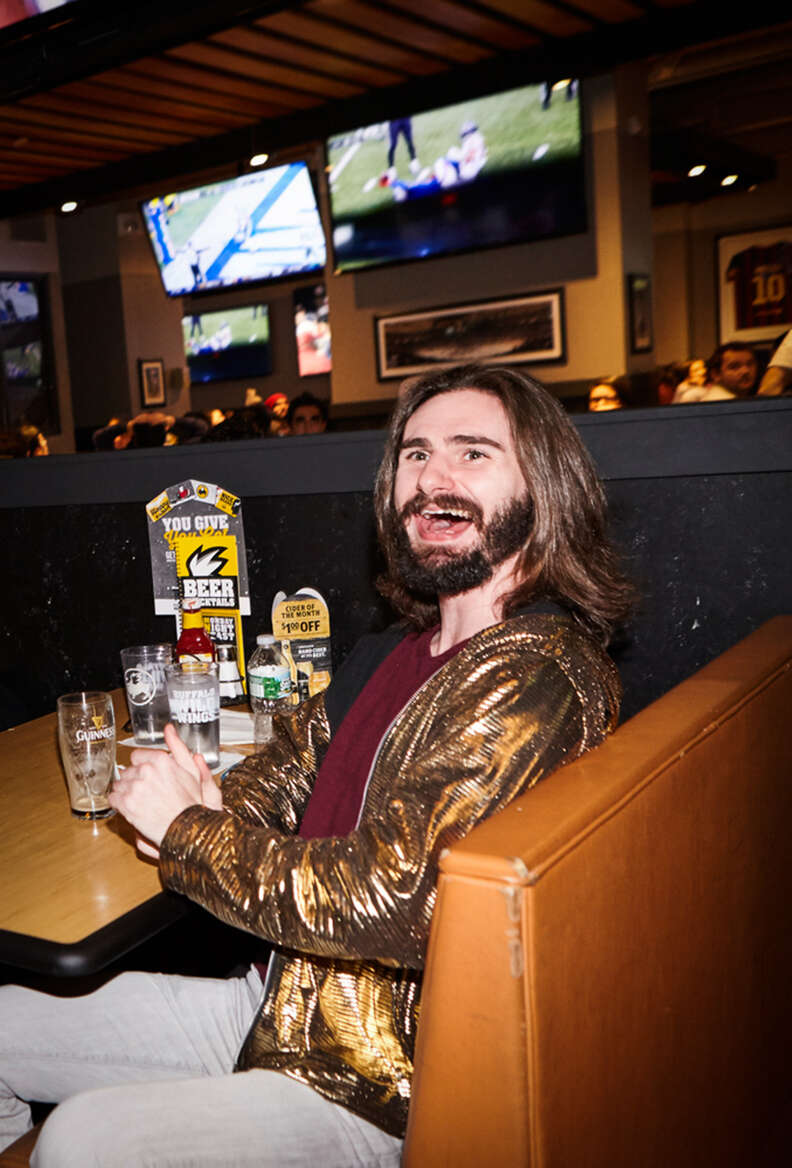 ...and this magical man from Savannah. I asked him if the gold jacket was somehow representative of him being a San Francisco fan, and he said, "No, it's just a gold jacket."
Football trumps love and family
I started asking this couple at the bar "Are you guys…" and the guy immediately said, "Not for the next three hours we're not!" (he was really funny about it though and they're probably still married). I met a younger guy who decided to go green because his dad and three brothers bled blue (if he'd just run away from home for 30 minutes like everyone else, he'd have had a much better 2007 and 2011).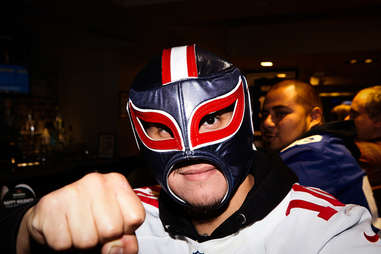 Tuco is alive!
When I told this guy I was a Dallas fan he cursed at me with a Tuco-esque, gleefully fearsome intensity that made me think he was going to put me in a wrestling move called "The Dig Your Own Grave Somewhere Out In The Desert," but deep down he was really sweet, and had a beautiful singing voice.
The human capacity for processing Awesome is limitless
Sometimes we take for granted how powerful our brains really are. This particular B-Dubs has over 100 TVs, which offers a pretty amazing reminder that when it comes to our ability to take in and process sweet, sweet sportsformation, we are #blessed. In just one minute, you could learn that: Brandon Marshall is still great and Eric Decker totally owes him an excellent birthday present; Odell Beckham is only a one-year wonder if you're counting in dog years; Sammy Watkins looks about as done as the colder burrito when you put two burritos in the microwave at once and only one gets hot; Jacksonville has hope; if Beast Mode didn't exist, it would be necessary for Mike Evans to invent it; DeVante Parker definitely has a "DeVine DeVante" headline in his future; this really is Russell Wilson Country; "A.J. Green vs Julio Jones" will never be settled and we're all better for it; and we can rebuild Carson Palmer, we have the technology. And just as that's all settling in… go go Gabbert!
That's me, by the way. In case you were wondering.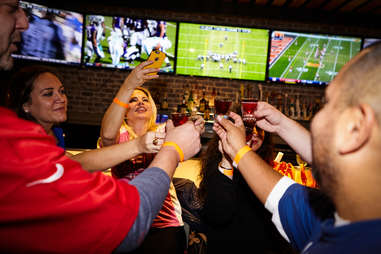 Sports bars fail when they don't care about sports fans
It's not just about tons of TVs, it's about things like:
​optimizing screens to broadcast all the hot sports action
ensuring people can see all of said action wherever they're sitting
once a game ends, switching to other hot sports action instead of letting the screen revert to schedule mode, the nightly news, a weird made-for-TV movie, etc
playing game sound and not a bunch of terrible oontz oontz

When an establishment fails at the above, it makes you feel like they're just using games as bait, and don't really care about you or sports. That is sad!B-Dubs was the opposite of sad. They had serious fan shui. Wherever you were, you could see a whole league's worth of everything -- you didn't have to choose between New Orleans returning history's first-ever 2pt blocked PAT or New England suffering their first blocked punt TD since '09, even though both plays happened at almost exactly the same time. Whatever Sports Oz (Spoz?) lurks behind their curtain also recognized that some Brooklyn fans might want to watch basketball; every person in the universe wants to watch Stephen Curry whenever possible; and at least one dude might want to watch soccer (in this case, my buddy Chris -- what's up with Pac-Northwesterners and footie?).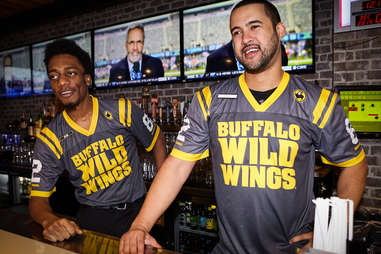 Uniforms don't mean uniformity
As uniforms go, these jerseys trump flair any day of the week. I would wear one to work, and then everyone would tell me to change because they're kinda slim cut and these days I'm built like the world's shortest offensive lineman. Anyway, larger point is: everyone who works here exhibits a distinct, not particularly corporate personality. Brion (left) is breaking into theater. He says there are two kinds of theater -- one that helps you forget, one that helps you remember -- and that while he prefers the kind that helps you forget, the play he's in right now pretty much punches you in the face and forces you to remember how messed up things are.
Zach (right) moved from North Platte, Nebraska to Vegas to Scottsdale and then all the way east to New York. He played college basketball at UN-Omaha and had the distinct privilege of getting mauled by giants from Roy Williams' Kansas squads; as a 160lb high school safety he also got totally trucked by a fully developed Ahman Green, which is pretty cool in retrospect, though then again so is falling out of a third story window.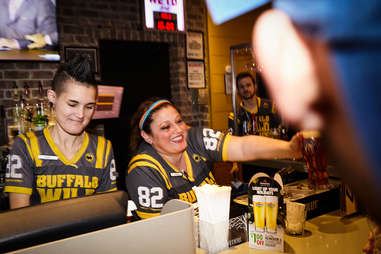 At the downstairs bar I met Alex, a musician who "plays piano and sings some sad-ass ****," though when she's pouring drinks she's pretty damn happy and enthusiastic. As for the haircut, she decided she needed to grow a mohawk before 30, and now likes it so much she's going to wear it pretty much forever. Alex's partner behind the stick, Zara, visited New York once, decided it was the everything, and moved straight here from South Florida (SoFla in New York real estate speak); she has a self-professed Peter Pan complex and her coworkers attest that she remembers every customer's face, name, and drink, which basically means that, in the best way possible, she's a born bartender.
No matter what else they're into, everyone who works here is a fan
Zach loves Denver and probably will until Omaha gets a pro team. Zara puts her faith in Miami. Alex and Brion are both from Mass and therefore have no choice but to live and die for New England, and they're not just projecting fandom as some sort of job prerequisite -- when Tom Brady caught that pass from Danny Amendola, Brion immediately brought up Brady making a one-handed grab of a Julian Edelman pass back in training camp.
Dessert Nachos are almost too beautiful for the human mind to comprehend
To test that theory, I just randomly bought some for this guy and his girlfriend and their brains almost exploded. Also his girlfriend's hair goes almost to her feet, so I made a Crystal Gayle joke, and neither of them knew who Crystal Gayle was. This turned my brown eyes blue. I am very old.
An incomprehensible number of fantasy draft picks have happened here. Like, way more than they have beer taps, and they have a lot of beer taps.
I did the math on this, even though I am terrible math. Jackie, the Times Square location's event manager, estimates that she hosted 86 draft parties this year. So let's say 10 players per league making 15 picks apiece. That's 12,900 gut-wrenching decisions -- if you include those 7 backups you shouldn't really be wrenching your guts over but probably will anyway.
Indy has two different dudes named T.Y. on its roster
Seriously! T.Y. Hilton and T.Y. McGill. This guy can't believe it either.
I am not crazy for spending 14 hours here
Jackie was in a forensic psychology grad program before she got into the service industry. Forensic psychologists are the people who determine if you're competent to stand trial, so if I was nuts, she definitely would have told me. Probably?