Ice Cream Shop Owner Quits Scooping to Take up Booze, Weed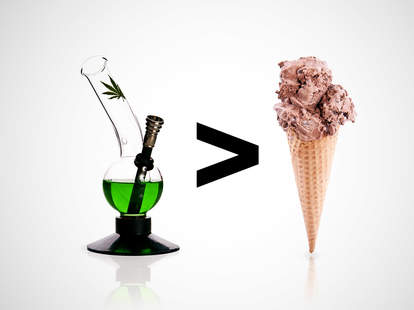 Shutterstock/Mitchell Maglio
Leaving work to smoke weed on the couch and drink a beer is a fireable offense at most jobs, unless your full-time gig is "bass player in a jam band". Or if you own an ice cream shop in Denver.
The owner of small-batch scoop shop Ice Cream Riot decided it was quitting time one day last week when monsoon-like storms were pummeling the Mile High City. He left a note on the shop's door to let his regulars know he bailed because he had to be on his "couch taking bong rips" before heading off to a notorious Denver dive bar to "drink beer with hippies". Check the full note below:
The former Mister Softee and Good Humor truck driver, who is currently taking Denver by storm with cereal-flavored ice cream like Honey Nut Cheerios and Fruity Pebbles, told us that he thought no one would ever see the sign, and that he was goofing around. He also confirmed that he accomplished everything he set out to do in the note.
Lee Breslouer writes about food and drink for Thrillist, and avoids screaming for ice cream because it scares the neighbors. Follow him to scoops of cookies and cream at @LeeBreslouer.