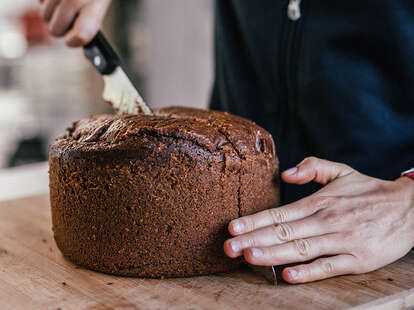 Icelandic hot spring bread has nutty caramel notes thanks to the addition of sugar.

| Photo courtesy of Laugarvatn Fontana
Icelandic hot spring bread has nutty caramel notes thanks to the addition of sugar.

| Photo courtesy of Laugarvatn Fontana
People go to Iceland in pursuit of various wonders. Some visitors seek the elusive green ribbons of northern lights that wave in the sky, while others chase at least one of the thousands of waterfalls that trickle across the island nation. Plenty of travelers bathe in the warm water of the Blue Lagoon, as others spelunk myriad chilly ice caves. Me? I came to eat bread. Specifically hverabrauð, or "hot spring bread."
Before I made my way to Iceland, I learned the island country prepares bread in a way that only Icelanders can: relying on natural hot springs that function as steamy underground bakeries. This practice has been done for at least a hundred years, utilizing the country's resources before ovens became the standard.
Sigurður "Siggi" Hilmarsson, the managing director of geothermal bathhouse Laugarvatn Fontana, has been preparing the traditional rye bread his whole life. "My grandmother and her generation did this, and I could track this down to the late 1800s and early 1900s," he explains. The recipe, which Hilmarsson shares made its way to Iceland from Denmark, has been modified to suit Icelanders with the addition of sugar. "Most of the rye bread recipes are similar, but everyone thinks their family has the best one," he smiles.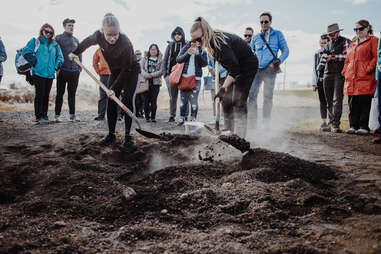 When Laugarvatn Fontana opened in 2011, Hilmarsson knew he had to incorporate the bread into his guests' experience somehow. Originally, he merely prepared it as a snack for visitors to dive into in between sessions within the saunas and hot springs. However, noting guests' interest, he began offering geothermal bakery tours, where visitors could watch as he and his staff uncovered the 24 hour-baked bread, rinsed the pans in the pristine lake, and revealed a subtly sweet, steamy bread—fully cooked in the bubbling sand.
Although it's crafted with rye flour, hverabrauð is not like typical rye bread you may use in preparing sandwiches. "The texture of our rye bread is quite heavy," Himarsson begins. "It reminds some people of gingerbread, and others say it's more like a cake than bread."
Due to its low-and-slow cooking time and lack of yeast, the crumb is much denser and closer. The addition of sugar, which caramelizes over the course of the 24 hour bake time, adds a prominently nutty and invitingly sweet flavor.
To serve, Hilmarsson offers guests fresh Icelandic butter as well as smoked trout whose briny flavor balances out the caramel notes of the hverabrauð. The bread is so flavorful, however, that eating it merely as is is also welcomed.
For Hilmarsson, whose family has lived around the Laugarvatn lake and its hot springs for generations, maintaining the tradition of hverabrauð is vital to preserving Icelandic culture and keeping his grandmother's recipe alive.
"We didn't always have ovens, and people had to innovate and come up with all kinds of wonderful things to survive back in the day," Hilmarsson says. "We want to honor the great tradition of baking rye bread and show our guests how we are able to use geothermal energy for our baking."
Hot Spring Rye Bread Recipe from Laugarvatn Fontana
Ingredients:
• 4 cups rye flour
• 2 cups regular flour
• 2 cups sugar
• 4 teaspoons baking powder
• 1 teaspoon salt
• 1 liter milk
Directions:
1. Put the ingredients in a bowl and mix them together.
2. Grease a pot with butter so the bread will come out easily.
3. Transfer the mixture into the pot and wrap the pot with plastic wrap thoroughly so the hot spring water won't get into the pot.
4. Dig a hole in the boiling sand for the pot and leave it to bake for 24 hours.
(Alternatively, if you don't have access to bubbling hot springs, Hilmarsson recommends baking this low and slow, between 200 to 250 degrees fahrenheit, for 8-10 hours).
Kat Thompson is a senior staff writer of food & drink at Thrillist. Follow her on Twitter @katthompsonn.