Does the New Impossible Burger Actually Taste Like Real Meat? We Found Out.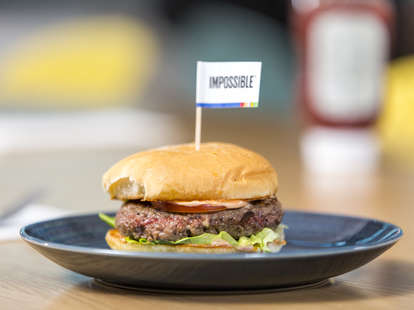 Giselle Guerrero/Impossible Burger
Giselle Guerrero/Impossible Burger
The one problem with veggie burgers is everything: they rarely have enough protein, they never taste like beef, and you're usually left wishing you would've eaten anything else. I say that as someone who regularly consumes veggie burgers and even likes some of them! So when I read the effusive reviews of the new Impossible Burger 2.0 and how it's basically the closest thing to real meat that's ever been manufactured, I had to try it.
I flew to Las Vegas to eat the burger in the first restaurant in the country selected to serve it and spoke with chefs about it. It's all in an attempt to answer a few pressing questions: does Impossible Burger 2.0 taste like a beef burger? Will carnivores love it? Let's meet this (fake) meat.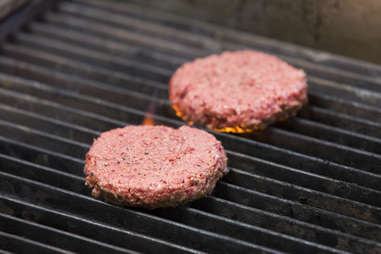 What's in an Impossible Burger, anyways?
The Impossible Burger is manufactured by the Silicon Valley-based Impossible Foods, which was founded by an M.D. and Ph.D Professor Emeritus from Stanford, and counts Bill Gates as one of its investors. Momofuku's David Chang was an early fan, but it's since gotten more mainstream: you can buy an Impossible slider at White Castle for $1.99. The burger's secret ingredient is heme. The company says that heme "is uniquely responsible for the explosion of flavors that result when meat is cooked," and its scientists figured out a way to produce a heme protein and make it the backbone of its 100% plant-based burger.
This new version (dubbed Impossible Burger 2.0, which is so Silicon Valley of them) is said to taste meatier and have an improved texture from the original. Its main ingredients are simple: water, soy protein concentrate, coconut oil, sunflower oil, natural flavors. It's also gluten-free, and has as much iron and protein as a beef burger -- a 4oz patty has 4.2mg iron and 19g protein.
The original Impossible Burger changed the game
Before the Impossible Burger (and the similarly meaty-ish, new-school Beyond Burger), the Boca Burger was the sole veggie burger that tasted even a little bit like real meat. And its gummy soy-based patty isn't exactly a meat-eater's dream. So my expectations were admittedly low when I bit into my first Impossible Burger at a Denver food festival this past summer. It was a bare-bones slider from Next Door, and it was delicious. But that was just a slider -- could this hold up as a meal?
Before I tried the new version, I visited Colorado's Roadhouse Boulder Depot to taste its take on the Impossible Burger 1.0, and to ask for executive chef Josh Lujan's opinion on the faux beef. He's a meat eater, but his enthusiasm for the burger was hard to deny: he's incorporated Impossible meat into tacos, steak tartare, and bolognese. Roadhouse's burger is cooked "medium rare," and is topped with pesto aioli, pickled red onions, roasted red peppers, and a bit of roughage. I came in expecting to take a few bites and head out. I ate the entire burger... and probably could've devoured another.
I loved the rush of salt and fat, the chew, and the beef-like taste in every bite. A pleasurable burger from start to finish. Could I tell that I wasn't eating a true beef burger? Sure. But eating one is similar to the experience of watching a movie -- I know that everything projected onto the screen is fake, but it doesn't stop me from enjoying it.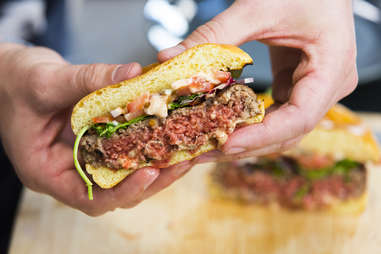 How does Impossible Burger 2.0 taste?
Before I flew to Vegas to get a taste of the new Impossible (note to self: trademark sick phrase "The New Impossible" ASAP) at Border Grill, I spoke to co-owner and Top Chef Masters vet Mary Sue Milliken about how including the burger on her menus is one way to counteract the downsides of meat production and consumption.
"The vision and the mission of [Impossible] is really great because they've been able to mimic a lot of the same flavors, textures, and most importantly, the satisfying quality of meat through science," she said. "And to me that shines a light on a possible wide-scale solution to one of the biggest threats we're facing as a planet in terms of sustainability."
Sustainability aside, because Milliken's still an (occasional) meat eater and chef, the taste of the new burger is of utmost importance as well. She thinks the new version has a better chew, and that it gets closer to that satisfying umami flavor you get from beef. She feels that she has a duty to her customers to serve them healthy food, so It also doesn't hurt that it has a third lower sodium and saturated fat than its predecessor. Her restaurants have served Impossible meat atop nachos, in empanadas, and as a burger.
Border Grill Vegas' executive chef Mike Minor whipped up a few Burger 2.0 courses for my visit (all these dishes are available through January as part of a vegan menu): Argentinian beef empanadas, a vegan chile relleno, and a burger. I was sold after my first bite of the empanada with Impossible beef, black beans, and charred masa that'd been painted with an aji amarillo cream. My conscious mind knew it wasn't real beef, but my subconscious could not have given a shit either way. This tasted exactly like beef. The chile relleno was intensely spicy for a wuss like me, but I loved the meat all the same.
Minor's medium-rare burger sold me completely on 2.0. Topped with salsa fresca, avocado, and a vegan secret sauce, it hit all the same pleasure centers in my body as when I eat a well-made burger at a restaurant. Milliken was right -- the chew and umami were on point. I thought the original Impossible was great, but this exceeded my expectations. It even looked like the real thing. Is this fake beef so convincing you could trick a meat eater into believing it's real? Sure. But if we assume people love burgers simply because they taste good, no trickery is needed.
Impossible Burger 2.0 is now available in 20+ restaurants across the country, and beginning in February, it'll be served at all restaurants currently carrying version 1.0. Later in 2019, grocery stores will stock it for the first time. It has a solid chance at being a crossover hit -- not just with conscious carnivores and vegans who still crave burgers.
"The cool thing about the Impossible burger is that it's a good fit for everybody," Minor said. "It doesn't have to only be for vegans who want a product made for them. This [meat] is vegan, but it's made for everyone. It's just delicious."
Sign up here for our daily Thrillist email, get Eatmail for more food coverage, and subscribe here for our YouTube channel to get your fix of the best in food/drink/fun.