An In-N-Out Manager Reveals the Chain's Biggest Secrets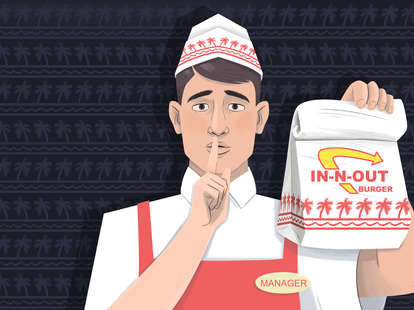 Jason Hoffman/Thrillist
Jason Hoffman/Thrillist
In-N-Out is a notoriously secretive company. It's been owned by the same press-shy family since 1948. In fact, the only thing not secret about the company is its "secret menu." But we were able to get a former manager, who we'll refer to as "Kathy," to open up about some of the company's best-kept secrets.
Kathy worked for In-N-Out for 12 years and she dropped some serious insider knowledge about everything from what to never order to what's on the real secret menu that only employees get to eat.
Every In-N-Out location has an actual secret item only the staff gets to eat
There's the "secret menu" with Animal Style on it, and then there's the actual secret menu that only employees get to eat. "Every store has their own secret item that only the associates know how to make," Kathy said. "Some stores will cut potatoes long-ways and will make [fancy French fries] called mojos." Others finely dice tomatoes, onions, and chilies, and top their burgers with the improvised salsa, she revealed.
But the most intriguing of these items is the In-N-Out taco. "I worked the early shift with some co-workers who made bomb-ass tacos," Kathy said. "They'd bring their own taco shells in. We had lettuce, tomatoes, and beef in the store. They'd create a pico de gallo with the onions, chilies, and tomatoes, too." Looks like it might be time for In-N-Out to open a taco chain.
The best burger isn't on the menu
"The best burger I've eaten (that I never would've thought to make myself) is a Double-Single," Kathy said. "It's two burger patties, one slice of cheese, chopped chilies, chopped onions, and one tomato slice. The bun gets a spiral of mustard and a squeeze of lemon juice." Interested customers can order it with everything but the lemon juice, which they have to pick up at the condiment counter.
You're ordering Animal Style fries wrong
Unlike other fast-food chains, In-N-Out lets you tell them how you want your fries done -- definitely take advantage of this! Because of that, there is only one proper way to order Animal Style fries. "I like fries that are a little soft," Kathy said. "But if you're going to eat Animal fries, the best thing to do is to order them 'fry well' because the fries will hold their shape. They won't get soft and mushy under all the sauce, especially if you take your time eating them."
Some store managers are rolling in cash
"There are store managers who have busy stores who make more than a quarter of a million dollars a year," Kathy told us. "I knew a store manager who made $350,000." That's just one of many reasons why being an In-N-Out manager is a great job. You might assume that this manager oversaw 10-15 locations, but you'd be wrong -- he managed a single location.
Don't bother ordering the shakes
"The shakes are overpriced," Kathy said. "I wouldn't pay four bucks for one." The milkshakes at McDonald's are all between $2-$3.
But if you do decide to get one, you can rest easy knowing that the soft machines are cleaned frequently, unlike other fast-food places. Kathy said the machines in her stores got cleaned every night during closing and once again in the morning for opening.
In-N-Out might open a 24-hour location
An In-N-Out location is set to open on the Strip in Las Vegas. That's not huge news in and of itself but Kathy says a VP from the chain told her that there's a chance it could become a 24-hour location. A genius business move considering that burgers are the prime 4am snack.
Knowing someone is the best way to get a job at In-N-Out
The best way to get a job at In-N-Out is to be referred by a current employee. "They have a program called Multiplying Winners," Kathy said. "If you refer someone who gets hired, you get paid." She adds that it's not unusual for In-N-Outs to be staffed by siblings and cousins.
And the most overrated menu item at In-N-Out is…
"The Animal Style burger," Kathy said without hesitating. "There's a lot of different flavor combinations that people don't necessarily try on their burgers." Some fun examples: a burger with a whole grilled onion or chopped chilies on it. Or you can go with another "secret menu" item and order one Protein Style -- the burger will be served wrapped in lettuce instead of inside a bun.
The managers get to go on some incredible free trips
If you ever meet an In-N-Out manager, know that you might be conversing with a world traveler. "My store manager went [on an all-expenses-paid trip by In-N-Out] to Germany," she said. "He stayed at a five-star hotel. And he said that he realized that if he worked all of his life, he probably could never afford something like this on his own."
Sign up here for our daily Thrillist email, and get your fix of the best in food/drink/fun.